About this blog
Cashed in 20,000 Aeroplan miles for a free return ticket to Singapore + $50 Airport Taxes
Incheon (KR) > Singapore > Kuching (MY) > Brunei (BR) > Kota Kinabalu (MY) > Penang (MY) > Alor Setar (MY) > Langkawi (MY) > Medan (IN) > Singapore
The final place I wanted to explore in SE Asia was Brunei which is a bit tricky and costly to get to. I'd already visited the capitals of Malaysia, Indonesia, and Singapore in 2008.
This time I wanted to explore more of Malaysia outside of Kuala Lumpur which I had already seen. I also threw in an overnight stay on Sumatra Island in Indonesia which I've also never been to before (only exploring Java Island last time).
Rule of thumb for exchange rates
> Malaysia : Divide by 3
> Singapore/Brunei : Subtract 20%
> Indonesia : Drop four zeros and divide by 2
Example
3 MY = $1
1.25 SGD = $1
10,000 IDR = $1
I like to travel, explore, and discover the World...
Visit My Page on Facebook : Departures1 - Global Adventures
Countries visited map... 50+ and counting! (excluding airport lounges)...
I am a contributing writer for THEKOREABLOG by KOCIS (Korean Culture and Information Service of the Ministry of Culture, Sports, and Tourism)...
I have also been featured in various local media about my blog, travels, time in Korea, and being selected as a writer for TheKoreaBlog
The City of Daegu has also chosen me as one of two official foreign bloggers GlobalDaegu Blogspot
Click Here For My YouTube Channel
And here for my full Photo Albums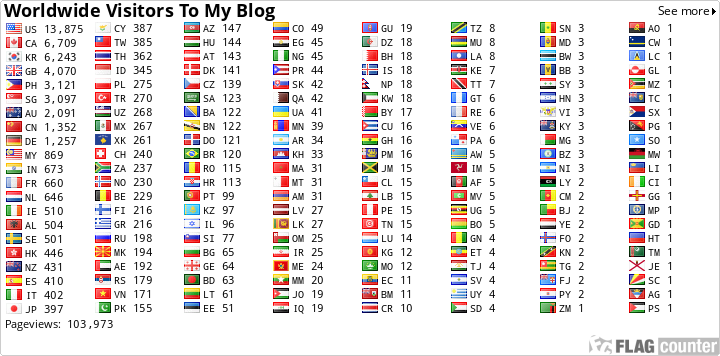 Thank You for stopping by !
Trip Start
Jul 27, 2013
1
56
Trip End
Aug 07, 2013
Loading Map
Map your own trip!
Map Options