Mindanao - The Mysterious Philippines Muslim South Island
About this blog
Mindanao the south Island of The Philippines is predominantly Muslim. This island has been plagued by a decades long insurgency movement though there is now a pleace treaty inplace. However a negative perception persists which the region is trying to emerge from.
For this reason it interested me as an unusual place to explore off the normal tourist trail of sun and beaches. Starting in Cotabato City I will visit the largest Mosque in The Philippines before heading north to Marawi City, a large Muslim centre.
Next onto Iligan to see the two Falls and Cayagan de Oro before heading to Zamboanga City on the southern tip. Known as the 'Latin City' it has Cathedrals and Spanish Forts
.
Rule of thumb for exchange rates :
> Philippines : drop one zero and divide by four
Example
1500 PHP = $38 / 40 PHP = $1
.
Two excellent resources for Philippines Travel
- Pinoyadventurista.com
- Habagatcentral.com
.
Budget Airlines
- CebuPacificAir.com
- AirPhilExpress.com
.
I like to travel, explore, and discover the World...
Visit My Page on Facebook : Departures1 - Global Adventures
Countries visited map... 44 and counting! (excluding airport lounges)...
I am a contributing writer for THEKOREABLOG by KOCIS (Korean Culture and Information Service of the Ministry of Culture, Sports, and Tourism)...
I have also been featured in various local media about my blog, travels, time in Korea, and being selected as a writer for TheKoreaBlog
The City of Daegu has also chosen me as one of two official foreign bloggers GlobalDaegu Blogspot
Click Here For My YouTube Channel
And here for my full Photo Albums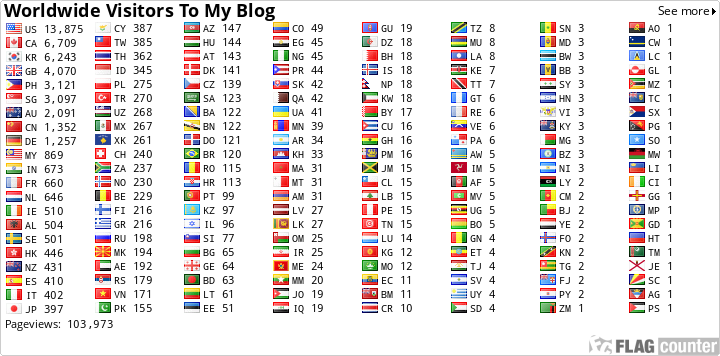 Thank You for stopping by !
Trip Start
Jan 27, 2013
1
25
Trip End
Feb 01, 2013
Loading Map
Map your own trip!
Map Options