Kaas Plateau of Wildflowers, Mahabaleshwar, Panchgani and Satara
About this blog
September is the best season for wildflowers in the Western ghats region of Maharashtra, when the lateritic volcanic plateaus and slopes transform themselves into flower bedecked carpets of various hues.
From 2010 to 2012 we have done five trips to the Kas Plateau, the environs of Satara, to Panchgani and Mahabaleshwar.
Satara is a small town in Maharashtra, approx. 120km south of Pune, off the NH4 highway, on the foothills of the Western Ghats. It is surrounded by fertile fields, water bodies and grassy mountain plateaus or table lands. In the monsoon months the countryside is transformed to verdant shades of green, interspersed with a profusion of colourful wildflowers on the grasslands, slopes and table lands.
The Kas Plateau at approx. 1000m AMSL is about a half hour drive from Satara. It has now been declared a UNESCO World Heritage Site. The mass blooming of wildflowers at Kas surpassed our wildest expectations and the lush green monsoon environs rejuvenated our souls.
The Windmill plateaux of Chalkewadi, the Thosegar waterfalls, Kanher reservoir, Urmodi lake, Kas lake and Koyna backwaters at Bamnoli are among several lesser known scenic spots around Satara.
Mahabaleshwar at a higher altitude of 1400m is a mere half hour drive from Satara, via the scenic Medha Kelghar ghat route or the longer Kas Bamnoli Tapola route skirting the Koyna lake.
Despite the influx of tourism and its attendant consequences on the environment, Mahabaleshwar retains a decent quantum of forest cover with beautiful walking trails going through them. Panchgani has its own vast Table Land and many more plateaux, which also boast their share of wildflowers in this season, albeit at the further ends less trodden by man and horse carriage.
View photos from our trips to these beautiful places, on Flickriver: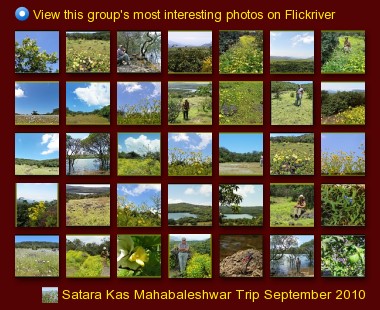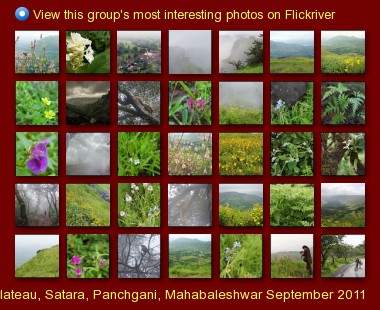 Trip Start
Oct 21, 2012
1
24
Trip End
Ongoing
Loading Map
Map your own trip!
Map Options