Shirley and Yannick's Transcontinental Triathlon
About this blog
Yannick and Shirley successfully completed the trip of their life!
In April 2010, they chose to leave the comfort of home to travel across the Americas solely on human power. They completed the 26000 km journey from Juneau (Alaska) to Ushuaia (Southern Patagonia) in January 2012 using three primary modes of transportation: kayak, hike and bike.
During this adventure which lasted nearly 2 years, they supported a charity called MedShare in its mission to make the world a better place.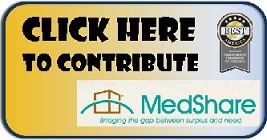 The staff at MedShare is bridging the gap between surplus and need, collecting tons of unexpired medical supplies from hospitals and manufacturers across the US, hence diverting them from ending up in landfills, and stocking and redistributing them to qualified hospitals in developing countries that desperately need them. Check out these two videos to know more: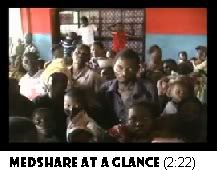 This blog retraces Yannick and Shirley's daily steps
...as they first kayaked 1,200 miles down the Inside Passage between Juneau, AK and Seattle, WA
...as they crossed the continental United States on foot between the Canadian border and the Mexican border: 2,700 miles along the Pacific Crest Trail (PCT)
...and as they set course on Southern Patagonia on their touring bicycles: 13,000 miles across Central and South America.
---
- PHASE 1: Kayak the Inside Passage southbound --- 1,200 miles ---- 70 days
Started on April 8th, 2010
Completed on June 17th, 2010

- PHASE 2: Through-hike the Pacific Crest Trail southbound --- 2,700 miles --- 123 days
Started on July 4th, 2010
Completed on November 3rd, 2010

- PHASE 3: Cycle through Central and South America --- 13,000 miles --- 296 days
Started on December 18th, 2010
Completed on January 9th, 2012

---
To Find our Blog:
- Google: "Yannick and Shirley" or "Transcontinental Triathlon"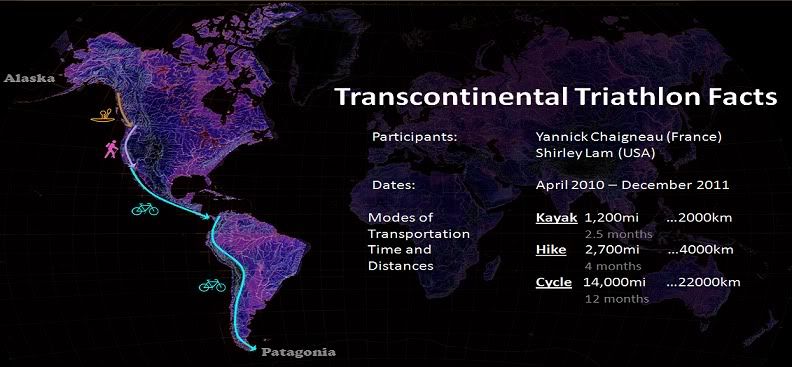 Trip Start
Apr 07, 2010
1
120
Trip End
Jan 19, 2012
Loading Map
Map your own trip!
Map Options