Santa Teresa Military National Park
Entry from Santa Teresa National Park
Trip Start
Jul 20, 2011
1
74
81
Trip End
Dec 09, 2011
Loading Map
Map your own trip!
Map Options
Where I stayed
National Park Campground
What I did
Birds, Zoo, Wild Animals, Whale Watch Platform, Beach, Fishing
Fortress, San Miguel Fortress, Free Zone Shopping, Tenting
S 33. 58. 504 W 053. 32. 207 Alt; 33m Temp: 16 degrees C @ 5 am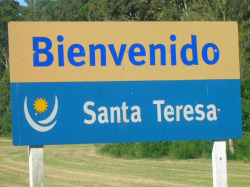 When a tourist arrives in Rocha, Uruguay one landmark that must be seen is the Santa Teresa Uruguay, National park.The park is found on the 9 route at km 302, and it features beautiful beaches, and spectacular forested areas.Santa Teresa National Park was named for an 18th century fort that is still standing in its original position atop a hill.

Restoration of this fort has been instrumental in helping it become one of the chief attractions for park visitors.Camping is a great deal of fun to be sure, but it is the chance to combine some outdoor camping with swimming, surfing, hiking, historical tour of the old fort, whale watching from the observation platform.Santa Teresa Uruguay is also a favorite place for tourists and regular park visitors because of its large camping area. There are a
few small bungalows that are available for rent, but many people prefer
to rough it in the great outdoors by pitching their tents under a
stunning night sky filled with sparkling stars.

As many as 7 people can rent a camp site for less than $10 USD. Although the campgrounds are spread over more than 2000 acres the
camping spaces are at a premium during the summer months due to the
influx of many college students, young adults and families.A
number of tourists are trying the camping experience and many of them
hail from Argentina, the UK, Brazil and the US.The Santa Teresa beach is
one of this national park's best features. You can find many visitors
here strolling among the rolling sand dunes during the summer months.

Surprisingly
there will be few who place blankets on the shores of this beach
because of those powerful inland gusts of wind that breeze through the
park and keep the sands tumbling along the coastline. Santa Teresa Beach
beckons to the more adventurous outdoor travelers who enjoy the brisk
winds and surging surf.

This coastal area is definitely one of
Uruguay's hidden treasures and it is worth a visit, but you should be
prepared for a somewhat aggressive greeting from Mother Nature when you
visit the Santa Teresa National Park.