Trip Start
Jan 09, 2006
1
50
52
Trip End
Aug 15, 2006
Loading Map
Map your own trip!
We've spent our last days here in London doing the usual. Shopping, sight seeing, eating and shopping. This is pretty much all we saw of Westminster Abby: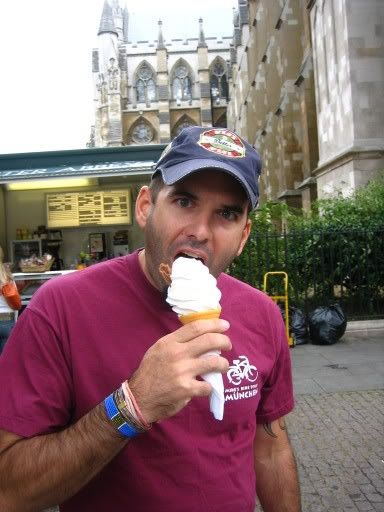 mmmmm, ice cream!
We also continued our cultrual exploitations...ah, I mean exploration. Once again Qanun came through for us and scored some great theater tickets to
THE WOMAN IN BLACK
. This is a really great play. There were only two actors in the whole play and it was nothing but spooky and suspenseful....Right up Rachels alley. A few days later we visted some more old friends here in London for a right proper BBQ. Eddie and Mia hosted the party and it's a good thing everyone there were friends as, per usual, things were rowdy. Ian was the man behind the grill. We call him Wolverine, but check out the photo section and you be the judge. But benice now, he's not to fond of us calling him that. Just a word of caution should you ever meet him.
It was an excellent BBQ with the usual cast of characters, great venison, flowing beer and songs sung late into the night. Then, when all the childeren and weak soles had turned in for the night, Jerry showed us how to make good sweet loving to a concrete fence. Once again, see photo section for details.
The next moring the BIG QUESTION was finally answered. The mystery of The Crumpet was solved! Mia was kind enough to reveal the secret of this elusive English baked good and show us all how a crumpet is skinned and cooked up properly!
The Crumpet Revealed!
Apparently this tasty delicasy is very much like an American pancake and is usually served toasted well and slathered in what ever toppings tickel your fancy. I can attest to the fact that they are, indeed, quite tastey. Mystery solved! Thanks Mia and Eddie for the the great fun and hospitality. We'll be seeing you guys again soon! Oh, and hang on to Rachels knickers. I'll get them back from you later. Saucy wench, leaving her undies all over the world....Sheese!
And so, now it ends. Tomorrow we depart Jolly old England for the good old U.S. of A! While we hate the idea that our trip has come to an end, it will be good to get back home, dust out the old house and throw one hell of a serious 'Honeymoon Over!' party. We've made tons of friends in the past 7 months and we miss most of them. But you are all welcomed and expected to come and visit us at the earliest time possible. Two little shout outs here:
Brendan:
, sorry we missed you mate. We were not able to get in touch with you but I'll catch you next time.
Ciara:
You sweet bit-o-crumpet, we have been emailing you but it seems your not getting them. Shame on you!
So, that about wraps things up. Next stop.......
Jolly 'ol Mooners
OK, so we're lazy....realllly lazy. London has been like detox central for us. Well, detox with booze anyway. We have escaped hostel life in favor of a lovely London flat. Our friend Qanun and the lovely Linda were gracious enough to take us in off the streets and let us crash at there home here in London. Taking in poor, smell backpackers isn't always the smartest thing to do but fortunatly we're of the house-broken variety.