Trip Start
Jan 09, 2006
1
49
52
Trip End
Aug 15, 2006
Loading Map
Map your own trip!
We're being lazy. Actually we spent our first day with our friend Qanun who was kind enough to drive us all around London and show us the insiders tour. This was followed by a spectacular dinner at a local Italian resturant. I doubt anyone has ever seen a crumpet lurking in an Italian resturant. After that the next day was enjoyingthe tourist tour of the city via the Original London Bus Tour. I'm not posting there link because they are signs for them everywhere and it's a dull tour. The weather however, has been fantastic. Clear blue skys and pleasant days with a nice breeze. Just perfect for us anyway. The Brits however seem to think they've suddenly been pitched into deepest darkest Africa with all this so called heat and humidity. Pah! ....maybe crumpets are cold weather creatures....hmmmmm.
The best thing by far that we've done was to take in a showing of the
BLUE MAN GROUP
. If you have not seen these guys or been to a show, find them and go.
Brilliantly clever to use a Bristish term. It was one and a half hours of pure entertainment. Rachel loved them and could not stop talking about the performance. Next on our to see list is Avenue Q and , if we can, Stomp. Seems like London will be our cultural fix if Rachel has her way....and we all know that what Rachel wants....Rachel takes!
Kidding dear....
Whe also got to watch Victoria Station catch fire. For a second there we were having flashbacks to London Bombing news stories. No to worry, just some small electrical fire or some such nonsence. Cleared up in now time. We are now safely entrenched at our friend Qanun's place. He and Linda are taking great care of us and keeping us off the streets. We'll send out more updates when more happens.
Cheer-ee-O!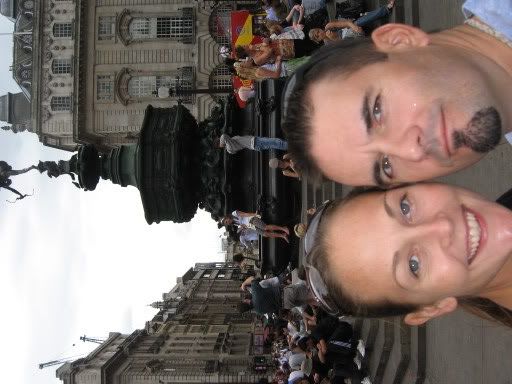 Colonial Mooners
Old Blighty! We havearrived in the land of Tea and Crumpets. So far we have yet to be offered tea and have not sceen hide nor hair of a crumpit anywhere. I'm begining to believe the whole crumpet thing is a myth created by the establishment to make keep the little people down. Vive La Protest! Oh, wait, sorry, wrong country.