Trip Start
Jan 09, 2006
1
48
52
Trip End
Aug 15, 2006
Loading Map
Map your own trip!
-there is no way all that crap will fit in there!
From there we wandered back to our hotel. On the way we got to witness a world famous Parisian past time: Protesting! Yes, the French will protest a tomato if it falls to the wrong side of the bagette. These two had black fabric over part of their flags but no sign in any language to explain there beef. Hey, if its the only way they can feel important more power to them. Qt least they were not buring the city down this time..Vive La Protest!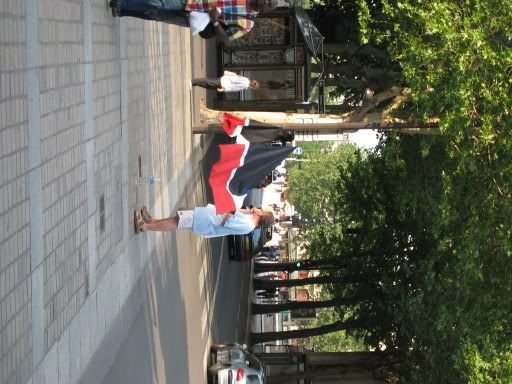 Well, after a long day of roving museums and supporting protesters it was time to experience another side of Paris. No visit would be complete (or allowed) without The Romantic Dinner! We found a lovely little Brassierie and sat down to a feast! The one thing the French do know, thats food....ok, food and wine! The resturant was lovely, our waiter was great and the food was heavenly. Credit where it is do, that was a fine meal.
Now we've come to our last day in gay Paris. It's a beautiful day here in Paris and can you guess where Rachel is boys and girls?
I knew that ya could!
Just name the designer, I'm sure she has already visited their store. Me, I'm having a beer, telling tall tales and waiting for Rachel to meet me at the Eiffle Tower so I can get one last picture of me mooning Paris. Hey, we only pick on the people and places we love....
Wish us luck! Tomorrow its tea and crumpets with the Queen. Just what the hell IS a crumpet anyway.....?
The Louverly Mooners
OK, so Paris really isn't all that bad, honest! God bless 'em, you can get a bottle of wine here (good wine mind you!) for less than a bottle of water! I'm talking 1.50 Euro for a bottle of freaking good wine! The French do have a Special Purpose after all! We visited the Louver and had a blast. Sorry there are not alot of pics to view but they are pretty strict on that whole photography thing. We wandered the Louver for several hours enjoying the master pieces from the Winged Victory and Venus to the Mona Lisa, the 3 biggest draws these days. Napoleons appartments were a sight to behold. You have to see them to believe them. After that we wandered around the city some more. We enjoyed a bagette in the park then experienced the Parisian port-o-potty. These things are sweet. I mean they are nicer than some of the hotels we have stayed in! As a matter of fact, some of the locals use them for hotels come to think of it....