Around town with Scott and Rachel
Trip Start
Jan 09, 2006
1
44
52
Trip End
Aug 15, 2006
Loading Map
Map your own trip!
We started with a Munich must:
Mikes Bike Tour
Mikes is a must when visiting Munich. They can show you more interesting things in four hours than you might find on your own in days. And they´re shit loads of fun. Our tour guide Steve did a great job and really knows his way around.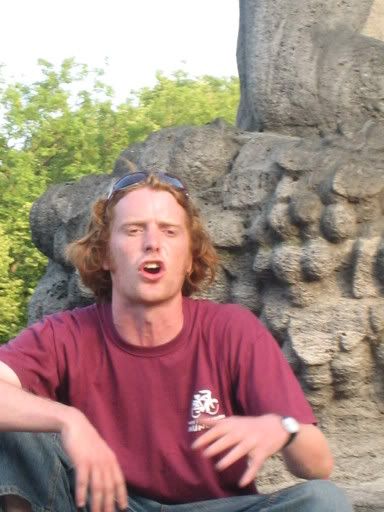 We got a chance to see more in the English Gardens than anyone wants or needs to. Seems Germans, German men really, like to walk around and play sports in the park while in the buff. What is it with people who feel the need to play sports in the nude? Nudist not to your taste, how about surfing? Ever had the urge to go surfing in the heart of Munich? You can, and in a river no less!
One day up, the next day down. The next day we visited the Dachau concentration camp. That was a serious downer but another thing anyone coming here should experience. We were surprised to find that the place felt much like S-21 in Cambodia. Not a nice feeling. wWe were fortunate enough to have another good guide who really got you into the mood of the place and helped you really see the place for what it was. One thing we never knew was that Germans were the first people sent to the concentration camps. Of course by the end of the war this had changed. Dachau was also the model for all other concentration camps build during the war. Depressing but we learned a lot.
One day down, next day up...Really up!
We went back to Mikes Bike Tours to see if they could lift our spirits after Dachau. Why yes, of course we can! Off we went with them for a tour of Neuschwanstein Castle. Once in the small village below the castle we were informed we had two options for the morning. We could cycle around the lake or we could jump off a mountain. I´ll take door #2 Monty! Sorry Mamma Keane. Yes, I really did throw your daughter off of a mountain. But she´s fine! Honest! We took off with
'No Limits Aktiv Center'
for a morning of Para-gliding. Up we went 1720 meters to the top of Mount Tegel. There our pilots Andy (for Scott) and Gonzo (for Rachel) got us ready for our flight.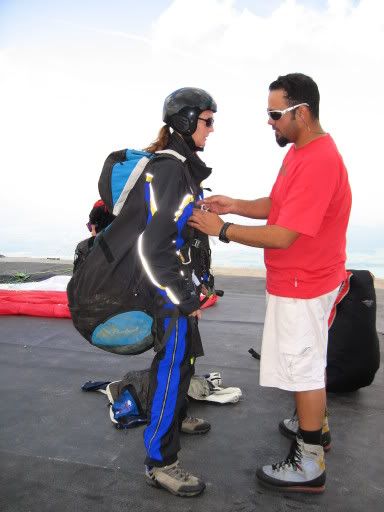 -is that a load in your pants?-
I went first and we circled the launch pad while Rachel and Gonzo waited for the wind conditions to improve. The view above the landing zone was wild and I got some great pics of Rach getting ready to step into the wild blue yonder. Once in the air we both flew over the German countryside and right over the castle we had come to see. It was absolutely beautiful and one hell of a different perspective. Check out the picture section to see what I mean.
-view from the launch pad-
After lunch we hopped on a luge for some sledding then it was time to hike up to the castle. We had the privilege of trekking up a trail that was normally closed and the views were great. Up to the bridge overlooking the castle then back down a bit to the castle itself. Neuschwanstein was built by Ludwig the Second. Ludwig was an eccentric chap who spent all his time and money palling around with Richard Wagner and living in his own ferry tale world. Neuschwanstein may look familiar to you as it´s likeness was used by Walt Disney for the Disney castle. The inside of the castle was never finished completely. Only 18 of 60 rooms were actually completed. Ludwig's bed alone took 14 wood carvers 4 years to complete and it´s no larger than a double bed. Unfortunately we were not allowed to take photos inside the castle so no views for youz guys, sorry.
Late in the day, we climbed down from the remainder of Ludwig's dreams and headed back to Munich. We´re currently planning our next destination and it´s looking like Prague is next on the list. After that, we´re not sure. Anyone have any suggestions as where we should head next? With in reason now, unless you plan to foot the bill!
Until the next update!
The Mooners
Six days in Munich and what do we have to show for it? Quite a bit actually. The day after the World Cup was a recovery day. Since then we´ve been exploring the city and seeing the sites....oh, and eating....lots of eating...and beer, lots of beer.