Trip Start
Jan 09, 2006
1
43
52
Trip End
Aug 15, 2006
Loading Map
Map your own trip!
The evening started with a huge feed at the beer garden. Shona brought a tastey picnic basket and we picked up some chickens and pretzels & schnitzels and the beer began to flow...and flow and flow and flow.
The game was great. Actually getting ti be in Germany for the finals was a treat and the atmosphere was fantastic. When the Italians finally won the place went wild! We were having such a good time we didn`t even realize the beer garden had emptied out until the staff had to run us off. Beers in hand we headed into town to witness the Italian fans celebrate in the streets. Flags and cheers and fireworks and more beers.
Eventually we made it back to the subway for the ride home with more Italian fans packing the trains with us. Exhausted from our flight and little to know sleep during our layover we were pretty pooped but not too tired to be talked into just one more beer at the local pub before turning in. I think that one was the straw that broke the Rachels back. After being tossed out of yet another bar that was closing we staggered back to the flat. My lovely bride managed to drink over 4 1/2 liters of beer. Super trooper that gal....until the next morning. Rachel and Shona were a bit beat the next morning but the suffering was well worth it for the great time we had.
We`re here for the next week or so and it will be interesting to see if Rach can top 4 liters of beer in one sitting. We love Munich!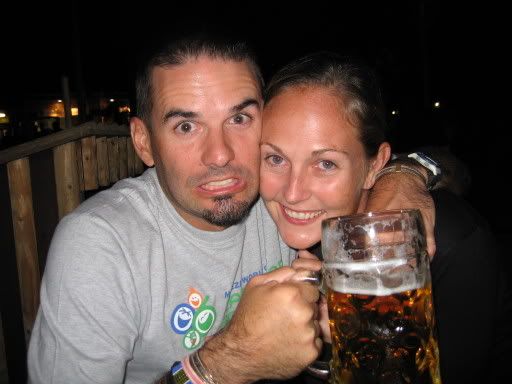 Das Mooners
World Cup fevor! We made it in time to watch the World Cup finals here in Munich. Our friends Calle and Shona (that we met in Vietnam) took us in and took us out to a huge outdoor beer garden to watch the final. The weather was perfect and the crowds were huge! Most of the Germans were pulling for France to win since the Italians knocked them out of the finals. So, that ment I had to pull for the Italians.