Trip Start
Jan 09, 2006
1
36
52
Trip End
Aug 15, 2006
Loading Map
Map your own trip!
The Taj itself is truly a wonder to behold. Built by a Sultan who's name I can not remember at the moment it was a dedication of love and the burial spot of his wife. There was some serious love going on here as she died giving birth to their 14th child. The building itself is a marvel of engineering and the 4 towers or minarets that surround the Taj are built to lean slightly away from the main structure. The thinking is this was done so the towers would fall away from the building should an earthquake strike.
No the bad news. I have no way to upload pictures so until I do there will be no pics of India or Africa for now. Sorry about that.
The trip to Agra was pleasant. Our driver and private car are a real blessing and we're getting to see a lot of the country side. Agra is in Uttar Pradesh(sp?), a state on it's own. Most of the landscape around here and back in Rajastan is mostly desert and dry. Dust...lots of dust. The temp so far has reached 45 at it's hottest which is around 110+F. Dry heat or not, it's hot. We easily go through 6-8 liters of water each per day. Beer is hard to find and it's usually too hot to appreciate it when it's found. This is a blessing in itself as India beer ranks on the ass end of beer choices no matter the weather.
But I digress. Agra itself is nothing to speak of. In fact, if you are visiting the Taj you'd be better day tripping that actually staying over night. Picture a pear sitting in the center of a large cow patty and you begin to get the picture of the place.
Gee, that sounded a bit harsh but the description also matches the smell of the place strangely enough. I case you are wondering, that is Rachel's description. Almost an exact wording minus some expletives to keep her Mom happy.
We hit the Taj first thin in the morning before the crowds and were on the road by 9am. Next stop Jaipor....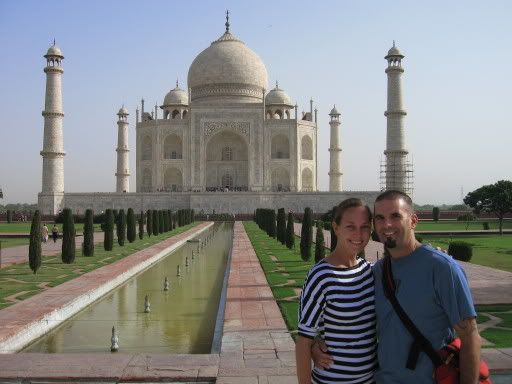 The Taj Moonhal's
Agra. Here is another small little town that would never exist in anyone's memory if not for one majestic blessing. Agra is the home of the Taj Mahal. Unfortunately it takes advantage of this blessing in the worst ways instead of the better.