Rain drops keep falling on my head...
Trip Start
Jan 09, 2006
1
34
52
Trip End
Aug 15, 2006
Loading Map
Map your own trip!
We arrive to organised chaos at the docks. All the cruise boats jocky for possition at the docks as travelers clamer from ship to ship to board or return to shore. We borded ODC's 'Uniquely Pearl' and headed out for E. coli bay. Yes folks, we had floaters. While Ha Long Bay is protected as a World Heritage Site this does not keep the locals and their floating villiages from flushing or tossing anything over the side. But that was the only drawback we could find...well, that and the weather. The bay is dazzling, even in the mist and fog.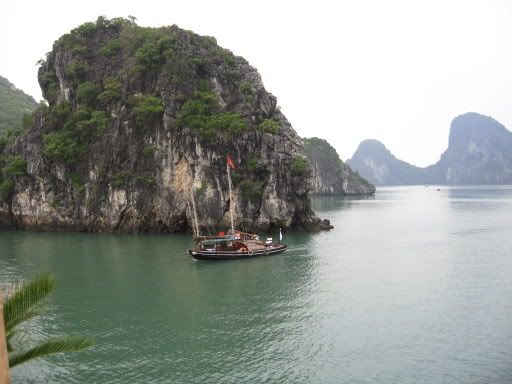 We explored the Surprising Cave and stopped at a few islands. We even did a little exploring via kayak. Just watch out forthe floating mines.(Dat ain't no Baby Ruth!) The food was plentiful, if not repetative and our tour guide, "Little Mouse" taught us alot.
Our second day we were teased with a few rays of sunshine but it was only a tease...that was until we returned to shore. One hour later it was blue skys and sunshine as far as the eye can see. Bugger! At least we got to see a huge jelly fish while kayaking.
And thats Halong Bay. Back to Hanoi and Bia Hoi!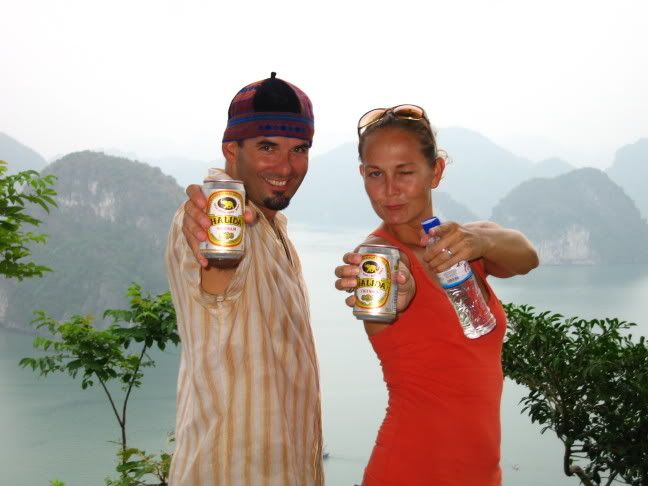 Bia Hoi Mooners!
ODC travel is top notch. We've seen tons of travel brochures here in S.E. Asia and this is the only tour that you actually got what the picture showed. Outstanding. We ventured down to Ha Long Bay with the Janet, Shona and Calle for a farewell cruise. They are off to the north of Vietnam for trekking and we're off to India. The only drawback is the weather. It's raining, it's pouring...you get the picture.