Follow the Yellow Noodle...
Trip Start
Jan 09, 2006
1
33
52
Trip End
Aug 15, 2006
Loading Map
Map your own trip!
When we arrived at the Real Hotel,
Thu Giang Guest House
, we were amazed. The people were so incredibly nice it made up for the a-holes at the other place. They have to work 2x as hard thanks to the copy cats. They were great, the tours they booked were great and they even sent us off with a bag full of Lychee the day we left. If you want a great tour, book with "ODC Travel" or through Thu Giang. We took their 2 day 1 night tour of Ha Long Bay and loved it.
While in Hanoi we hit the hot spots. First on the list was the final resting place of Uncle Ho. Ho Chi Mins Mosuleum has the best A/C in the country and the longest lines but also the fastest. We were in and out in 15 minutes. They would not let us bring in our cameras so no pics of Old Ho and you must keep your hands at your sides at all times! No crossing arms or sticking hands in pockets or else! Later we explored the Temple of Literature, Ho's museum and a Pagoda or two. Apologiese to our Asians friends but we're all templed and pagoda'd out. We even visited the famous Hanoi Water Puppet Show.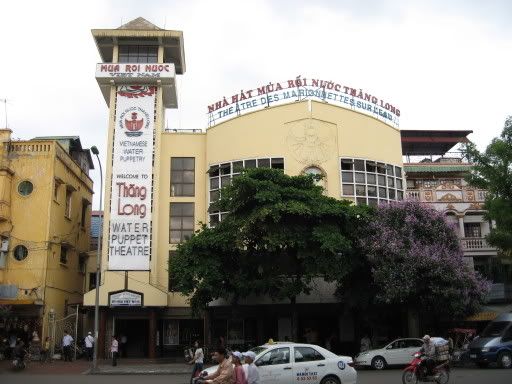 Most of the time we explored the city streets and markets, resturants and street bars. We said goodbye to Janet, Shona and Calle(who is actually from Sweden and not South Africa) and were forced to adventure on our own again. We miss you guys! Travel safe!
Now we're headed back to Bangkok to book tickets to India. Now the fun really begins! Wish us luck and keep your fingers crossed!
Yum Yum Mooners
Welcome to the North. Well, no place is perfect and such is the case in Hanoi. We've noticed that the further north we go the less friendly the folks are. Kind of like home...just kidding Yankee's! From Hue on up it's gotten worse as have the bus rides but hey, what do you want for 16 bucks. Upon landing in Hanoi we ran into another scam. It goes like this. Tour bus drops you off at hotel that claims it's in your guide book. You check and low and behold, it is the hotel...well sort of. See the game in Hanoi is "copy the hotel" or, "if you can't beat 'em, clone 'em". Some seedy crew will rent a building/hotel and rename it to match one that is recommended in your guide book. The service is shoddy and the tours are also scams. They copy everything down to the business cards and key chains. Smart traveler be wary. Always check the address of the hotel you want against the hotel you end up in. Thats how we figured out we were being scammed. Then there's more. On check out they suddenly hit you with 'tax', but there is no tax in Vietnam they just wantto juice you for more. There was practially a brawl in the hotel lobby when we and several others refused to pay taxes and demanded passports back. Always an adventure in Hanoi.