Trip Start
Jan 09, 2006
1
30
52
Trip End
Aug 15, 2006
Loading Map
Map your own trip!
Mui Ne is a very quiet little beach town. We mean Quiet. Granted we're here in low season but wow. It's like we're the only folks here! We hopped a bus out of Saigon (reluctantly) and landed at our first beach destination. Since the south of Thailand we've been Jonesings for some beach time and we hear Viet Nam has some great one's. We'll see.
So far Mui Ne has some very windy ones. Turns out, it's more of a kite/windsurfing place than anything else. The beaches are short and when the tide is in, there isn't much beach ot speak of at all. Come 2pm, the winds blow like mad. So mad in fact that my attempt to learn to kite-surf were curtailed due to too strong of winds....only to be followed by no wind at all almost within minutes. So much for kite-surfng school. Fudge!
Though the town was small as well as the beaches we had a nice time exploring the suroundings. We explored the fast reaches of the Red Sand Dunes and sand sleded with 'Yeu'
a local boy who bet me I could not make it to the water. Silly boy...soggy Scott... Explored the Fairy Stream and the non-existant 'Waterfall', saw the fishing village and even explored the White Sand Dunes and the many Sarlac mounds. Who knew the Sarlac had migrated to Viet Nam.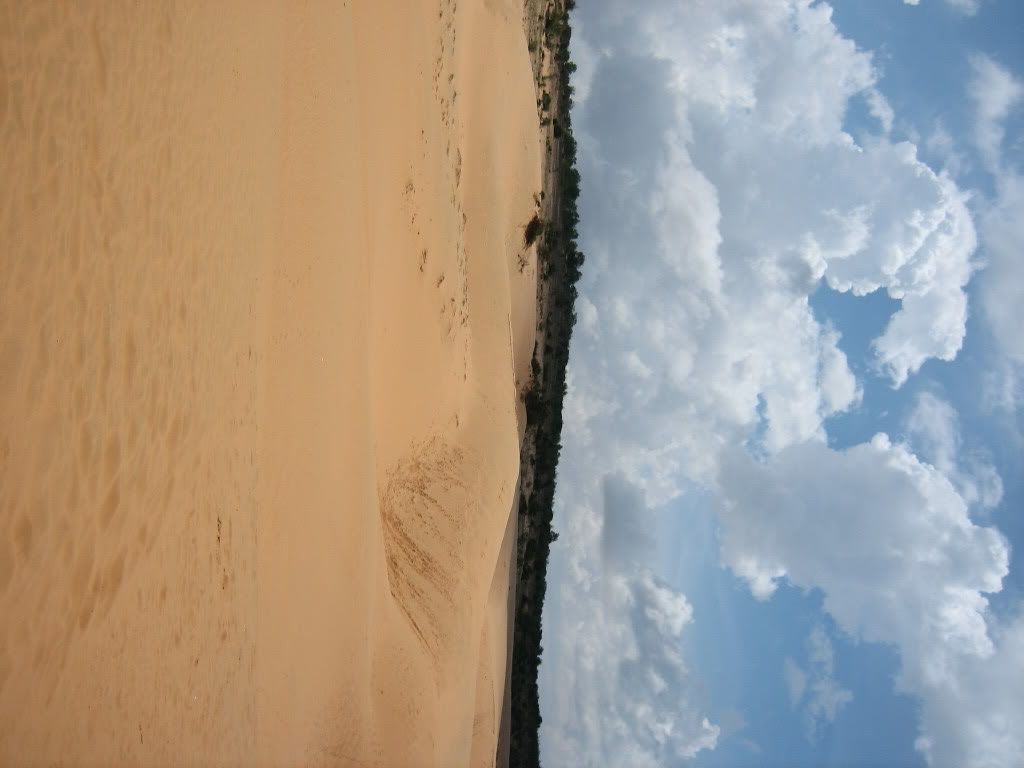 (little hard to see so use ur imagination)
-If you have no idea what a 'Sarlac' is, then you can safely say you are Not a NERD. Those of you who Do know what a Sarlac is (Drew), suck it up, you're a Nerd! Hell, so am I, I brought it up.
OK, 2 days at low season in Mui Ne was enough. We're off to Na Trang in the A.M. for some of the proclaimed best diving in Viet Nam. We will be the judge of that!
"Wait! I thought you said you were blind!".."Trust me Lando!"...
Tattooine Mooners
Mui Ne.