Trip Start
Jan 09, 2006
1
29
52
Trip End
Aug 15, 2006
Loading Map
Map your own trip!
Hearing that there is a great view on the roof-top bar at the Rex Hotel we decided to brave the traffic and get a moto-driver to haul us over there. And let me tell you, what a ride!!! While I never thought my life was truly in danger, the pucker factor was pretty high. Weaving in and out of traffic trying to avoid some big old bus; well damn it, that is a good time!!!!!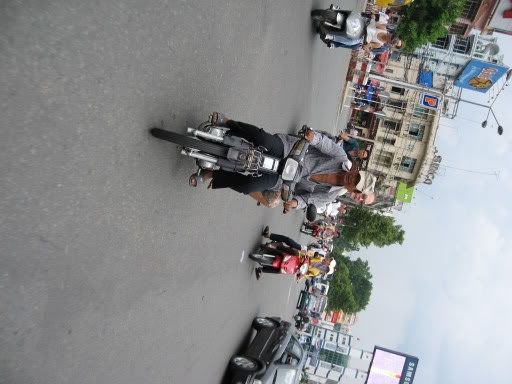 But we got there in one piece just in time to run inside to avoid a nasty afternoon thunderstorm. IT WAS LIKE BEING AT HOME; we even had our own mini-hurricane party! Actually that is not far from the truth; turns out our little afternoon shower was a small piece of a cyclone that was making it way up to China. What is it with cyclones and hurricanes? I think they are following us; I really do.
The next day we decided that we should see some of the more cultural sites in the city; namely the Independence Palace and the War Remnants Museum. I mean, travel is not all fun and games folks; sometimes we like to through a little education in there to mix it up. The Independence Palace used to be the center building for the South Vietnamese government before the war. It is supposedly is kept just the way it was when it was handed over to the VC when Saigon fell. I say supposedly because it turned out to be closed for refurbishing; a little detail that no one told us and that I am pretty sure every motodriver knew. So we took a couple of pictures and made our way to the War Remnants Museum. Set in a relatively bland building, the museum contains many US armored vehicles, artillery pieces, and weapons used by the US during the war. There are also accounts of the war and what went on from the Vietnamese perspective. While the displays, descriptions and the general point-of-view were obviously one-sided, I have to admit that it was hard to see. They hold no punches in that one! Especially when it came to the use of Agent Orange and its affects; it was really just heartbreaking.
For our few days in Saigon, I have to say that Vietnam really became a favorite. I can't say enough about the people; always nice, asking where you are from, saying hello, and always with a smile. A few people had told us that their time in Vietnam was horrible and that the people were always trying to get more money out of them - blah, blah, blah. I am not sure where in Vietnam these people went but nothing could be further from the experience that we have had. Of course, we still have a few other cities to see and many more people to meet; but so far Vietnam is on the "Must Go Back" list!!!!!
Much love,
The Mooners
P.S. Uncle Ho sends is very best too!
From Chau Doc we took the bus to Ho Chi Min City; formally the city of Saigon. But almost everyone still call it Saigon. Lets be honest, Ho Chi Min City is a mouthful! The city itself is much more modern and bustling than I originally expected but also overflowing with pictures and statues of Ho Chi Min (Uncle Ho). The hammer and the sickle are also pretty liberally splattered all over the city. A little odd at first but oh well. We arrived on Sunday night which is apparently a big night to go out and see and be seen. And let me tell you, people were all over the place! At one intersection motorbikes were piled piratically one on top of each other waiting for the traffic light to change so they could jockey for position just to wait at the next traffic light. All the while motorbikes and cars come from the other direction are slowing easing into the intersection to get across. Why there are traffic lights in the first place is beyond me!