Trip Start
Jan 09, 2006
1
24
52
Trip End
Aug 15, 2006
Loading Map
Map your own trip!
We spent a few days relaxing and exploring the city. Rachel decided to try her skills at Thai cooking school. She attended and evening class at the Pad Thai Cooking School and was fortunate enough to be the only student that evening. Under the expert tutilage of Nookie(pronounced No-Key), she deftly learned to prepare such Thai classics as Pad Thai, Tom Yum with Shrimp, Green curry and coconut soup with chicken, sauteed Chinese spinach and banannas in cocunut cream...yummmm!
While Rachel was cooking up a storm, I took off to explore the Sunday night market. The market is held once a week(obviously) in the old city section of Chang Mai. The old city was once a walled off city surrounded by a moat much like an old medieval town. The market is filled with stalls selling everything from foods to silver to the mumbled collection of crap found all over Thailand for unsuspecting Farang to buy. There are also locals and children who do street performances for money. While exploringthe market and partaking of some of the local cuisine I ran across a lovely demon of a woman who sold me food that promtly poisoned me. It took a few hours but that smiling assassin got me good. Rachel has earned bragging rights. She was not the first to catch a bout of food poisoning, nooooo, it was I, the worldly adventurer who received the gift of "the double ended trots". Such is life. The one drawback was that we were supposed to head out the next day for our trek and try as I might the night before to expunge the poison in my system we were forced to delay our trek.
In the mean time, our visa's for Thailand were quickly running out. To renew them for another 30 days we needed to do something fast so we headed for the boarder. We booked a trip to Myanmar(Burma). Burma, as many of you may know, is a secretive and oppressed little country squeezed in between Thailand and India and is ruled by one of the most oppressive dictatorships in the world. Many people and groups such as Amnesty International ask that people not go there as it shows support for said Dictatorship. Myself, I do not hold such beliefs and do not let such groups cloud my judgment of a place. I prefer to see for myself.
Burma boarder corssing at Mae Sai
Unfortunatly we didn't have much time there to see much of anything. What we did see showed alot of promise. The people were open, warm and polite and the government officials we met at the border were down right friendly. Everyone went out of their way to welcome us and it was clear they were working hard to encourage tourism. Now, remember, the place we visited was a border town called Mae Sai and may not reflect the rest of the country. Since I have not seen it with my own eyes I can't say for sure but if it comes close to what we saw at the border, I have hope. I have heard many good things from those who have gone further and seen more. To me, this boads well for the more foreigners that come in and see the place and see what goes on, the more the word will get out and the quicker(hopefully) change will come.
Junge Trekking
Stomach in check and visa's renewed we headed off for the jungles of Chiang Mai. We booked our trek through Daret Guest House and Pon took good care of us. We were ten in all, 2 'Yanks', 1 'Pom'(Englishman), 1 Swiss gal and 6 wild Aussies made up the trip and we were headed for 3 days and 2 nights of jungle trekking. The first day was mostly up hill all the way. I mean up hill! There was some seriously steep climbs to be had and to make matters more interesting it was raining...not sprinkling or misting, raining. My first concern was that Rachel was going to go balistic. Three days in the jungle trekking was one thing, doing it in the rain with the potential for wet sleeping was another animal all together! Foolish me. Iron Rachel took it all in stride. The rain kept the temperatures down to an almost comfortable level and added some amusement as the Aussies, most all wearing only thongs and flip flops, went slipping and sliding down the trails. Give it to the Aussies, they were real troopers,especially Sky(go girl!), and even though all they wore crap for shoes they were unphased.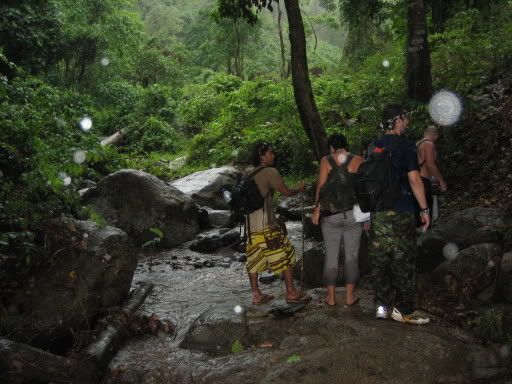 We saw some amazing views and stayed in local villages. These villages were not Thai but tribes from China who had made their homes in the jungles out of bamboo and not much else. Most villages had no electricity and their water supply was provided via an ingenious system of bamboo piping that brought water from the river into the village. On our last day we road elephants, went white water rafting and then sailed the rest of the way down the river on bamboo rafts. The locals make a trade of selling bamboo and they usually send it down the rivers for sale. To add income, they've started lashing the bamboo into rafts for tourists to ride down the river. Crafty little folks indeed. We had a few more people on our rafts than the safety regualtions probably allowed so mostly we floated/swam along with our raft. All in all, a great time spent with great people.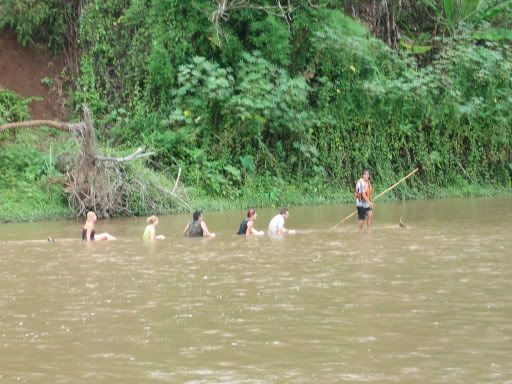 Arriving back in Chiang Mai we sit in the rain yet again. Seems hurricans are following us around the world. Australia has suffered many while we were there and since we've left. Now one(called a cyclone here) has hit the India, Burma coast and now sits over Chiang Mai as a tropical disturbance. We're here for another day, maybe two then it's back to BBK to catch a bus to Cambodia and more adventures....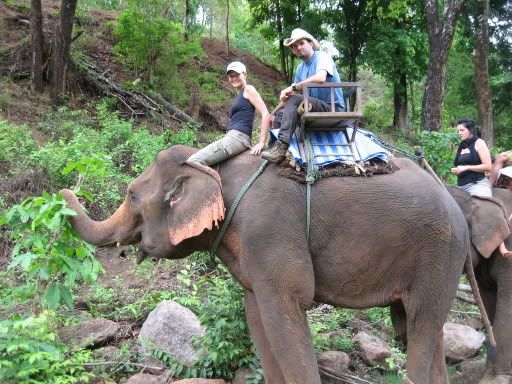 Tarzan and Jane,
Mooners!
Desperatly in need of some recovery time after Opperation Monkey Drop, Rachel and I have fled to the Northern reaches of Thailand and the city of Chiang Mai. Only slightly cooler this time of year, Chiang Mai is far removed from the hustle and bustle of Bangkok. Set near the jungle it is a spring board for treking trips as well as boarder runs to Myanmar(Burma) and Laos not to mention some good shopping.