Trip Start
Jan 09, 2006
1
19
52
Trip End
Aug 15, 2006
Loading Map
Map your own trip!
With that said, we start with BBK, aka: Bangkok.
We arrived by train as those of you following know by now. The train was fun, blah blah blah...you've heard that as well. So anyway, we managed to track down my old stomping ground and base of operations from my last trip to BBK. To my great pleasure the place,
Mama's Apple 2 Guest House
is still open and doing a brisk business. The key is finding the place. It's down a back alley and if you don't know about the place, you don't stay there. The only drawback this time was that it seems the secret gout into the wrong hands and the place was infested with the French. No offense to you Frenchies out there on this list, and you know who you are. If you're on this list, you can take a joke...
Anyway, for those of you who remember Mama, she is doing well and so is Papa. The place has not changed in 6 years and I doubt if it ever will. Many of Mama's 'children' have grown and are now helping with the hostel. They've even opened a new branch outside of BBK.
TUK TUK, symbol of Thailand
We spent our time sweating, relaxing, sweating, eating much good & cheap Thai food (Mmmmm, Phad Thai tastes even better at 20 Bht which equals roughly $.75US), sweating, risking life and limb while traveling in Tuk Tuks, and seeing the sites and Trust me, by the time we leave BBK you will be sick to death of seeing Temples. Why, wonder of wonders, we even managed to get in a little shopping. Christmas is coming and we mean to be prepared. Who wants a Prada or Gucci bag? Hermies anyone? Get your orders in now folks, Rachel is on a ROLL!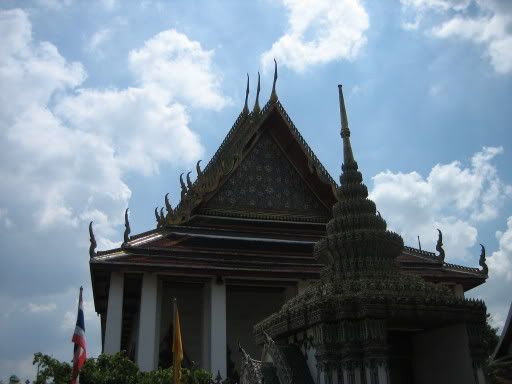 Temple!
OK, this update is going to end on a short note as while I am trying to catch up I'm busy loading all the new and wonderful pics we've taken since our 'visitor' arrived so bear with me. It's all on the way. Who knows who might pop up in the next update so roll up your pants (or Capri Pants in Howard's case) cause it's going to get messy from here!
Big Chang kisses and spicy pad thai dreams...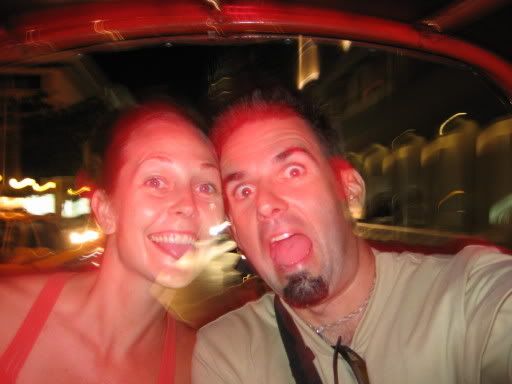 Das Mooners
OK folks, get ready. The updates are about to start coming fast and furious. If they cause you the same hangovers they caused us to achieve, consider yourselves warned.
Where I stayed
Mama's Apple 2 Guest House