Trip Start
Jan 09, 2006
1
18
52
Trip End
Aug 15, 2006
Loading Map
Map your own trip!
Kuala Lumpur, known by most as simply K.L. is the capital and largest city in Malaysia, so says the guide books. It is a mainly Muslim country but very laid back. We were told that Singapore was the shopping center of S.E. Asia but whomever decided that has not been to K.L. The city is very progressive and looks to continue to be leading player in the future. One only needs to look at the fantastic Patronas Towers to see this. These twin monsters with their connecting bridge are the tallest manmade structures on the planet. They are something to behold though difficult to get into. Unlike the Emprire State building or the old Twin Towers visits by tourists are strictly regualted and only allowed on the connecting bridges. Not quite ones to wake at the wee hours of the morning to queue up for tickts, Rach and I decided to view their majesty from the ground level from a beautiful little park across the way.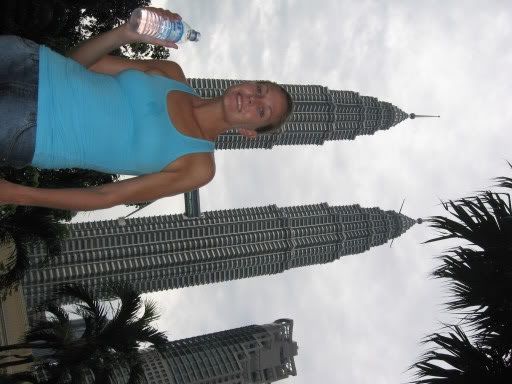 Since we were in the area and there was shopping to be had, we set off. We were met by a lovely lady named Deborah at a store called 'Edmundster'(a famous Asian designer) who swept Rachel away and began dressing her like a Barbie doll. Needless to say, she was in heaven. Smelling a sucker and blood in the water, Deborah had me and my wallet dry before I knew what hit me. Actually, it really was my idea and Rachel looked awsome and that was why we were there after all, wasn't it. How the hell did that happen? Just kidding Rachel ;)
A public service announcement:
When visiting K.L., stay in the Golden Triange at
Trekkers
. It doesn't look like much from the outside but the staff are super friendly and the place was spotless. For those of you who have met Rachel, you know this is a must! So, if you're visiting K.L. visit Trekkers.
After returning to K.L. from our jungle trek we borded another train to Thailand. During one of our layovers we had the chance to explore the island of Penang off the Malaysian, Thai border and it's main city of Georgetown. Well, maybe explore isn't the right word. More like have breakfast and almost become roadkill thanks to our Trickshaw 'action driver'. A trickshaw is a rickshaw type bicycle where you sit in front and are peddled around. Try this in rushour city traffic and you start to get the feel of things. It was pretty.....interesting. We'll leave it at that...
Seven hours later, we were back on board, chugging our way into Thailand and more political unrest. Strange how we keep stumbling into political unrest. Seems Thailand is in the throws of an early ellection of a new Priminister who many accuse of rampant corruption. There were a few bombings in Southern Thailand care of the peace loving muslims sects down that way and one as the polls closed but other than that, Thailand is a very peaceful place. No worries Mama Keane! Needless to say, a 15 hour train ride even in a sleeper car is a long time. But we enjoyed it and the views were great and the rail staff kept us well fueled and lubricated.
So, thats about it for Malaysia and Bangkok awaits. Sorry it's so short. There will be much more coming from Thailand, I can promise you that!
Sawadee!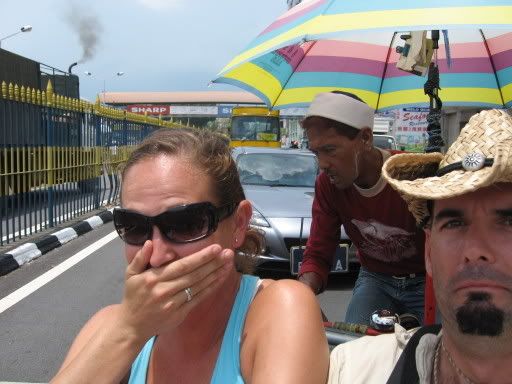 The Roadkill Mooners
Greetings once again. Sorry this one's out of sequence but there wasn't a whole lot to report from Kuala Lumpur. Try as we might, we were just really passing through.