Trip Start
Jan 09, 2006
1
17
52
Trip End
Aug 15, 2006
Loading Map
Map your own trip!
Teman Negara is a National Park of sorts. Originally established by the British back in their colonial days the 'park' stretches over 4343 sq km. The jungle is over 130 million years old and it is located almost in the center of Malaysia. Having never been logged or cleared, it remains a virgin jungle to this day. The journey there took all day, starting with a 4 hour bus ride and ending with a 3 hour long boat ride up the river to the village of Tahan that would serve as our 'base camp'.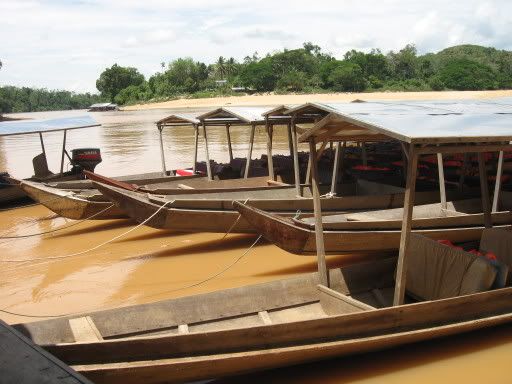 We started our adventure with a night safari. We climbed into the back of 2 old toyota trucks for a trip through a local palm forest in search of local animals with nocturnal tendencies. (No, not you Ricky) The palm forest us used to produce palm oil, a main export here which is used in everything from cosmetics to butter. Unfortunately, the weather was bad earlier in the day so the animals were not out in force. We saw a few creatures lurking in the distance, including deer and boar and something called a Palm Civet (a cross between a weasel and a coon). The view of the stars and a spectacular heat lightning display made up for the lack of animals.
Early the next morning we made our way down to the river for our first journey into the Jungle. One of the parks many attractions are the trails and hikes that can be done. Some can be done solo and other require guides as the jungle is very thick and the paths not so well marked. It is even possible to make deeper adventures into the park but time was against us. our hike was to take us high up into the trees themselves. Taman Negara holds claim to the worlds longest suspension bridge. More of a walkway really, it consists of nothing more than rope and cables holding up ladders with boards placed on top of them to provide a 'walkway' that allows visitors to view the jungle without putting a disturbing foot on the ground. The canopy walk swings a good 25 meters in the air and I kept looking for the bungee cord.
Needless to say, Rachel was in science heaven. We did a long trek into the jungle for some amazing views before we headed back for lunch. On the way back we stumbled across some of the locals. A small pack of wild boar were rooting around just off the trail. Lucky for us there were no youngin's with them or they might have not been as tolerant. One, in fact was quite curious. So curious in fact that had the guide not started to get nervous me and miss piggy would have ended up nose to nose. It was that close, but don't believe me, see for yourself.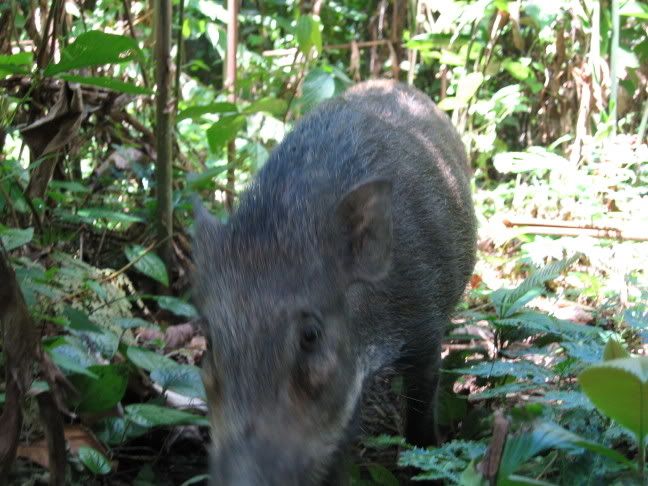 an no, I was not using the zoom.
Later in the day we had plans to visit a local Orangi Asli (original peoples) village but do to the small group going (us two) we joined another small group of two and visited a cave site. On the way the sky's opened and we experienced 1st hand why a rain forest gets its name. The cave was tight and full of bats, poisonous snakes and scorpion spiders and of course, leeches. Rachel, being the brains of the operation as previously stated, chose wisely to wait behind while the rest of us explored the wet (rain?, smelly bat poop, leech infested cave. I could have passed on the cave.
Once back on the surface we headed to the village of the Batek tribe. Call it a little slice of National Geographic. I've been to a few so called 'villages' in my past travels. Most were obvious set-ups for the tourists to gawk and the 'primitives'. This place looked like the real thing. It may not be, but they fooled me if it wasn't. We were introduced to the chief who taught us how to make blow darts for hunting monkeys, how to make a glue resin and where the poison for their blow darts come from. We even got a chance to start a fire using nothing but ratan strips and a piece of light wood similar to Balsa. It was a memorable day all around and even more so for the small size of our group.
Exhausted, we returned to our 'base camp' area. I say base camp but it was actually a string of barges with a few restaurants on them across the river from the park. That's where the village of Tahan was and our little hostel. Tahan hostel was a hoot in itself. First time I've seen bible belt Muslims(see photo section) but they were sweet people and even the morning call to prayer at 5:30am didn't piss Rachel off too badly. When not trekking we were usually on one of the barges hanging out with the locals. There was no booze or beer in the village as it appears Muslims have dry counties too so we amused ourselves with back flips contests in the river. All in all, a relaxing and exhausting 3 days. Back in K.L. now, we're making plans to head out to Bangkok via the train. When next we meet, we'll be in the land of Siam!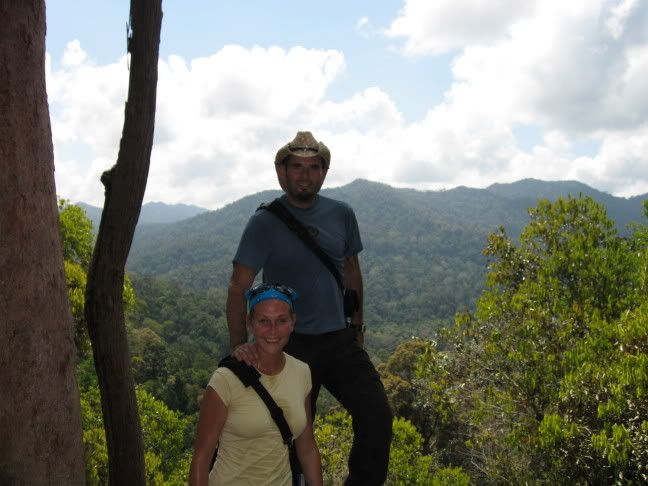 Jungle Mooner's
Taman Negara. During our search for things to do in Malaysia we were told that no matter what we should not miss Taman Negara. Being pretty easy going folks that's usually all it takes to send us off in any given direction. Once we started looking into the destination we knew we had to go.
Where I stayed
Tahan Hostel