What I learned in Australia and New Zealand
Trip Start
Jan 09, 2006
1
15
52
Trip End
Aug 15, 2006
Loading Map
Map your own trip!
A new thing is emerging that I'm not sure how to feel about. It's called 'Flash Packers'. Basically, take an old school back packers hostel and turn it into a resort. Advertise low prices to hook people and incorporate a fancy bar, a pool and travel agents and internet all in one spot and create a place the back packer never has to leave. To me, this seems to completely destroy the idea of traveling. The last thing I usually want while traveling is to stay in a pack of other travelers. Give me a local hostel or home any day over the cattle call of the Flash Packer lifestyle. An example for you:
Gilligans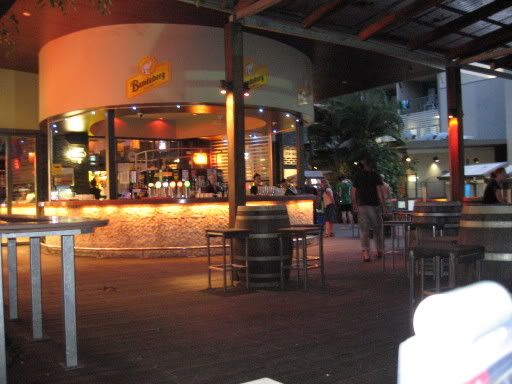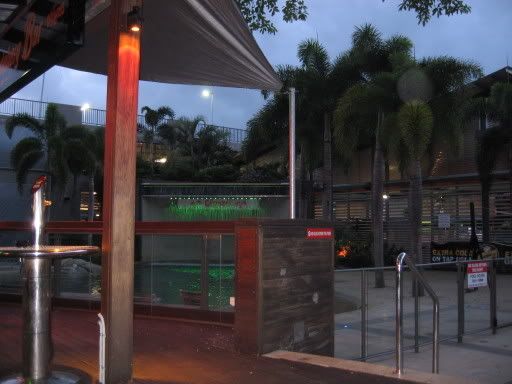 For a true back packing experience, avoid these places like the plague!
Don't get me wrong now, I expected this and more. Folks have to make a living but lets be honest,bait and switch is still bait and switch. The Australians were the best at this. Walk into any tour or ticketing office and you'll see signs plastered everywhere displaying the low low prices. Once you do a little digging you find that those prices are only good for one day of the year, when the moon is in a certain position and the stars align just so and no one ate meat that day. "But here, we have this for you!" = triple that price and you start there....don't forget the GST! It gets down right infuriating at times but people let it happen so people keep doing it.
Of course, there are ways around this, if you're willing to look and take a little time. We did it. Unfortunately it does take effort and many simply do not make the effort so the tack on's and the additions keep on adding on.
What ever you do, do not listen to an airline that tells you you must have an onward airline ticket to get somewhere. They are lying to your face and are just out for an extra buck. ;)
If you're still looking for a good way to travel on a budget and avoid some of the crap I'd suggest renting or buying a vehicle if you're in Australia or NZ. There are still hidden hazards there but the options out way the hassles...assuming you get a decent ride. To me, it remains the last real budget way to see the two countries on the cheap and off the beaten path away from all the 18 year old drunks and goofballs. No offense to the goofballs.
Another truth of the road:
No matter where you go, you cannot escape New Orleans!
One more observation on Australia and NZ. What the hell is up with the food?! It is virtually impossible to find a food product that is not fried, breaded, fried, in a pie, fried, or in some form of fried breaded roll! It makes me nervous when Subway or Burger King (Hungry Jack's for you Aussies) is the healthiest food one can find. And people say the U.S. has bad eating habits, good lord! Ah well, the things you learn while traveling!
With all of the above said, we had a blast in OZ and NZ. We met fantastic people and stayed in wonderful places and avoided most of the Flash Packing experiences. The friends we've made will be remembered forever and if we're lucky, we'll meet again soon.
In the end, it's the value of the experience and not the price of admission that really matters.
Off to S.E.Asia now. The prices will fall and the scheme's will rise but the enjoyment also increases the further away from the 'westernized' world. Don't get me wrong now, I'm no winy liberal preaching the wrongs of the Great Satan. It's experiencing the differences in the world that keep me on the road and seeing how they've changed since my last visit. That and exploring places I have yet to go and sharing them with my Bride. These are the days of the trip that I look forward to the most.
Hope you continue on the journey with us. In parting, I leave you with this one final view of Australia....
Scott
Two and a half months on, Fiji, New Zealand and Australia lay behind us and the best parts of the trip are just beginning. It's been 6 years since I was last on the road and things have indeed changed a bit. It seems that back packers have become more than just a curious oddity wandering into and out of town. They have become a market and there are plenty of folks out there ready to take advantage of that market. But, this is always the case with things I guess, especially in western markets. Australia and New Zealand were prime examples of this. Budget travel was another word for 'tack on'. Sure the price 'seemed' cheap but we all know about those things that seem to good to be true. By the time the 'budget travel agents and tour guides' were done, they had tacked on so much in extras (oh, you want sheets?), hidden costs, (fuel surcharge, arrival surcharge, departure surcharge, entrance tax..oh, you want a photo? $45!) and GST (no, GST is not included, your agent should have told you that) to the departure tax at the New Zealand airport that they don't tell you about until after you've exchanged all your money and just before you get to your plane suddenly budget travel holds no more meaning other than exploited tourist.
Where I stayed
Flash Packers