Trip Start
Jan 09, 2006
1
16
52
Trip End
Aug 15, 2006
Loading Map
Map your own trip!
As usual we rolled into Singapore in the late night hours. It seems we're always arriving at night and leaving during the day. We keep trying to avoid that but, such is life. Keeping with tradition, our 1st hostel was dubious, but clean and the folks were nice. Rachel was picked up on by a scary Pakistani guy....she always gets the hot, exotic ones(snicker)....but the romance died when we packed up and moved to a new place. More on that in a minute.
Our newest amusement is food. Well, let me clarify that. Our newest amusement is trying to figure out what kind of food it is we're ordering. There are two main choices on the culinary list here in Singapore, Indian and Chinese/Asian. The Indian is easier to understand but curry gets boring really fast and there's really no challenge when it comes to ordering. Asian on the other hand offers all the excitement and entertainment and then some. The cheapest and most interesting dinner is to visit one of the local Asian eateries. Think of your local food court, triple the size, quadruple the volume and pack it shoulder to shoulder with people, neon lights & posters, take away the prices(sometimes) and list all the selections in a Chinese characters and there you have it.
If it wasn't for the few pictures of the food we'd be seriously lost. Ordering usually involves a lot of pointing (if we're lucky, engleesh is understood) and a lot of Rachel pantomiming "is that hot?" Our favorite dish's that we've avoided so far has been "Cow Ass Soup" (I shit you not-no pun intended), pig stomach and the chicken foot stew. Mmmmmm, Yummy! Hey Happy, You want me to get you that recipe for Cow Ass soup?
Mmmm, Cow Ass soup!
While adventuring through Little India we came across a little piece of Nirvana in the form of
'The Prince of Wales' hostel
. The POW, as it is affectionately called, is run by Mal and his trusty dog, Jessica. Both took us in right away and made us feel right at home, especially Jessica. When Mal wasn't around (he took off for Burma!) we had Miles to watch over us. Thanks to Miles we felt like we were family; you know, the kind of family that never lets your beer run dry. In the South, that's love! It took us 5 days to escape the POW and we still miss it. So, if any of you travelers out there are headed to Singapore, be sure to stop by the POW and say 'hi' to Miles and give Jessica a squeeze from us. Some of you ladies might want to reverse that and squeeze Miles. To each, his own.
Thanks again Miles!
We've spent several days touring around the city. We visited Sentoso Island and the southern most part of Asia, we toured China Town and Little India and even took a boat tour along Clark Quay. While at Clark Quay we were walking along on a dreary day and what did our wandering eyes behold, but a little piece of Americana just waiting to wipe away our bad weather blues. Seth, this one's for you:
Yes, I am ashamed to admit it, we ate at Hooters! It was terribly over priced, the waitresses needed someone to throw them a sandwich before the wind blew them away but the beer was cold and we got to watch the Bump Boat captains help earn the name. See the photo section for an explanation to that one. They don't call them Bump Boats for nothing.
On the cultural side, we visit the Kong Meng San Phor Kark See Monastery. The monastery is actually used as a Buddhist crematorium. We stayed away from the roast duck while we were there. One of the highlights of the huge complex is the Pagoda of 10,000 Buddha's. Pretty stunning stuff.
Singapore is also know for it's shopping. There are malls as far as the eye can see. Unfortunately they all contain the same stuff for the most part. We've invaded Prada, Gucci, Hermes, Versaci and all those other low end stores. We're taking notes so we know the best looking knock-offs when we get to Thailand. No visit to Singapore would be complete without a visit to
Raffle's Hotel
for a frosty Singapore Sling! When I make my fortune I'm going to stay there a few days but now all we can afford is a few drinks! While exploring we also stumbled upon a St Patrick's day parade, Singapore style: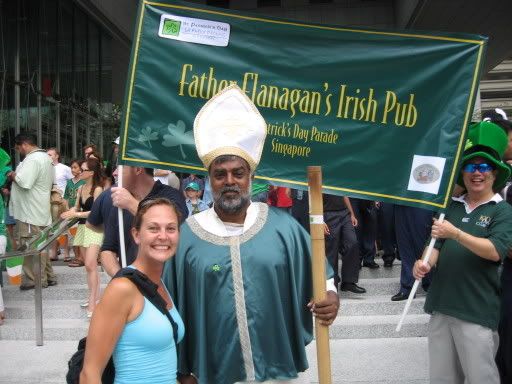 By the time you read this we will be in Malaysia. I know this because I am sitting in Kuala Lumpur as I type this. We'll try to update as we can but we will be on the move for the next few days. We are preparing for "Operation Monkey Drop" in Thailand so keep your eyes peeled. You may see something familiar in the coming weeks as we have a special guest making an appearance on The Mooners World Tour.
The Ass end of Asia Mooners
Greetings and salutations from the bottom end of the Asia. Did you know that Singapore holds claim to being the furthest South you can go on the Asian continent. Yes, it's true. We know this because we've been there. We didn't get the t-shirt, as they don't make one, but we did get the picture. After all, we know it's the pretty pictures that bring you back time and again to see what we're up to. Sure you read the articles...