The Great Barrier Reef
Entry from Cairns, Australia
Trip Start
Jan 09, 2006
1
14
52
Trip End
Aug 15, 2006
Loading Map
Map your own trip!
The Great Barrier Reef in Australia is definitely on that list. The last time I visited here 6 years ago I missed it in order to explore the outback and see Ayers rock (Uluru to you Aborigines) and while it is a sight to behold, it's nothing compared to the Reef. (Special thanks to my Dad for getting me into diving!)
Rach and I arrived on the 8th and found our way to a cool little hostel called
Calypso's
. It's a nice hostel a few minutes walk from town and a good way to start your time in Cairns. That being said, we found that if you book your trips, sites, dives in person you may often find deals not listed at the hostels. This is, by no means, set in stone but it work for us. We signed on to dive with
'Pro Dive'
for a 3 day 2 night live aboard boat. For 3 days we'd stay at sea on the reef and do nothing but dive. 11 dives in all including 2 night dives.
Unfortunately, some bad must come with the good. Turns out Rachel could not find her dive cards and no amount of searching the Padi computer site to look up her dive certification produced anything. We guess the dive shop she certified in never filed her certification paperwork. Jerks. Never daunted by mere trivial details we signed on anyway. Myself, I left my dive cards on the coffee table back home but good old Paul Reymond came through for me(as usual) and got them in the mail to me on time.
We were joined on our trip by about 27 other dive enthusiasts. One such fellow was Neil Ingram who became my dive buddy and newest friend on the road. (Watch out 'H', Rachel says he's going to steal your place!) While I dived Rachel snorkeled the 1st day but we managed to get her on to 'intro dives' that allowed her to experience the reef as it should be. See, never let the details slow you down, it keeps you from what you really want to be doing.
My first night dive was quite a thrill. Having been away from diving for several years it was exciting enough to be back underwater and at the Great Barrier no less. Add to that, my first ever night dive and it makes for a memorable time. It's hard to explain what a night dive is like. I tried a couple of time to describe it but have so far failed, so if you want to see what it's like, go diving!
Over the next 3 days all we did was dive and eat, literally. The schedule went something like this: Wake up 6:30(what the hell!?) coffee, tea and toast and off to the dive briefing. Our dive master, Arik was a lot of fun. We learned that no matter where you go, 120 degree's on your dive compass will take you there. Hmm, sounds like something Yoda would say. Inside joke, you had to be there. After the dive briefing it was suit up and dive time. Diver were usually 60 minutes or until you were down to 50 bars of air in your tank. Once back on the boat it was time for breakfast and a little rest. Then the next dive briefing and back in the water for another 60 min. Back on board, depending on the time, it was snack or lunch then a break. Next dive briefing and back in the water for the 3rd dive. Dinner, rest and night dive briefing and back in the water again! Pop out and it was snack time and beer time, shoot the shit, tell some lies and fall asleep exhausted just to wake up and do it again.
During that time we saw tons, and I mean tons of sea life. Huge fish loitered around our dive platform just waiting for us to dive in, or hose off our plates. Once in the water we saw everything from Nemo and his pals to Cuttle fish, shovel nose rays, gars, moray eels, stingrays and eagle rays, parrot fish galore coral every color of the rainbow.....and yes, Sharks.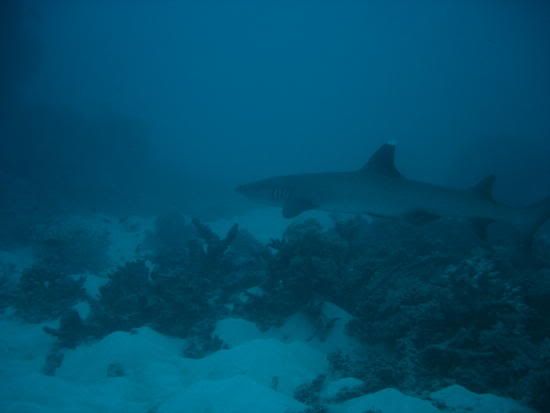 And yes, I took this picture...
The sharks we ran across were mostly white or black tipped reef sharks. Not to worry Mamma Keane, the white tips don't even have teeth I hear and the black tips, well......
Rachel and I got to make 2 dives together and got a few shots underwater. Since we did not have a water proof case for our camera our photo taking was limited. Never fear! A dive buddy always watches his buddies back and Neil came to the rescue. A recent transplant from England, Neil is an avid diver(fanatic really)who came to the rescue and let me borrow his camera a few times and gave us copies of all the pics he took underwater. we also rented a camera for one dive but the visibility that last day was poor at best. So, to all of you out there checking the pics we've posted, raise a glass to Neil and shout a hardy "Good on 'ya Mate!" to thank him for all the great snaps.
Neil
Three days and 11 dives down, it was time to head back in. Pro Dive, being the fantastic crew that they are, decided that we had not had enough excitement to fill the day. There was one last bit of thrill in store for us and that turned out to be the ride home...
The weather had been poor most of the time at the reef. Over cast and windy were the order of the day filled here and there with the occasional down-pour. The day of the ride in the forecast was not just for heavy winds but a Heavy Wind Warning. Seasick pills flowed like candy but it wasn't enough for some. The ride home on Poseidon's back was like riding a bucking bull the size of a semi. The waves came rolling in and the ship bobbed and bounced like a drunken sailor on a three day bender. Stationed on the top deck, beer in hand, Rach and I road it out like pro's with her sitting legs almost dangling over the side and me standing, both toasting each wave. It was that or stay below and redecorate the walls with lunch. And then the big one hit. That boat went over and was hit again and Rachel's feet nearly dragged in the water. Crockery went flying as did some of the crew and a few of the divers inside the galley. Nice catch Neil! Tanks and dive equipment went flying. A box of weight belts, probably close to 150lbs went sailing over the side and one of the life rafts came off one of it's mooring. Some cried, Rachel (as usual) cursed and I was giggling like a school girl and having the time of my life. I got the finger (again) for giggling :(
Shortly after we came closer to shore and Mr. Toads wild ride came to an end. The rest of the ride into the harbor was uneventful. One of our dive crew has promised to send me a pic he took while the ship was rocking. Soon as I get it I'll post it so you can see I'm not talking out of my ass. Believe me, if I mentioned it that much, it was crazy. One more big wave and....
That being said, we returned safely to Cairns and all gathered at a local pub to celebrate our successful trip. Arik, Fred, Kat, Theresa, Greg and Verena did a fantastic job of taking care of us and Rachel and I both highly suggest them if you're planning to dive the Reef in the future.
What next?
Well, the original plan was to leave from Cairns to Singapore but the flights are stupid expensive from here. It's cheaper to fly back to Sydney and then fly on so that's what we're going to do. Back to Sydney for a day or 2 then finally off to South East Asia. Don't get me wrong, I love Australia but it's past time to be moving on.
All the best!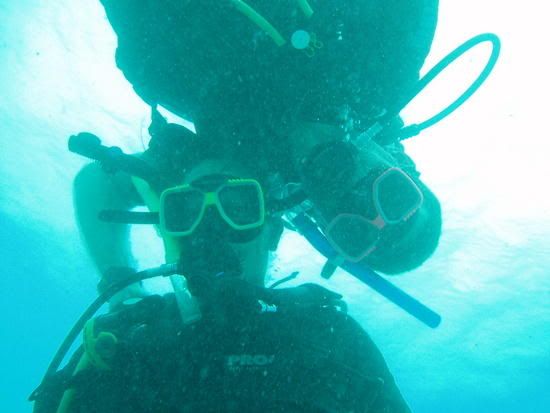 The Aquatic Mooners
There are certain "must see's and do's" in the world. For example, it would be unthinkable to visit France and not see the Eiffel Tower, or Egypt and miss the great pyramids or Nashville and miss Graceland or Turkey and not spend some time in a prison...well, maybe you could skip that last one.
My Review Of The Place I Stayed
Loading Reviews