Trip Start
Jan 09, 2006
1
13
52
Trip End
Aug 15, 2006
Loading Map
Map your own trip!
But I progress. Looking for ways to entertain ourselves we decided to visit the Sydney Toranga Zoo. This turned into a really nice day. The Sydney Zoo has tons of great exhibits and it gave us a chance to get close to some of the oddities found only Down Under. We were stunned to notice some of the similarities between these odd Australian animals and some of our friends back home.
Here is a prime example of one: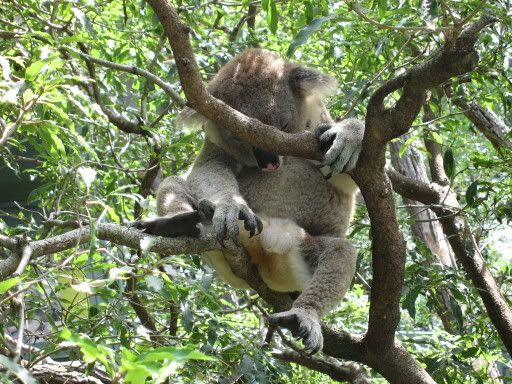 We were amazed at to see how much the cudly koala bear and our friend, Howard Richardson, have in common. But see and judge for yourself.
Another similarity came not from the Australian animals but from the Primates. And no, we're not talking about Ricky this time. This little fellow reminded us of our friend George Abercrombie. As some of you may know, George and his lovely wife, Jen, are expecting their first child any day now. This photo reminded us of George and his future offspring. See if you can guess what it is that reminded us of him: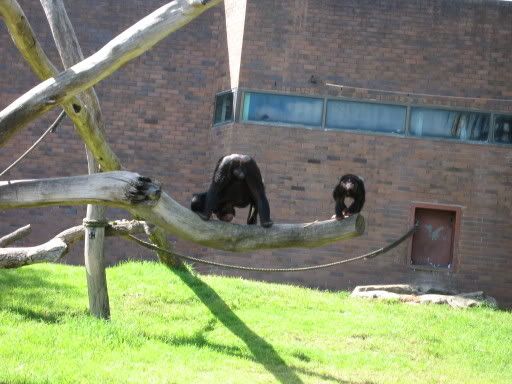 Hmmmm, what could it be?
There were many more but we have so many friends and so little time. So, after our visit to the zoo and a few trips over to Manly Beach so Rachel could run around topless (You should see those pics... Sweet!), it was time for MARDI GRAS!
The day began as most Mardi Gras days do back home. Much stretching and limbering up is needed before a reveler takes to the streets: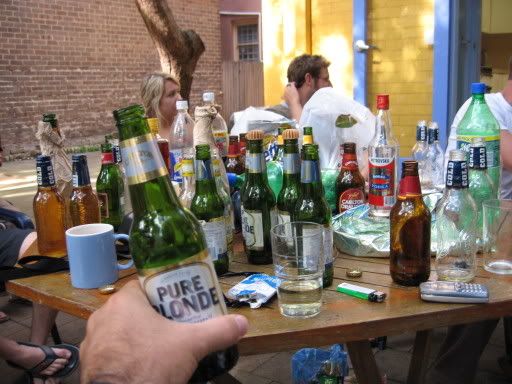 After much limbering up we fellow revelers collected ourselves and headed out for the streets. We jumped into the fray lead by Joseph, our fearless leader, and numerous friends from the hostel. We were even met later in the evening by Jenni and Ciara from the Surfari's! Brave girls indeed. And so it began. Floats, parades, mostly naked men and more assless chaps than you could shake a stick at were the order of the day. That and a lot of techno music and a giant mirror ball float and fireworks (and booze, did I mention booze?) After the parade ended our fearless leader Joseph and the gay crowd headed off to the after parties but Rach and I, not wanting to blow $130 door fee and not having and psycodelic drugs or X or any other such mind altering drug close at hand, we settled for a few drinks with Jenni and Ciara and chose to call it a night.
As for our fearless leader Joseph, well, thats a story better left for a CBS After School Special. Lets just say, if you're going to drink, remember who you're rooming with in that dorm room....(snicker).
And now we have the Rachel commentary:
First, H and George & Jen; we love you guys and thanks for having a good sense of humor. Of course we are on the other end of the world and if you are really mad, then hopefully you all will be over it by the time we get home!
Well let me just saythat these Aussies sure do know how to throw a pretty kick-ass parade. I will say that there was a dreadful lack of any "throws" (beads and such) which I was kind of expecting. But I will say that what they lacked in beads to throw they made up in moxy and sass!!! I was so glad that the girls (Jenni and Ciara) could meet up with us; such sweet girls!!! And the fact that they held up to Scott's incessant sexual harassment and banter makes them instant keepers. The floats were super, the participants were fabulous, and the people that we partied with from the hostel were crazy; just the way we like it. Much drinking (no dirving) we done by all and so it was a great day and evening all the way around!
The only sad part is I know find myself battling with a cold complete with constant sneezing, digusting runny nose, and sinuses that feel like they are going to burst! OH JOY. And all this right when we are on our way to Cairns for some diving. With this cold, and its doesn't look like its going away anytime soon, I am doubtful that I will be able to dive. But I am hopeful that I will make some wacky, miraculous recovery just in time to get eaten by a shark (calm down mom, I was just kidding).
So now we are hours away from moving onto our next stop for the next little bit; CAIRNS!!! I am sure that we will have plenty to blab about in the next update so stayed tune boys and girls!!!
LOVE YOU ALL AND MISS YOU TERRIBLY!!!!!
So, there you have it folks. We're done with Sydney. We've sucked it dry, right down to the marrow and we're off to Cairns for more adventure! Can you say "Diving with the Sharks", Mamma Keane? I knew that you could! ;)
HAPPY MARDI GRAS!!
The Mooners
Looking for a great place to stay in Sydney?
The BLUE PARROT Hostel
Greetings again from Sydney! We'll we've spent the last few days laying about like lumps on a log waiting for the fabeled Sydney Mardi Gras to begin. Since we were unable to make Mardi Gras in New Orleans, we were not to be denied!