Trip Start
Jan 09, 2006
1
10
52
Trip End
Aug 15, 2006
Loading Map
Map your own trip!
We spent a lovely 5 days in Sydney playing tourist and staying in yet Another crap hostel (this one included roaches and bottles of pee but I'll let Rachel fill you in on that one) but it was time to move on. Adventure was calling me and Rachel was making a vain attempt at ignoring it. (I keeed, I keeeed!) Not to be daunted so easily I quickly booked us on to our next adventure....
Surfing!
We joined Surfari's 5 day surfing safari up the east coast of OZ. The trip leaves from Sydney you spent 5 days camping in remote places and surfing all day long. And yes, they give lessons. It's not like I was throwing Rach of a bridge or something. This time she was prepared! (snicker....)
Click here for more on SURFARIS
Actually the trip was great and other than old tents that leaked like a seeve when it rained (and it did rain) it was damn fun. Lots of good food cooked in the campsite (especially if you liked tortillas) and plenty of good surf. Our fearless leader was Planko, a whily old surf dog known world wide.
Rach & Planko
He, Marlo and the rest of the gang soon had us suited up and wallowing in the waves. Being a bit cooler than we're used to back home we suited up with wet suits. Wet suits can be very sexy and keep you warm...especially if you pee in them when it gets cold...or so Rachel tells me...
And did I mention the hot surfer babes! Let me introduce you to a few!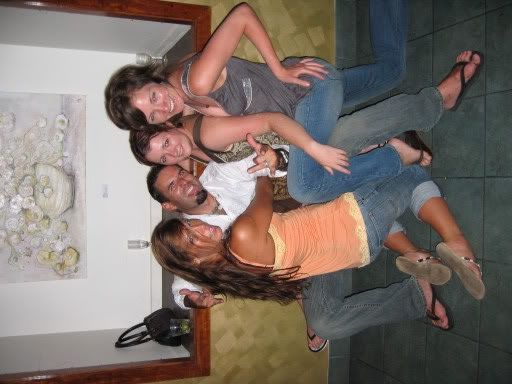 Kelly, Me, Jen and Ciara.
After for days of camping, surfing, eating, drinking (and Slapping the Goon!), getting rained on and surfing some more we reached our final destination:
Byron Bay.
Byron is a quaint hippy town meets wanna be South Beach mix. The beaches are great and the town if filled with great eats and cool shops. If I could have figured out how to mail a surf board home, I would have. At this rate, I'll just have to get one when I get back home. Our home in Byron was the ever popular
Art Factory hostel
. This in one place you have to check out and stay at if you're in the area.
Check it out. There pics far out do mine of the property. Before we knew it 4 days had come and gone and it was time to head back to Sydney. Ah, but why back to Sydney you might ask? Surely we've seen all there is to see and do there, right? So, why could we possibly be going back....
Well now, that is a tall tale for another day. Stay toon gentle reader...stay tooned ...
The Mooners!
Greetings boys and girls and inlaws! It's time for a new update and this one's full of...well, it's full of pictures(and Rachel flipping the bird), what else!