Trip Start
Jan 09, 2006
1
9
52
Trip End
Aug 15, 2006
Loading Map
Map your own trip!
City Resort Hostel
...hmm, things with 'resort' in the name often prove deceiving...to be brief, after a long discussion with the owner we got our last night there refunded. Our next place we shared with a few roaches and a fellow with a fetish for filling water bottles with pee. Down right homey place.
In between this and that we managed a climb of the Sydney Harbor Bridge. This is one of the traditional must do touristy things. It was fun...not as fun as bungee, but occasional as scary ;) We toured the opera house and plan on taking in a show there sometime in the future.
The Aussies are also celebrating the Chinese New Year down here. Who knew! There was a big fest on at a place called Darlington harbor filled with dragon boat races and dancing Chinese dragons.
On one side of the harbor is the Australian National Maritime museum and they just so happened to have a display on the Vikings. On a whim, and to get out of the heat, we ventured in to see the show. Hell, it's free! The display was nicely done but the craziest part came when we stumbled on a few pictures that looked familiar to me. Then it hit me, they were my photos! A closer look and there were a few pics of me. Half way around the world and I find myself in a museum display. Fancy that!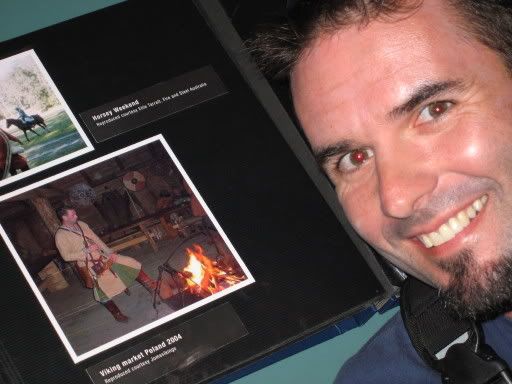 For those of you wondering what the hell I'm talking about let me 'splain it to you. See, back in the States I do some medieval reenactments. One of the groups I belong to does Viking displays and I've been working with them for a few years now. Awhile back I was emailed by someone asking if they could use a few of my pictures for a display. I said sure and never thought I'd hear about it again. I didn't even really know what they were being used for. Well, here's where they ended up. I'm planning on meeting with the museum curator and getting a closer look at the exhibit.
Well, I do tend to ramble don't I. The next adventure awaits:
A surfing safari. Yes, I am dragging poor unsuspecting Rachel on a 5 day surfing surfari full of camping and surfing and not much else. Sweet as! Well, we'll see anyway. Honest Momma Keane, I really am keeping your girl safe!
That's all for now. I'll post a Surfari update soon as we return.
Good on ya' mates!
The Mooners
G'day Mate from Down Under. Sorry it's been a bit since the last update but we've been busy and running the roads. We made it into town and puttered around for a few days. Seems we're getting into the habit of finding crap hostels when we 1st get into town. We found ourselves in a particularly shit dive called the
My Review Of The Place I Stayed
Loading Reviews