New Zealand. North Island Update
Trip Start
Jan 09, 2006
1
5
52
Trip End
Aug 15, 2006
Loading Map
Map your own trip!
We started our time here is a dump of a hostel. Silver linings being everywhere we stumbled into some great little places we would never have found had we not stayed there. The first place was Caluzzi's:
Click here for Caluzzi
On a walk back from downtown we met Ms. Beaver (we call her Biva the Diva), a lovely Drag Queen who promptly took hold of us and showed us around. Caluzzi's hosts "Hens Nights" or Bachlorette parties as we call them and the put on one of the best drag shows we've ever seen. "Biva" introduced us to Zoey, one of the star performers and one of our favorites.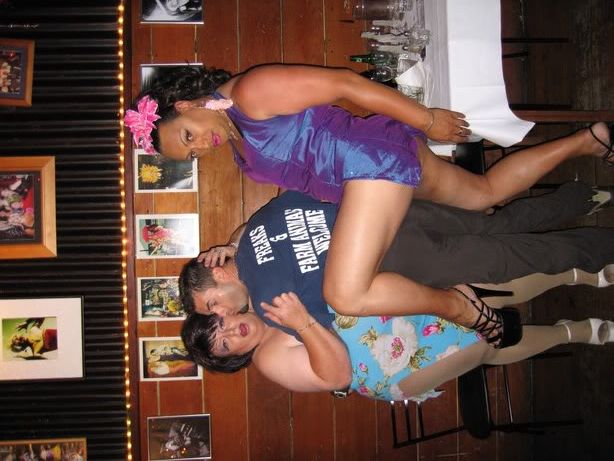 Biva, me and Zoey
Before long we'd met Campbell the owner and were being treated like long lost family. Then the fun began. On occasion a welcoming ritual is performed. It's more like a sacrifice, and yours truly was the sacrifice. Rachel is STILL paying for this one. I'm at a loss for words as to how to describe it so I will let the pictures speak for themselves.....sigh....
Yes, that is me, but it was fun and we made some great friends. We were invited back the next night to see the whole dinner show. Let me tell you, they serve some of the best food we've had, hands down. The place was full with 4 different Hen parties and the show was spectacular. These girls know how to put on a show and Campbell and the crew know how to take care of their guests. Once again I was on bar duty, this time as the place setting for all the 'Hens'. It just keeps getting better and better! Can't say enough great things about that place!
The next place we found was a little Irish pub (imagine) called the
Dogs Bollox
. We had quite a cut up in there as well. We were in time to celebrate the 50th birthday of one of the locals named Greg:
Happy Birthday Greg!
Few days later started our New Zealand tour with
Magic Bus Tours
. Since starting I've dragged Rachel into caves with a tubing trip underground and then subjected her to a high ropes course at Rock 'n Ropes. All are pictured above. Check out the video. I hope it comes out. Rachel did an awesome job jumping into the wild blue.
We also visited a Maori Village. The Maori are the indigenous people of New Zealand who settled here in the 1300's. The village show displayed Maori life and featured singing and a feast.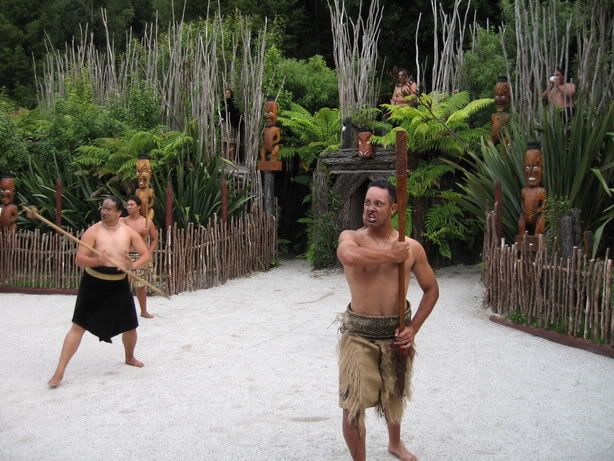 Maori Challenge
It was a fantastic time. Our driver to the show was amazing. He memorized the names of everyone on the bus (about 40 people) and there nationality and could greet them and sing a song in each language. Here's a shot of Rachel and our driver, Ngata(sp?) doing the traditional Maori greeting. They touch noses twice symbolizing the sharing of the sacred 'life breath'. Truly a great evening full of learning and entertainment.
The greeting.
Right now we're in Wellington, the capital of New Zealand. It's pissing rain here right now but we're told it's going to clear up. Tomorrow we're off to the South Island where more mayhem is sure to occur. I'm sure it will be a few days but we'll post a South Island update once we get down to Queenstown.
Hope you are all doing well. We're missing you all. Andi, please give Boo a big squeeze for Rachel.
Love,
The Mooners!
Greetings all! We've been in New Zealand, the land of the long white cloud, for a few days now and have already managed to get into some mischief....Imagine.