Welcome to Fiji! Don't Mind the Coup...
Trip Start
Jan 09, 2006
1
4
52
Trip End
Aug 15, 2006
Loading Map
Map your own trip!
After the formalities and upon the completion of our booking we learned 2 very interesting things.
1: Sega na Lega is Fijian for Don't worry, or No Worries (Think Jamaica, Mon!)
2: Pay no attention to the fact that the military have the Minister under house arrest.
If concerned about #2, please refer to #1 for details.
Sega na Lega!
Want to know more?
It appears the Minister and the Military are at odds. Over what, we're not quite sure yet, but it seems the military has arrested the Minister over some bad dealings and to promote democracy they have locked him up. Do not Worry! There is nothing bad going on over here. It's just politics and is only an issue in the Capital of Suva and we're no where close to there. In fact, we're at the end of the runway of the airport right now, fleeing in panic with nothing more than our underwear and a few souvenirs....
But I digress.
Bus stop outside of airport
After landing, we made our way out to the remote Yasawa Islands. Our chosen destination of Tevewa and
David's Place Resort
. Resort....hmmm, Perhaps we should check Websters Fijian edition before we discuss the definition here....but yet again, I digress.
Defer to Rule #1 above.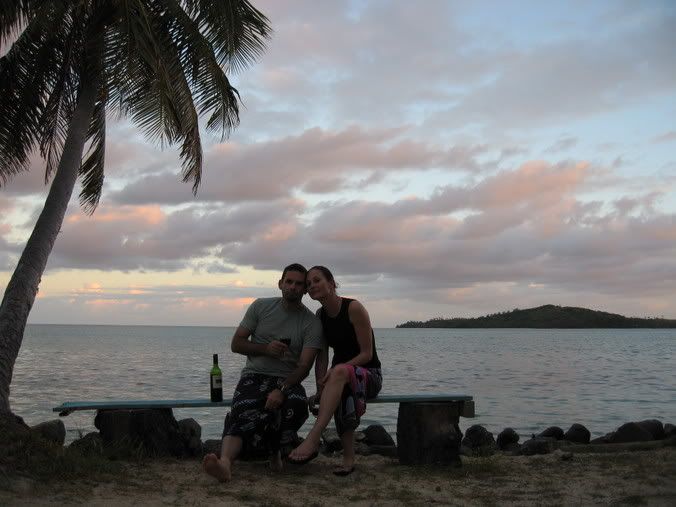 Our 1st Fijian Sunset!
Actually, the place was wonderful and the staff were excellent. We stayed in a wee little grass hut or Bure' in the Fijian and other than one small furry occupant, we were alone to experience our wedded bliss. Please do not touch the red parts as they are burnt. Evenings at the big grass hut were for dinner and drinking and meeting our fellow travelers. Other than that and marital bliss, there was not much else to do. This was expected and was why we were here. Horay for Bliss!
On our second to last night at David's the crew was kind enough to do a Kava ceremony for us. I got to be the Chief and was the first to taste the wonderful concoction. For those of you who are curious, Kava is a root in the pepper family that is ground up and soaked in water and strained through a mesh bag of sorts. The result is a muddy tasting welcome that numbs the lips and acts as a slight sedative. YUM!
After a lot of snorkeling, exploring caves, and a few storms we've made our way back to Nadi. Tomorrow we flee in terror for the safety of New Zealand.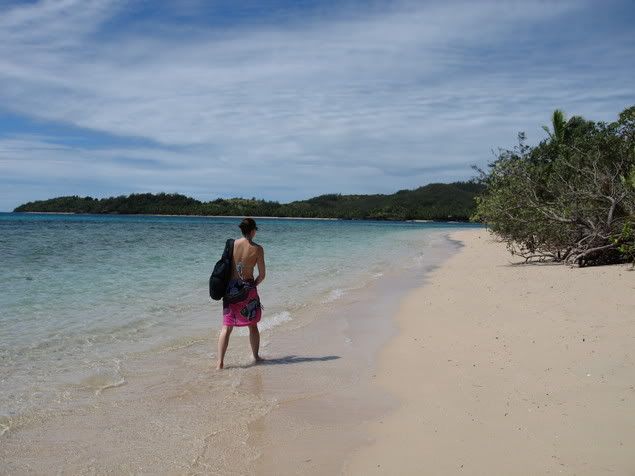 Our beach on Tavewa
Love to you all.
And remember, it's all in fun.
Scott and Rachel
No Fijians were injured or killed during this Coup. A few tourist fell to sun stroke, but that was probably due to too much beer and Kava.
Bula! Greetings from Fiji. Rachel and I are alive and well sunned (more like burned) after our 12hr adventure across the Equator and the International Date Line. After our flight we rolled into town and met our tour agent from David's Travel.