Trip Start
Jan 09, 2006
1
52
Trip End
Aug 15, 2006
Loading Map
Map your own trip!
A little back ground first. We are Scott & Rachel and we've been together for almost 9 years now. Rachel is the looks and the brains of this operation and don't let her tell you otherwise. She's brilliant, intelligent and pretty easy on the eyes, at least I think so and she's a biologist by trade. Mostly she spends her time writing documents for the government. This probably explains why I'm doing the journal entries. For those of you who have never read a government document, read one then you may understand the above comment. And no, I will not appollegize foe any misspelled wyrds. If I have access to Spell Check, you'll know.
-Here we have the Brains of the operation:
(and no, that is not our chair)
Myself: Taurus, Favorite color: green , Underachiever, ducker of responsibility, Proud New Orleanian and travel fanatic. As you can see, a prime catch in anyone's book. I'm pretty much a rambling rover and not one to settle down easily. But enough aboot me...
(Hard at work. Like I said, she's the brains, I'm the traveler)
Anyway, a little while back and after much ducking and dodging on my part I asked Rachel to marry me. There was one (small) catch:
I get to choose the honeymoon.
Even though I drove a pretty hard bargain, she was still willing to marry me. Much to my amazement, and the amazement of many of my close friends, the world did not end and no major deity returned to the earth to wreak havoc and destruction upon the land. -Sweet
(when she's not making faces she's pretty hot)
The Honeymoon:
Being the travel fanatic that I am I started planning. My last big trip was back in 1999 for the Millinium. What started as a month long trip turned into a 10 month walkabout. If you've ever had the privilege to see the world on that kind of a scale you will usually end up wanting to share that with others. Wonder of wonders, Rachel was still there when I got back and I decided then that one day I'd show her the world.
I bought our first tickets today. So, here we go:
January 9: We depart good ole (soggy) New Orleans for the City of Angles to visit with Rachels brother and siter-in-law. Hmm, does that make her my sister-in-law-in-law?
January 12: We de-party the City of Angles for FIJI!
After that things there is no real time table. After Fiji the plan is:
New Zealand, Australia, Singapore, Malasia, Thailand, Cambodia, Viet Nam, China, India, S. Africa, Tanzania, Europe, U.K. and then home.
So, to all our friends and casual readers here's your chance to get in on the action! Keep track of our travels and tribulations here in our Blog. As a bonus, you can get in on the action. Right now there is a pool going to see how long Rachel lasts on the trip. The big money is on 3 months. *(Not available in those states or countries where gambling is illegal)
You will have to bare with us. Neither one of us has ever started or maintained a blog and we're learning our way around this thing. We're also not too sure how often we'll have web access but we'll keep things updated as we can.
Hold onto your shorts and please do not blame me if you pass anything through your nose while reading here.
It's all in fun.....
Scott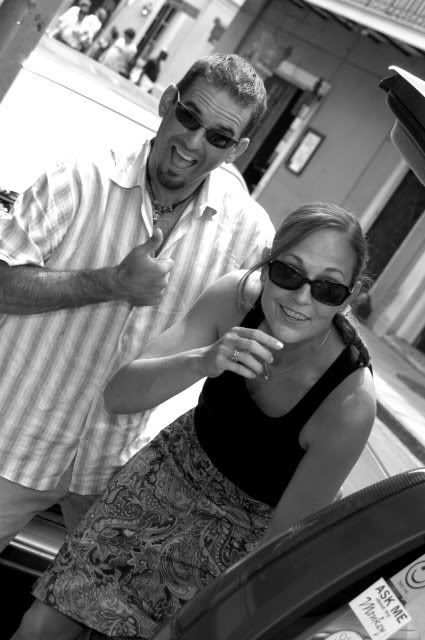 Jan 3, 2006