Trip Start
Jun 27, 2006
1
6
11
Trip End
Jul 27, 2006
Loading Map
Map your own trip!
Host Family:
I've been very very lucky with my placement. It seems that all the things that could go wrong with a host family have gone right. The house is large (not huge) by any country's standards, and miraculously, despite it being home to a 5 and 9 year old boy, it is neither smelly nor sticky, not does it have that intangible air of children. On that subject, Satoki and Tomoki are neither sticky nor smelly, and though it's true I've not spent a great deal of time with them, they've not yet annoyed me, like... at all.
I've still not spoken to my host father much, as his English is very near non-existent, and he comes home from work late, but he remains nice enough, and I've come to realise, that the overworked and over stressed salaryman is a rare sight in Okayama. Minako, and I do home my own mother will nothing of this, is a host mother in every sense of the word. It seems that anything that I may have trouble with, be it bus schedules, Japanese customs, or staying well fed, she has completely covered. She is genuinely interested in anything I have to say about Japan, England, my family or hers, and she seems genuinely concerned that I have a good stay, without becoming overprotective or intrusive.
My presents of English tea, Scottish short bread, and very very sweet toffee have gone down a treat. My host parents have been helping themselves to a daily cup of tea (and are amazed at my tales of my mother's 4,5,50 cups a day), and the present has been a godsave for me, as I get a cup every morning. I took great delight in my host mother's and the kids' reactions, when I told them they may dip the shortbread into the tea, and took even greater delight when they tried it. It seems the children have been slow in their toffee uptake, but I don't blame them, as it is the sweetest substance I have ever tasted.
I mentioned being well fed, and very well fed I am. Like many of my trips to foreign countries, I've been living on 3 meals a day, but unlike many other trips (*ahem* California), I do not feel like a walking ball of grease and flub. My father warned me that Japanese home cooking would not be all sushi and tempura. Dad, you were wrong. My first day here, I was taken to a sushi restaurant, where I sampled the Japanese delicacy of Uiina (weener) sushi, which, unsurprisingly, is a mini hot dog on rice. However, I also helped myself to a fair amount of prawn, salmon and squid sushi. This was not my best meal. At home, I've been having rice balls, miso soup and egg rolls for breakfast, whereas at dinner, so far I've had home cooked tempura, Japanese beef with noodles, and Japanese style flavored hamburger. If my sister is reading this, I can safely tell her that the food here is better than in Poland.
It's unfortunate that I'll be leaving the Sugimoto family in a few days, as they're going on holiday, but I hear my next family had a 16 year old girl, which will be some consolation.
Back on the subject of the house, it's in a nice secluded area, only a five minute walk from the main road where I catch my bus to school, it's location is not dissimilar to my own home in Golders Green. My room is large and comfy, like my western style bed, and none of the family enter without knocking and asking first. Family, friends, you need not worry.
-----------
I've not done much in the way of sightseeing since I've got here, but I've done enough to say I've done the "ooh pretty Japan" thing, and my trip to Kyoto should fully satisfy any urge to see temples and shrines.
On my first day with my host family, I was taken to Okayama city's most famous sights, the ever so pretty Koraku-en and the castley Okayama castle.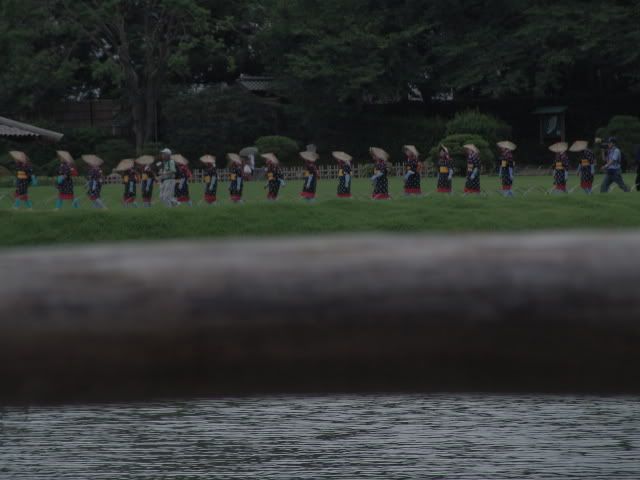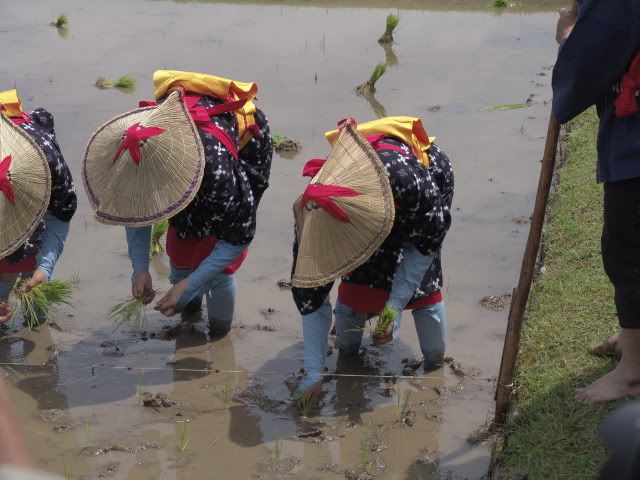 I was lucky to arrive on the day of the rice planting festival. It was pretty cool really, There was a bit of drumming, singing and dancing, before the planting begun, and it was interesting to see how organised the whole process is. Two men hold a string across the field, so the women can plant the rice straight. Because of the festival, the park had a bunch of activities on offer, such as the tea ceremony, flower arranging, and I got to try out a Japanese string instrument.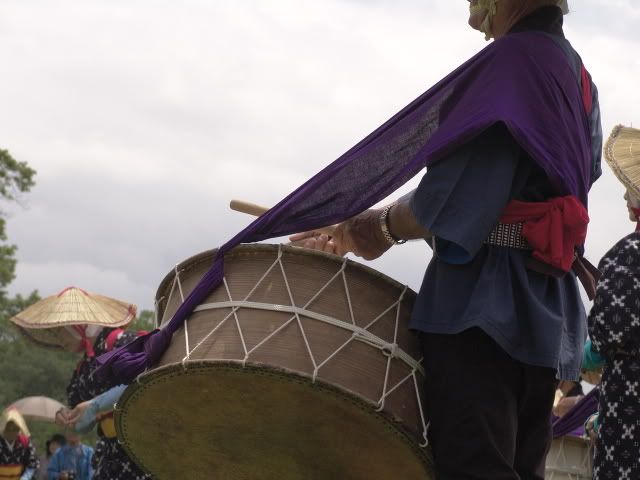 I thought this picture was a good example of modern Japan, a man showing his herritage by wearing traditional dress, and beating a Taiko drum at a rice planting festival while showing off his Rolex. The architechture around the city is similar, around our house, there are many large rice fields (tanpo), and it's not uncommon to find a mini Shinto shrine next to the 7/11.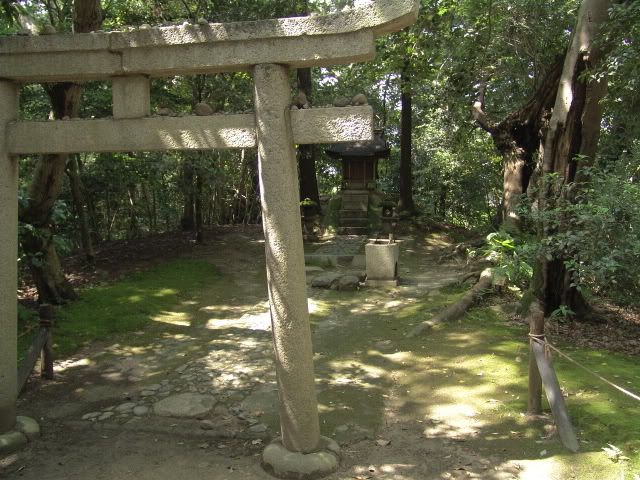 The garden really is beautiful, and I could easily bore you with pictures of the large stream of giant Koi, the little islands in the middle of the lake, the bamboo forest, and the Tea fields, but my favorite part of the garden was this little shrine, so I'll let you off with this.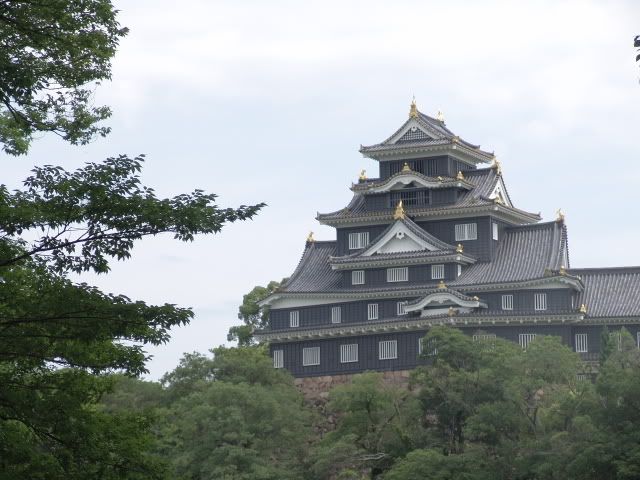 Okayama castle is big and black. If you want a more interesting commentary, you'd better learn Japanese, as the museum inside doesn't cater to us gaijin.
I didn't sign up to as many of the Cultural activities as I would have liked to, as I know that I do not have the energy for all of them, and they're expensive. I did try my hand at Aikido, which was awesome to the extreme, but we moved far too fast for me to memorise any of the arm-snappingly-fun moves. I also signed up for Kurashiku sight seeing. Kurashiki is a little village near Okayama city, which is like the 'Ye Olde' heritage sights you see around the English country side, without the reak of tack.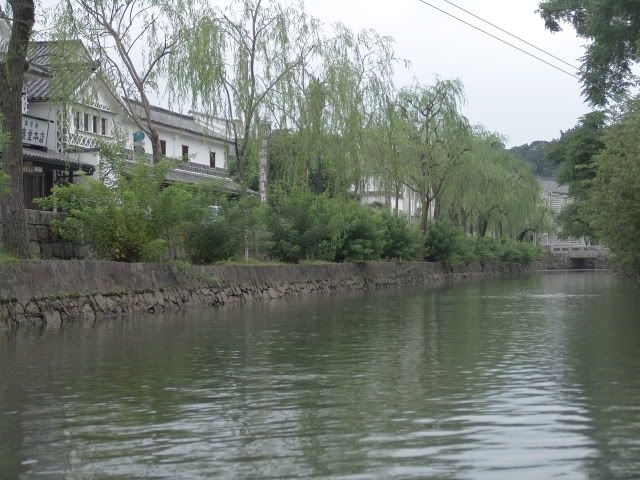 The feeling of being in an old Samurai movie is pretty great.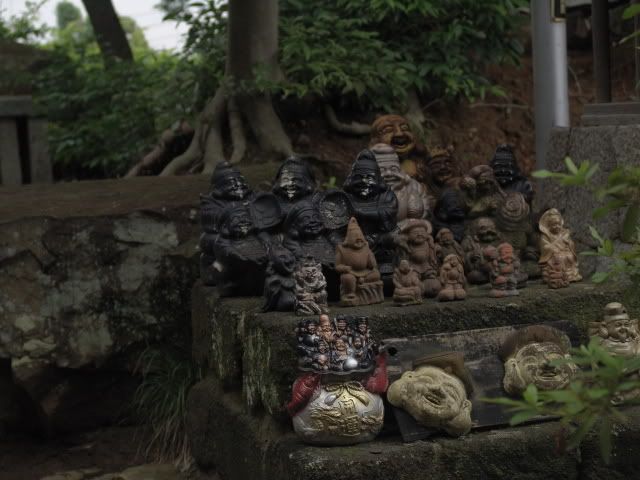 The Buddha collection at the shrine was good fun.
But not nearly as fun as...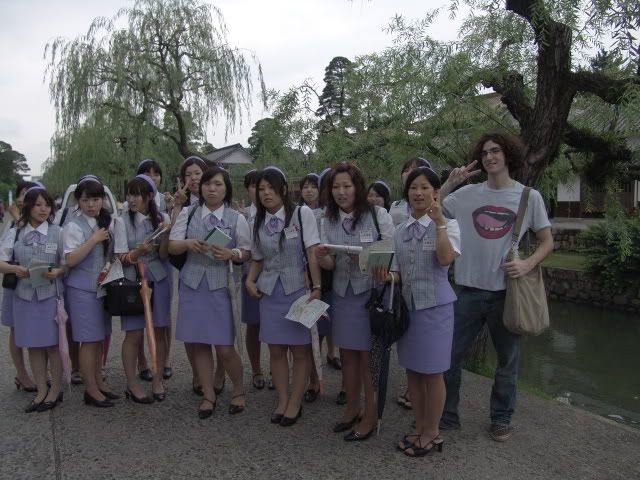 Misc group of cute Japanese girls in matching purple uniforms.
Still to do on my activities list is Peach Picking, a trip to Yokinaga (I know absolutely nothing about the area, but it's an overnight trip with the other students, so it should be a laugh), and I plan on visiting Kyoto and Tokyo.
--------
My credit card has not yet arrived, the cultural activities and paying for lunch is costing more than I thought it would,and the Shinkansen ticket to Tokyo costs an arm and a leg, so I've been somthing resembling restrained with my spending since I've arrived in Okayama. Every day, I've been spending 400 yen on my bus fare, and probably close to 500 yen on Coke (Cora). Some of the vending machines near the language school sell 500 ml cans of Coke, which are the greatest and manliest (though, I suppose that's redundant) things in the world. I've been having about 3 of them a day, and for the first time in god knows how long, I've got a sugar rush of Coke. I'm going on about it, but seriously, these cans make me really happy, I'll have to photo one some time.
Apart from lunch and coke, and until today, I'd not bought anything since Osaka. Today I found a great retro game store and splurged on 4 games for 4500 yen, which is about 22 pounds. Apart from a few more games, and many many presents for family and friends, there's actually not all that much that I need to buy, so my financial pressures are not so great (unlike a girl in my language school who spent 200 dollars on anime related merchandise, and has now discovered that nowhere excepts credit cards).
----------
When I signed up for the homestay trip, I signed up for daily language school. This is good, because beyond, 'connichiwa', 'domou' and 'sumimasen', I've not been speaking nearly as much Japanese as I'd have hoped. On Monday there was a placement test, to determine which class students would be placed in. In typical Japanese fashion, the hardest part of the test was not in fact, choosing the correct grammatical particle to insert in a sentence, but figuring out what the hell the test wants you to say. As I had imagined, the next day when we got our results, I did not do so well. The classes were ranked from A to E, I far prefer the system of "beginnger", "upper beginner", "intermediate" and so on, as I've never got a 'D' in my life.
I am not in fact a 'D' student, and the class was very very easy. At my request, the next day I was moved to class 'C', where we quite comfortably go over Japanese grammar and vocab that I know and understand, but certainly benefits from the revision. Also, we get to watch Japanese sitcoms, which is fun.
I've have the revelation that my experience of this country will be in many ways shaped by my understanding of the language, and the people around me who understand English. As of yet, my Japanese is still a way off of conversational level, so in Osaka it was the English speaking travelers in the youth hostel who, on levels both conscious and not, influenced my mind set, and here in Okayama, it is to some extent my host mother, but largely the American and Australian students studying at the school. The Australian girls are lovely, and though I don't hang out with them as much as the Americans, I find them easier to be around. The Americans are a mixed bunch. Perhaps, and it is likely, I am spoiled by my friends at home, I suppose it's unfair to ask that everyone I meet be as interesting, intelligent and understanding as the people close to me. This however, doesn't make the issues any less real. I'm afraid that right now, I'm giving the wrong impression, these people, both American, Australian, and Russian, are by no means bad people, and I do get on very well with some of them (as I will get to later), this paragraph has just formed so I'm getting the negative out the way first.
No one, of the 8 students I talk to frequently, has heard of Lou Reed. I came into school early, so I listened to music for a while. One of the students commented on the size of my headphones, so in the spirit of conversation, I pass them to him, as Lou Reed's 'Vicious' plays.
Him (sceptical look on his face): what's this?
Me: Lou Reed
Him: Lou who?
Me: Lou Reed, as in 'Take a walk on the wild side'
Him: I don't listen to British music
Me:... Lou Reed, as in, perhaps New York's most famous musician
Him: Whatever, what kind of music is it anyway?
Me: Rock
Him: That's not like any rock I've heard, you listen to weird music.
It's okay though, he doesn't understand the word 'philistine'. He seems to find many things 'weird', from music, to discussions involving sex to Shakespeare. He also prefers Mc Donalds to Ramen.
In a similar vein, another one of the guys admitted that he doesn't listen to music, maybe I'm a really intolerant person, but in my books, you can not be a very interesting person if you have no interest in music.
It's not all bad, I mostly see those two at lunch time, as both are in the beginners class.
The other guy in the group is in my class. He's slightly better at Japanese than me, he's from L.A. (those mentioned above are from that little place known as 'middle America') and as of yet, he's not found anything quite ordinary 'weird'. There's a movie out that will likely never be released in America or England, and we're thinking of going this weekend. He's also one of the ones I'll be going to Tokyo with.
This is taking longer than I though, so I'm going to have to skim through the other personalities.
The only other student in Group 'C' with me who speaks English is one of the Australian girls, who, as I mentioned earlier, I get on with well and have no major gripe with. Since I've moved from Group 'D', I've not seen the other Australian girl much, which is a shame as she too is worthy of my presence.
There's one girl who was in Group 'D' with me, who does not seem to speak... to anyone, so as the principal of 'innocent until proven guilty' dictates, I'll assume she's cool enough.
There's one girl who I get on with who came to Okayama with Two Worlds United last year as well. More than any of the other students, she has a definite personalty to her, which good or bad, at least is something. She seems to take cultural sensitivity very very seriously, and is most disapproving when any of us eat while walking, or anything else that may offend, which though fair enough, can somethings be a little grating. Perhaps more due to her lack of confidence, than a lack of knowledge she is in group 'D', so I now only see her outside class.
The last person in my ever so fun Japanese homestay sitcom, is the bubbly personality from California that spent her last cash on anime toys. Though she's not in my class, we hang out after school and during lunch. At times I really do wish I wasn't so pretentious. Aside from occasionally getting overexcited, personality wise, there's no major clash. However, she writes angsty poetry, 'loves death' and has Crazy Frog on her Myspace, and that does get to me.
--------------------
I'll be drawing this entry to a close with a few musings.
A few entries ago, I talked about Culture Shock, and my lack of it. Today, I'll talk about Culture Shock and my lack of it. There is a difference however, last time, if I remember rightly, I said something along the lines of "not that this is necessarily a bad thing", I was lying. Not wanting to worry family members, I played down how disappointing it was to come to the country I have been wanting to visit for a long long time, and feel as though it was no different to home. Today, I write this blog, and I am most definitely in Japan. There were many factors at work as I typed from my Osakan youth hostel, which I explored in some depth that made me feel as though I was not truly experiencing what I wanted to experience, one which escaped me last time, but I feel is interesting enough to note, is the fact that the English man at my youth hostel, referred to Japan as just another country in his world travels, which somehow had the affect on me of making me feel as though Japan was just a stop of point, not my final location. Whether it's due to me escaping that influence, settling down more, or staying in a city where at every turning there's a rice field, and every night I sit down with my Japanese family to enjoy a Japanese meal, today, all delusions about my location have gone. When I say I feel no Culture Shock, I simply mean that the differences, of which there are very many, do not bother me, and though I recognise England as my life home, I have no cravings to return before the next few weeks are done.
It is interesting however, that none of the cultural differences bother me. Like many in the west, I maintain that my own individuality is of paramount importance. Unlike many in the west, I mean it. Yet somehow, the Japanese theory, although, to call it a theory does not do justice to its' importance, it is more like a guiding force in Japanese life, that the group, the whole, is more important than the individual, the self, does not rub me the wrong way. Perhaps, it is still because I am only staying here for a short while, and I still enjoy the customs and mindset without fully embracing them as my own, or maybe its just a case of the individual surviving in the group.
I've actually noticed that many Japanese customs resemble team building exercises. The western concept of 'help yourself' is very centered on the self. It is convenient for the host, because they do not have to exert themselves, and it is convinient for the guest, because they can get exactly what they want. The Japanese do not 'help themselves. When you go to a Japanese persons house, you give yourself over to the host. Your host with carefully chose the food and drinks, and select you the most comfey spot in the house. This is a difficult task for the host, and the guest may not agree with the host's choice, however, it encourages good qualities, such as humility, respect and gratitude and it teaches to except circumstances as they are, as opposed to trying to change them.
Changing the subject, it seems I have developed auto drive basic Japanese.
When people attempt to start conversation, it takes me a long time to form my sentences, and recall words, but it seems I have certain useful phrases on auto. It now takes effort to say 'sorry', 'excuse me', 'thank you' or 'hello' in English, as when the situations arise, and arise they often do, the words 'gomen', 'sumimasen', 'domou' and 'connichiwa' spurt from my mouth without thought.
It's very difficult to keep track of how expensive things are, and as such, it's easy to spend vast quantitys of money. It's not that I don't know the exchange rate, 1 yen is pretty much half a penny, it's that there's a different 'base amount' of money.
In England, I think of cost in terms of 1 pound sterling, some gum, a drink and a pack of crisps for 1 pound is cheap, 1 pound for a bottle of water is expensive, and so on. In Japan, I think of money in terms of 1000 yen, 5 pounds. Ooh, a couple of toys and a Bentou meal for 1000, that's nothing at all. It turns out that eventualy, lots of 'nothing' adds up to 'somthing'.
---------
That was pretty good really, I'm pretty sure I've said everything I've wanted to say in the last few days, and I hope now it's less of a chore to update this thing. Anyway, I hope everyone's having a good summer, and I want you all to feel free to fill me in on your adventures. See you 'round, Dom
It's been far too many days since I've blogged, as the longer I leave it, the more stuff happens, and the more daunting the thought of organising a blog becomes. Today I sit down with a plan, give up on chronology, and fit the events of the last few days into categories.