Take this job and shove it--part deux
Trip Start
Apr 03, 2005
1
19
35
Trip End
Aug 31, 2006
Loading Map
Map your own trip!
Thursday, July 28 was Josh's birthday. As chance would have it, Josh and I were both unscheduled that day, so we took a train to Frankfurt and spent the day there. I love that city. We grabbed some döner kebaps and made with the walking. Both of us have been there before (without each other) but we had never seen the St Paul's Church (a political, not religious, tourist site) nor the Jewish Museum, so we went to those places. Following that we took a nice stroll by the river and relaxed on the grass for a while, as the locals do, and saw that brothel that had amused me so before (and pictures are actually available today, because I uploaded this photo from the last time I was in Frankfurt). We finished up the day with a German meal: liver and various schnitzels and bratwursts for Josh, and ox for me. The very fact that I was eating ox was a bit freaky to me. Unexplainable paranoia aside, ox isn't all that tasty, unless for some reason you enjoy super-stringy beef. We grabbed some ice cream and went home, very nearly going back to Mannheim instead of Kaiserslautern. Oh, to speak German well enough to understand what the hell is going on.
I put in my two week's notice at AAFES, and my last day will be August 12. My manager is quite upset with me for leaving, but I have to do what I have to do. As long as i get a $1.50 per hour pay raise, I think I will be perfectly happy at the hotel in Landstuhl. Other perks: I won't have to listen to a dozen out of control screaming children every day, or deal with our new (psycho) store manager anymore, or (hopefully) deal with the business screwing up my paychecks. If I wasn't glad I put in my notice before, I certainly was after last night, when a customer THREW MERCHANDISE AT ME. If anything like that happens to me again before I go, I am going to hunt them down, find out who their sponsor or commander is, and report them. That's inexcusable behavior from anyone. And luckily, in this job, people are held accountable for things like that.
In short, it's a very good thing that I'm getting out of retail.
I have a car, finally, thanks to a very generous friend of ours. The plan was I was going to buy it for about $2000, but they decided that they would rather give it to me and have me "pay it forward" so to speak. I resisted it for a bit, since that's an awfully generous gift, but they seemed to really want it to happen this way. I gave in to that. So, in addition to taking Lori and Mark out to a REALLY nice dinner, I need to think about what kind of thing I can do--maybe when we move, I can give the car to someone else who needs one and can't afford it.
A few nights ago we went out to an Irish pub in Landstuhl with some friends of ours I hadn't seen for a while. It was Tuesday, Irish dancing night, so we did some contra-dancing-esque jigs. It was fun. We should really take that up as a form of exercise.
I leave for England on the 15th for the World Gathering of Young Friends. I'm really excited: new (F)friends, old (F)friends, a trip to London with Josh afterward... The two representatives for my geographical Quaker area are both living overseas, which I find amusing. I am one, and my old friend Eric is the other. He's living in Japan and is flying out--well, today--to do some meeting up with people in Europe. After he leaves Denmark next week, he'll be coming here to spend a few days, and we'll travel to Lancaster together. The very idea of going back to London makes me feel giddy, regardless of the terrorist attacks (though it will be odd to see the Edware Road Station again--that was the one that was attacked, and I used to live on Edgware Road, so I took it everywhere, everyday). Can't wait. Immediately after I get back, I start my new job in Landstuhl.
Here's one for the road:
Stairway to Heaven?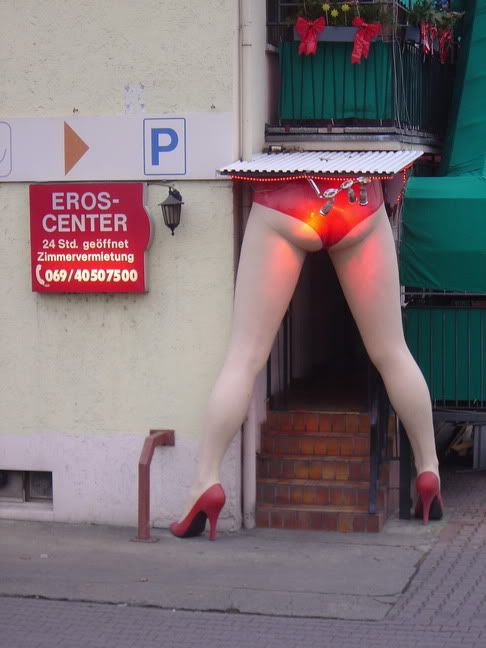 A week full of events!