PV: Top Ten Christmas Markets in Paris
Trip Start
Sep 05, 2008
1
12
40
Trip End
Ongoing
Loading Map
Map your own trip!
If the thought of battling local crowds, struggling to find a parking space, and buying yet another pair of socks fills you with doom, a
short break in France
could be just the ticket to put the fun back into Christmas shopping.
Why not treat yourself to a
weekend in Paris
where you'll find some of the best - and certainly most elegant - Christmas markets in Europe. At the beginning of December, the French capital welcomes a great selection of traditional-style chalets and tastefully decorated stalls across the city.
The markets sell a variety of goods from crafts and trinkets to clothing and decorations, and are illuminated with twinkling fairy lights late into the evening.
Take advantage of
cheap weekend break in Paris
to do your Christmas shopping in style!
We've selected
Ten Best Christmas Markets
that Paris has to offer:
1.Place Saint Sulpice
Dates: November 29th- December 2nd
December 6th- 11th
December 6th - 24th
Address: Place Saint-Sulpice 75006 6eme, Paris.
Nearest Metro: Saint Sulpice

One of the busiest markets in the city is actually three fairs rolled into one grand event.The "Village de Noel", which is a Christmas Village, opens for the entire month. The first fair sees the square transformed into an artist's showcase, where 60 artists gather to display their work and sell their goods. Art works are produced from a range of materials, including wood, glass and textiles.
At the beginning of December, local groups and charities supporting the mentally handicapped sell their art and produce to visitors, which means you can buy presents and support a good cause. The reasonably priced hand-made cards are great buys and can be popped into the post on time after your return!
Lastly, the longest-running market of the month celebrates the 44th anniversary of the founding of Quebec. Scrumptious French-Canadian products will be readily available (make sure you try the maple syrup lollipops) alongside cultural events such as readings, music and dances.
2.Marche Saint- Germain
Dates: December 5th-31st
Address: Place Saint- Germain Des Pres, 75006, 6eme, Paris.
Nearest Metro: Saint-Germain-des-Pres

Located in the bustling Latin Quarter, this market attracts big crowds with many English visitors making it their Winter port of call. Situated next to the L'Eglise Saint-Germain, it's a traditional-style market, which sells local produce and hosts a range of seasonal activities. It's also near many other tourist attractions, making it a dreamy detour on a weekend break to Paris.
3.Maison d'Alsace
Dates: December 1st- 28th
Address: 39, Avenue des Champs-Elysees, 75008.
8eme, Paris.
Nearest Metro: Etoile

The biggest Christmas market in France may be located in Strasbourg, but this collection of stalls is its smaller, less crowded twin. It's known for selling plenty of French and German produce, such as pain d'epices and vin chaud. These are sold alongside retro wooden toys and handmade tree decorations. The most magical feature of all, however, is a giant (700 square metre) advent calendar, counting down the days until Santa's annual visit.
4. La Defense
Dates: November 29th- December 29th
Address: Central
Nearest Metro: La Defense.

This may be out on the outskirts, but is very accessible and is not only one of the biggest, but also one of the more established Parisian Christmas markets. Whilst its skyscraper backdrop may lack some of the Christmassy charm that the smaller markets may possess, it makes up for this with a vast amount of fairy lights and decorations. Best to go in the evenings, when everything is switched on and the crowds have separated. If shopping amongst the stalls gets too much, a quick skate on the resident ice rink may help you get back into the mood.
5. La Maison du Limousin
Dates: November 27th- December 24th
Address: 39 Avenue Des Champs-Elysees, 75008, 8eme, Paris.
Nearest Metro: Havre Caumartin

The Marche de Noel Limousin is a haven for creative types who love nothing more than giving kitsch presents. Stocking up on regional honeys, chocolates, jams, bonbons, liquors and other local products such as the famous Limoges porcelain, will ensure satisfied smiles all round from your family when opening your presents on Christmas morning.
6. Les Feeries d'auteuil
Dates: December 1st-24th
Address: 40 Rue La Fontaine 7501
Nearest Metro: Jasmin

A perfect haven for yummy mummies to escape to before the Christmas rush, this particular market plays host to some incredibly glam stalls selling a range of high quality products including foie gras, champagne and chocolates alongside upmarket tree decorations, jewellery and other gifts. Organised by a charity called Fondation d'Auteuil, the market also draws crowds who are eager to see its yearly nativity display, which depicts five scenes from the story. Take a break, grab a bite and join other shoppers for coffee in the market's onsite bistro.
7.Les Halles
Dates: 5th- 24th December
Address: 101 Porte Berger, 75045 Paris Cedex 01
Nearest Metro: Les Halles and Châtelet

The market of choice for shoppers who wish to "go native" during their splurge, this is the place to rub shoulders with the locals. Parisians love it! As expected, there's lots of haggling to be had over traditional meats, bread and cheeses. Once you've marveled at the food, browse the traditional stalls selling handmade chocolates, unusual art and a range of craft items.
8. Gare D'est
Dates: Throughout December
Address: 10th arrondissement, Paris
Nearest Metro: Gare d'est
This is a great market to drop into as you make your way to Gare de la Nord at the end of your
short break in Paris
. It may not be the most iconic or traditional of markets but stalls have a range of French specialities, making you the most cultured Santa of the season.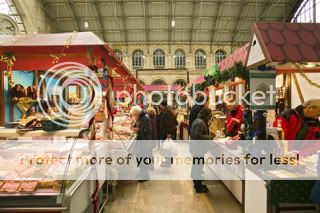 9. Montparnasse
Dates: December 1st-31st
Address: Centre commercial, Maine-Montparnasse, Paris, 15eme
Nearest Metro: Maine-Montparnasse
This is the foodie market of choice. Prepare to have your senses bombarded with a huge dose of the Christmas magic, and an overwhelming choice of gastronomic delights. This is the place to head if you are the type of person to savour your Christmas dinner more than most on the big day. Tuck into delicatessen, sniff smelly cheeses, salivate over eye-watering cakes, and sample an array of delicious wines to buy and feast upon around the table once you are home.
10. Disneyland Paris Christmas Market
Dates: 8th November- 6th Jan
Address: Disneyland Resort
By RER: line A - Marne-la-Vallée/Chessy station.
Not many venues can "do" Christmas as well as The Happiest Place on Earth(tm), which offers a magical experience for little ones, and there's a great Christmas market onsite to preoccupy the grown-ups, too. Taking place in the Disney village, a thousand fairy lights hover above the endless stalls and chalets. Plenty of tasty treats are available to eat whilst you are there, or can be saved to pass around at home. To complete the Christmassy atmosphere, introduce the kids to the resident elves, musicians, the giant toy brigade and Astrobulles- performers who are housed in luminous spheres.
*******
PV Holidays have 12 apartments in
Paris
, which are perfect for a short weekend or Christmas break. They are also great for overnight stays and perfect to drop your shopping bags in and collapse onto the comfy beds and sofas after an eventful day trip.
s the yuletide season fast approaches, many shoppers dread their annual shopping trip for Christmas gifts.