Trip Start
Sep 19, 2010
1
20
33
Trip End
Oct 25, 2010
Loading Map
Map your own trip!
Map Options
Where I stayed



The Jewish Quarter

The Hurva Synagogue (Ministry of Tourism)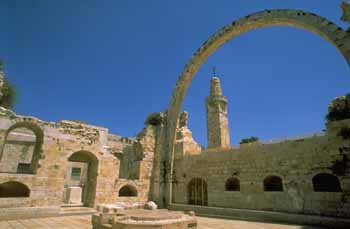 The current Jewish Quarter, which today looks almost brand new and usually sparkling clean, dates to roughly 1400. The oldest synagogues — the Elijah the Prophet and Yohanan Ben Zakkai — are roughly 400 years-old. Thesesynagogues are below street level because at the time they were built Jews and Christians were prohibited from building anything higher than the Muslim structures.In the main plaza, an arch stretches skyward where one of the walls of the Hurva Synagogue once stood. Originally the Great Synagogue, the Hurva was built in the 16th century, but was destroyed by the Ottomans. The synagogue was rebuilt in the 1850's, but was damaged in the 1948 war and then destroyed after the Jordanians took control of the Old City. Some consideration has been given to rebuilding the synagogue, but, for now the arch remains as a memorial. Nearby is the Ramban Synagogue, named for Rabbi Moshe Ben-Nahman — the Ramban — who helped rejuvenate the Jewish community in Jerusalem in 1267, after it had been wiped out by the Crusaders.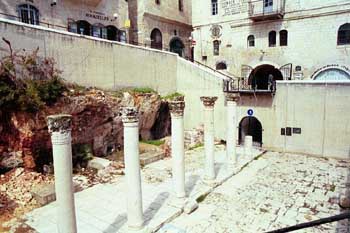 Just off the plaza is the Cardo, which was a Byzantine road, roughly the equivalent of an eight-lane highway, that ran through the heart of the city. The Jewish Quarter of today is located on the remains of the upper city from the Herodian period (37 B.C.E-70 C.E.). The Wohl Archaeological Museum contains what are now the underground remains of a residential quarter where wealthy families belonging to the Jerusalem aristocracy and priesthood constructed homes overlooking the Temple Mount. Some archaeologists believe the palace of the Hasmoneans (also known as the Maccabees) is among the ruins.

The Western Wall

The site that the above link leads to has High Definition Videos of all the major sites of Jerusalem and other places in Israel. They are so good that it is hard to compete with them. Do click on The Western Wall and go to the site and take a look.

When Rome destroyed the Second Temple in 70 C.E., only one outer wall remained standing. The Romans probably would have destroyed that wall also, but it must have seemed too insignificant to them; it was not even part of the Temple itself, just an outer wall surrounding the Temple Mount. For the Jews, however, this remnant of what was the most sacred building in the Jewish world quickly became the holiest spot in Jewish life. Throughout the centuries, Jews from throughout the world traveled to Palestine, and immediately headed for the Kotel ha-Ma'aravi (the Western Wall) to thank God. The prayers offered at theKotel were so heartfelt that non-Jews began calling the site the "Wailing Wall."

To see a Virtual Video of a store in the Old City click here.