Return Home From Istanbul
Trip Start
Aug 27, 2013
1
60
61
Trip End
Oct 20, 2013
Loading Map
Map your own trip!
Map Options
Also yesterday I was moved from my room to a corner room for a group booking. After 9pm when I was in my room a large group showed up talking very loudly and banging on each others doors. I thought it was a big family with lots of kids and sometimes they would bang on my door getting the rooms confused but I ignored them
In the morning as I was taking my bags down it was actually only four young women each with a room to their own still talking loudly like they were a group double their size and banging with fists on each others doors again, including mine, even though at this time they knew my room wasn't one of theirs.
I took my bags down by 10am expecting the cleaning lady to come banging my door again and almost throwing my bags out telling me it was check out time. It was still heavy drizzle so I wanted to wait about an hour and maybe get some food on the street.
The donar places weren't open yet but I found a bakery that had Pide for 2.50TL ($1.25). It was a long flat bread like a sliced baguette topped with omelette and mince meat so quite filling for a breakfast.
I went back to the hotel where the cleaning lady started asking for 'baksheesh' (tip) again so I gave her a 2 euro coin (5 Lira) as I wanted to hold onto my Turkish money in case I still needed some. I felt bad that I hadn't given money to people on the streets that actually needed the money as this lady has a job and roof over her head
On the way out of the neighbourhood I stopped by one of the carts selling dessert syrupy sticks for 1TL (.50 cents). I'm not sure what they are called but I tried eating one a day as they were so good. The guy asked if I was Romanian?
The walk to the metro station in drizzle with luggage took half an hour. Even though it was drizzle I was still getting soaked and the weather was colder today.
At the metro I got I token for 3TL ($1.50) as the train went direct to the airport and a lot less hassle then dealing with taxis or airport shuttles. There is a shuttle in the tourist area for 5euros but I don't know if they come to this area and I hadn't booked one beforehand
I had to take both my cases down the escalator. In Budapest the attendant had taken one down for me, this time I tried myself. I tried to stand the large case up but it fell flat as the steps started to curve down. Then on a slant it started rolling down all the steps.
I ran and tried to grab it before it started knocking people over like skittles and making a big scene. Luckily a guy heard the noise and stopped it with his leg before it went any further.
The train ride was only 30 mins to the airport. Again there were escalators an no elevators even though this was an airport station where people come with luggage.
Then you have to go thru security screening to get into the terminal so they xray your large cases while you have to empty out all your pockets and open hand luggage so it gets quite chaotic with all your luggage and people waiting behind
Inside I checked in both cases with Air Canada and no weight issues as had been the case coming from Korea where I was only allowed one case on Qatar. I had wanted to book on Turkish Airlines which had the same baggage allowance as Air Canada so I could hear lots of Turkish music but there was a $300 price jump when I went to book so I went with Air Canada.
Both were Star Alliance so I earn points in either case. Now I wanted to exchange my Turkish money and they didnt have anything smaller than $20 bills so I just got euros instead.
Also I was leaving on a different passport than I came on which was confusing everyone. I entered on my UK passport as the visa is much cheaper than a Canadian passport plus I was entering from Bulgaria which is an EU country so easier to just travel on my UK passport.
I was returning to Canada on my Canadian passport so they were getting confused where my entry stamp was, then even more confused when I explained I came on my UK passport so they had to talk their supervisor and show both passports.
Checking out the terminal I dont remember it being this outrageously expensive when I came in 2007. My baklava box which I got at overpriced tourist rates of 10TL was now 40TL. A chocolate bar that sells in the supermarket for 2TL is now 8TL, and so on checking out the prices for baked goods you can buy on the streets for 1TL now 8TL.
I've had giant meals for 5TL so this is even making the bus terminal where I got ripped off for lunch look cheap!
At the departure gate they were checking passports again to make sure we had valid documents for Canada then again as we boarded the plane. The flight crew was all over age 50 and there was a large pensioners group taking up the back of the plane so hardly any young people.
On the tarmac the skies cleared and we could see blue sky now after I was finally on the plane and leaving. The flight was 11 hours and I got to see some of Istanbul suburbs on takeoff and Toronto evening on landing.
They've changed passport control which I dread and made it much simpler. For Canadians you goto a kiosk, scan your passport and customs form, and go straight to baggage without talking to anyone. Only the foreigners had to go to border control for 50 questions
After baggage claim you show your scanned receipt and just walk out so a lot less simpler then explaining how I was in Korea for a year, a month in Budapest, and three weeks travelling after that.
I was going to take a taxi home to make it simpler for my family. Normally it costs $40 when I took a cab to the airport when leaving last August. Now they have changed it to giant SUVs only which will charge twice as much
I paid $62 for the cab ride that cost me $40 coming to the airport last year but I was finally home after 14 months.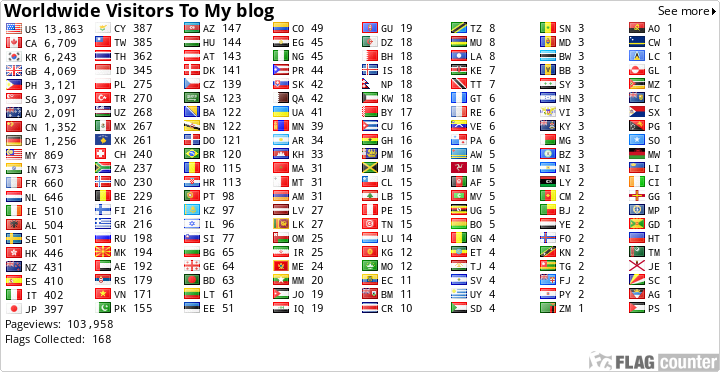 Visit My Page on Facebook :
Departures1 - Global Adventures
This was my last day in Istanbul and the end of my two month voyage. My flight was 2.45pm so I had plenty of time to get to the airport. Some light drizzle had started last night and now I could hear it coming down heavy as I woke up