Trip Start
Jan 27, 2013
1
21
25
Trip End
Feb 01, 2013
Loading Map
Map your own trip!
Map Options
Coming back on the jeepney from Taluksangay Village one of the locals had fallen asleep on my shoulder and was snoring quite loudly. Everyone found this amusing of the bizzare sight of a local dozing off on some strange foreigner.
I needed some proper food again so went on the hunt. I had been eating fried chicken too much so wanted something different.
I saw the local fast food restaurant Jollibee so went inside not sure if they were halal or not. Some items on the menu were marked with pork. When I saw some local women in headscarves ordering and eating I felt it was ok.
I ordered a chicken mushroom with spaghetti with drink for 71P ($1.75). I needn't have bothered as it was as light as eating a bag of chips and I needed food again after that. For more nourishment I bought an ice cream outside.
Now I had three choices for the afternoon. Santa Cruz Island with its pink sand beaches, Pasonanca Park with its Aviary, Butterfly Garden, Freedom Park and Japanese War Memorial, or visit one of the local beaches
I went to the tourist office to ask about the Santa Cruz ferry since it was near the terminal. They had explained something before about how the ferry has a flat rate for the number of passengers. If there are not enough passengers then I would have to pay the full rate for all the passengers.
As it was now after 2pm they told me the ferries stop at 3pm and that I should go in the morning. The ferry ride is 45mins each way so I wouldnt have time to go today. This was my last day so I wont be able to go again on this trip.
Instead they suggested I could goto La Vista Del Mar about 7km out from the city. There is a weaving village and restaurant and is a scenic place for photos.
I hadnt been to a beach and cant say I'd been to the Philippines without going to a beach. Also I didnt want to be out in the sun at Pasonanca Park as everything there would be outdoors.
To get to La Vista Del Mar I had to get a jeepney from the public market. Again I had to figure out which one. I needed a jeepney to Calarian and confusingly there were jeepneys to Upper Calarian and Lower Calarian. The locals told me to take the one to Upper.
The jeepney headed west outside the city thru an area called Campo Islam. This was a Muslim neighbourhood I had seen on the map.
It was a bit industrial and grimy as this was where the shipyards were. It had a large Mosque as well as some local Churches.
The jeepney kept driving and I didnt know where to get off again. The guy I had told who collected the money did not get on the jeepney so now nobody knew where I was going.
He turned off the coastal main road and started going thru some straw houses. This didnt seem the right way and more than 7km so I decided to get off here and tapped my coin on the handrail.
They charged me 12P (.30 cents) and I walked back to the coastal road. I dont know if this was the weaving village but I didnt see any weaving taking place.
I saw a resort and asked if this was La Vista Del Mar which they said no. It had some private beachfront chalets and direct access to the beach
It was hot and I needed a drink so looked at the local huts to see if they had any. One was selling coke so I asked for a bottle. She poured it into a bag and gave it with a straw
I now found La Vista Del Mar which was a bit down after the private resort. Entrance was free for 15 mins or 50P ($1.25). I decided to pay so I can just stay and relax for a bit. This was going to be my only opportunity to see the beach.
The grounds had some private chalets guests could stay in similar to my one at Marawi Resort a few days earlier but in better condition. I saw an older western couple staying here.
I wanted to see the beach so headed out. There is a large two storey restaurant with terrace overlooking the ocean. I sat down to get out the sun and a waiter came over with a menu
I'd just ate a small lunch so wanted to eat a proper meal back in town. I looked at the drink prices and ordered an orange pineapple juice for 50P ($1.25). A few minutes later it arrived in a small glass, not what I was expecting. It was warm not chilled and mostly full of ice cubes.
Regarding the beach it was somewhat disappointing. There was only a small pebble beach and not much room if there were crowds. The area by the restaurant was all paved with no beach access. There was a small walkway with traditional sails tied to posts for an ocean backdrop.
Fortunately it then began to rain and it came down heavy for about 15 mins cooling down the temperature.
It was nice to just hang out watching the local scenery pass by. A family had gone out into the sea, even in the rain, and were playing with their children. A speed boat passed by, a fisherman, and a plane into descent at the airport.
It was a good time to just sit and chill reflecting on my last afternoon. As the rain stopped the sea began to glisten very brightly as the sun came back out.
A short time later I left and caught a passing jeepney outside back to the town.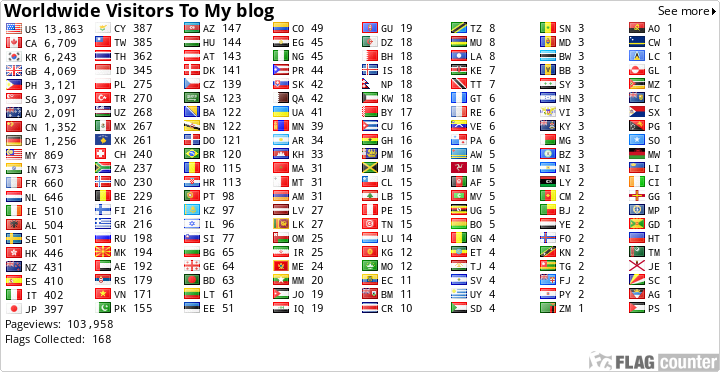 Visit My Page on Facebook :
Departures1 - Global Adventures