Departure Taipei & Reflections
Trip Start
Jan 18, 2013
1
31
Trip End
Jan 27, 2013
Loading Map
Map your own trip!
Map Options
Finally I had completed my eight days of exploring Taiwan and was onto the next leg of my journey which was five days in The Philippines. Part of me thought it was a mistake as I was too tired now to do another trip but I had to carry on as everything was booked.
I went back to my hotel to pick up my bag which I had left in their storage room for the day. Surprisingly they asked to take my polaroid to add to their worldwide visitor wall
Often "western looking" foreigners are chosen to be interviewed by the media, and I remember another hotel in China that didnt ask for my photo for their global photo wall, so it was nice to be included like this for once.
Before heading to the hotel I'd already bought my bus ticket to Taipei so I'd have some time to get a meal before the long bus. I told them to give me a ticket an hour from now so they gave me the 5pm bus for $420 TWD ($14)
The reason I wanted the bus over the high speed train was because hopefully I could sleep on the six hour bus as I had two overnight flights and I knew I wouldnt be able to sleep on the plane. I didnt need to get to the airport so quickly by train and sit there for five hours
I also stopped by the buffet restaurant from two days earlier to get their grilled fish buffet for $60 TWD ($2). After finishing up all my leftover change at a Family Mart buying snacks I now had six hours to relax on the bus to Taipei.
It seems strange that I have to travel back to the north end of the island to catch a flight to the Philippines which is closer to to Kaohsiung on the south end of the island. Kaohsiung does have an airport but very limited routes and mainly to China. Supposedly the high speed train killed the local airport as you can be back in Taipei in 1hr 40mins
When the Taipei bus arrived at 4.50 I boarded thinking this was my 5pm bus. Someone was sitting in my seat when I had specifically asked for a window. I only realized after that this wasnt my bus and I boarded the early one as they were arriving every 10-15 mins but they gave me another window seat.
During the bus ride I didnt sleep and after nightfall started looking for my transfer station around 9pm. They said it would take over four hours to get to the transfer point.
At the terminal she had written down the english name to be Chungli. I kept looking for signs but only saw something called Zhongli start to appear on the highway
When we got there I asked the driver and he said to get off here. That was strange as even the chinese characters didnt match the ones on the ticket. It was lucky I did get off because if I didnt I would have missed the transfer and ended up missing my flight.
The transfer bus came at 9.30 and I was at the airport in about 15 mins. The driver was asking me what terminal I wanted and I wasnt sure. Whichever he did drop me at I ended up needing to go back to the other as my flight wasnt on the departure board and information told me it was the other terminal.
Two airport workers who saw me coming closed the elevator doors which was unusually rude. I had $800 TWD ($26) leftover and went to exhange it to Philipino Pesos. They said they would only give me 500P ($12) so I decided to get $26 USD instead.
My other worry was my 7kg hand luggage on all my connecting flights now. I took some items out as you are allowed to carry hand items in addition to your bag.
For check in you must show an outbound flight and can not have a one way ticket to the Philippines for some reason. I had my ticket to Korea but another foreigner only had a one way ticket to Manilla.
I'm not sure what was going on but many of the staff members were talking with him privately all the way to the departure gate and he was complaining about being harassed and treated so poorly. I dont see why he didnt just book a dummy outbound ticket somewhere
Everything was closed in the airport as my departure time was after 1am, so no chance to buy any last minute souvenirs or the aboriginal items I was hoping to pick up
Finally as we boarded the plane heavy rain began to start, the first rain during my trip which I had managed to avoid the entire time.
My first trip to Taipei last year I'd fallen in love. There were fresh bakeries in every station and it seemed like the first 'normal' place in asia, though that's hard to explain in words
The rest of Taiwan is different. It feels more like China and doesnt have the modern western feel that Taipei has. Also many of the foods dont travel to every city and some things that are seen in certain places are not to be found again. There were no fresh bakeries and I had to rely on convenience stores for different packaged baked goods.
I dont see myself living and working here as I dont want to learn the chinese language and characters, even though I was getting better at matching characters on a ticket to destination signs.
If I did it would only be in Kaohsiung which has modern influences without feeling westernized and a good base for lots of exploring around. I dont recall any foreigners outside Taipei and only saw a couple when I reached Kaohsiung
Once again the people were very friendly and I saw some amazing sights particularly the aboriginal culture and monasteries
Most people only visit Taipei and claim to have visited Taiwan. But there is so much more to the island. I still havent seen any of their hot springs or the rugged east coast. I could possible do one more trip exploring if I stay in Korea for another year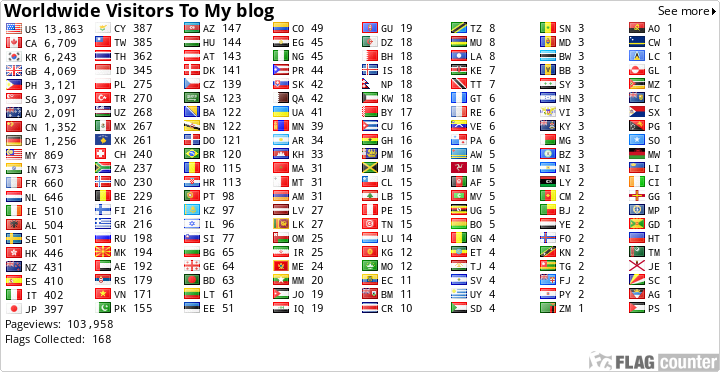 Visit My Page on Facebook :
Departures1 - Global Adventures