Trip Start
Jan 18, 2013
1
3
31
Trip End
Jan 27, 2013
Loading Map
Map your own trip!
Map Options
Last year when I visited Taipei there was a Halal Beef Noodle place I wanted to visit but they keep strange hours. Easter Jet goes to Songshan Airport close to downtown, not Taipei Taoyuan international airport outside the city. So since I was already downtown I could try to swing by.
The restaurant closes from 2pm for some strange reason and reopens at 5pm. Then it closes again for the day at 7.30pm. I had reached there at exactly 7.30pm last year and they turned me away.
(See entry from last years trip on Halal Taipei)
http://blog.travelpod.com/travel-blog-entries/londone7/20/1331114245/tpod.html
I was hoping I would be able to make it before 2pm this time since I would have a problem with finding things I can eat for the rest of the trip. Luckily Taiwan is 1 hour behind Korea so that gave me some added time to reach there.
On descent as we were heading just northeast of the city centre I was able to see many familiar sights from my first trip. First we passed over the mouth of the river where I had stayed in the north end during my last trip.
I then recognized the red river bridge you see from the subway line. Incredibly then we passed across from the Taipei Grand Hotel which was quite difficult to walk to. Finally when we landed the Taipei 101 Tower was clearly visible closeby.
If possible I would try to land at Songshan again as its more convenient on the subway line about seven stops from Taipei Main Station and has amazing city views not seen from Taoyuan which is outside the city. Next time I'll try to sit on the right side to see views on the south side which include the Taipei 101 Tower and some temples.
It was also the perfect day to go up the Taipei 101 Tower if I had the time as the day I did it was fog and drizzle and I saw nothing.
After passing by a friendly passport control guy I went to the subway station which was right outside. The fare was only $20 TWD (.65 cents) to the stop where the restaurant was.
Luckily I made it with more than an hour to spare so was able to order. They only serve one item which costs $180 TWD ($6). He asked me if I wanted spicy but I didnt really notice any.
It was a noodle and meat dish in a soup similar to Lagman I have at the Uzbek restaurant where I live. It was ok and satisfied my curiosity to eat a Chinese Halal meal as well as allowing me to eat meat for the only time during my stay in Taiwan but not exactly the meal of my life.
Next I paid another $20 TWD (.65 cents) to head over three stops to Taipei Main Station for my bus to Taichung. I was going to take the bus over the train for only 1/4 the cost of the high speed train ticket.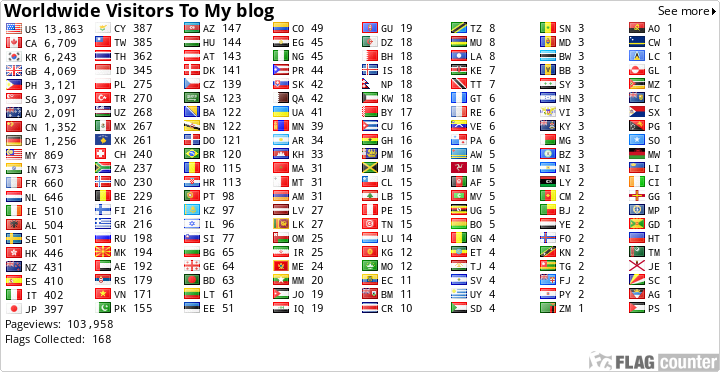 Visit My Page on Facebook :
Departures1 - Global Adventures
The flight from Gimpo to Taipei was about 2 hours. Since I had a one way ticket they needed to see I had an outbound flight. For some reason some countries are getting fussy about making sure people have onwards travel.