Sandimen Aboriginal Culture Show
Trip Start
Jan 18, 2013
1
26
31
Trip End
Jan 27, 2013
Loading Map
Map your own trip!
Map Options
The highlight of my trip to Taiwan was the Aboriginal Cultures Folk Show. This was an incredible live 90 min show featuring many traditional songs and dances. They also choreographed the plot into a romantic storyline between a village boy and girl, culminating in a large village wedding
Photography was not allowed again. I don't see why not? I still covered the red light on my camera and managed to take both video and camera pics. I think this is really an amazing experience most people wont have the chance to see so wanted to share it with a wider audience.
I was told to return to the theatre at 2.30 thinking thats when the show started. However, they waited for the auditorium to fill for the 3pm show. Considering the park was mostly empty today there were about a dozen other people that slowly trickled in for the show.
The show began about ten minutes before three with a cast of many costumed characters. To begin with they all stood in a large line. Then they introduced each of the tribes on the large screen
Two members from each tribe, male and female, would step forward to be introduced. Each tribe had different costumes and there was such variety considering Taiwan is a small island.
They then dispersed and rushed into the audience to shake peoples hands to greet and welcome them.
Next they performed a rock style folk song
(CLICK THE LINKS BELOW PICS TO PLAY VIDEOS)
Sandimen Aboriginal Cultures Folk Show - Part I (Musical Band)
http://youtu.be/dgoI6Dqcex4
This was followed by a percussion band where they used drums, xylophones, triangles, bells, and other similar types of instruments.
Sandimen Aboriginal Cultures Folk Show - Part II )Percussion Band)
http://youtu.be/kp7a8cpMd38
Finally there was a loud drumming contest as they introduced two of the drummers
Sandimen Aboriginal Cultures Folk Show - Part III (Drummers)
http://youtu.be/gSM0eXZfx-M
They then performed the next interesting act which was their cirlce dance. I had switched my video camera off trying to be discreet and save power so I wasnt able to record it.
This is fascinating as this is the artwork you see everywhere of lines of figures joined together and dancing.
First they form a line of joined hands as they all sing together. Next the line stretches towards the side of the stage and bends around. Then the line begins to fold in on itself as they form a circle.
The dancing and tune are quite catchy and was stuck with me by the end of the show
After introductions now the musical storyline began. I wasnt aware of this till the end of the show. Perhaps a plot was explained in chinese but as a foreigner I was clueless until more of the show unfolded. There were chinese subtitles throughout which were meaningless to me.
They then sang a moving melodic song with two pairs of duets, one male, one female. It was artistically choreographed and had beautiful vocals. The video does not capture the full essence of hearing the vocals live
Sandimen Aboriginal Cultures Folk Show - Part IV (Melodic Duets)
http://youtu.be/d4KuP5PBQtM
After a night village scene by torchlight there was then a romantic ballad between the boy and girl. I'm not sure if this is when they first meet or are courting. In the background were four girls doing an artistic ballet style dance which seemed unusual for an aboriginal dance
Sandimen Aboriginal Cultures Folk Show - Part V (Dancing Girls)
http://youtu.be/oaw1f_OuQU8
This was followed by the boy going off to join his male friends. They went on a hunt which was unique in that they had dancing rituals for the hunt. Again they did their line and circle dance but this time it was in a more warrior battle style
They spun and did cartwheels in the air, too fast to photograph in a dim auditorium but I did film it below. Finally they caught an animal and fastened ropes to return it to the village
Sandimen Aboriginal Cultures Folk Show - Part VI (Hunting Party)
http://youtu.be/fnF04ExGHN8
As the male dance line moved off the stage a womens dance line then entered. They did their own slow moving line dance.
Sandimen Aboriginal Cultures Folk Show - Part VII (Circle Dance)
http://youtu.be/bfLZDjBCr3c
The mens line then returned and did their own warrior style dance again barefoot wearing dark skirts, foot stomping, like a giant centipede. It seemed a bit like an Aboriginal Mauri dance from New Zealand
Then an elaborate wedding was to take place. This was basically "A Pakistani Wedding" .as there were so many similarities in the rituals.
In the evening the ladies gather for a 'hen night' as they prepare the bride and slowly dress her with elaborate garments.
In the meantime the villagers gather for the evenings main event
Then an unusual swing appears from the ceiling as we wandered what purpose it served. The bride is mounted on the swing and rocked from side to side the entire span of the auditorium to the amazed gasps of the audience.
This seemed a bit unusual as a wedding ritual and I wander if a bride has ever fallen off the swing, or even died, during such merriment. It was all quite controlled in the theatre but there may be drinking or miscalculations outdoors. Imagine if the bride hit a tree?!
Similar to Pakistani Weddings then the girls formed a line while the boys tried to charge it. In our culture the groom is supposed to pay off the girls to let him pass so maybe this was similar.
There was then a torchlit procession as the groom and party head to the village from their homes. There were two bamboo poles raised on shoulders. I think the bride was carried on these. There was another lady carried over someones shoulder, perhaps the brides mother? In Pakistani weddings the Groom's party arrives by horse.
There was then a ceremony after which the groom raises the bride on his back and carries her off. In Pakistani culture this is done by the father who hands her over to the groom.
The villagers wave them off before the show's finale
They all form their long line again and I was hoping they'd do their circle dance so I could film it this time but they didnt.
Similar to the start of the show they rush into the audience to shake peoples hands and thank them. I thought they were going to pull audience members in to do the circle dance but they didnt either
Also during the show more people had arrived in the theatre so perhaps the park was so empty when I got there because people time their trip around the show. Anyway, I was glad I got to experience it
Waiting outside was a park bus and I was too tired to walk all the way back. There was no food other than the snacks I'd brought so I needed some energy
Back by the entrance the souvenir shops had CDs of the music still playing in their head. There were several choices and I wanted the songs they just sang, some of which had great vocals, so wasnt sure which one to get.
Also I wanted to get one of the aborginal red and white boats. They told me it was $500 TWD ($16) for a palm sized boat. If they took credit card I might have got one as I wanted to keep my cash, but I didnt see any machines.
Again, this was the most beautiful experience I had in Taiwan. It showed real culture even if it was a bit fake and a 'theme park show'. This is 'real culture' that goes back centuries. It must be fun as a kid learning these dances and at village gatherings. Its nice that they make an effort to preserve and promote ethnic cultures and something other countries dont do enough to protect.
After walking back to the Sandimen bus terminal I had to wait over half an hour for the 5.10 bus. The fare back was $69 TWD ($2.30) and fortunately I had been stockpiling change as drivers need exact fare.
Despite a slow start, Sandimen was definitely worth all the hassle of getting there. The folk show is a highlight and I would definitely recommend anyone who has the chance to see it. It's a shame most people just visit Taipei as there's so much more rich heritage to be seen
I might go again if I visited Taiwan again. I love melodies and ethnic folk music so should have bought the CD. Maybe at the airport they may have it because I remember an aboriginal arts store at Taipei Airport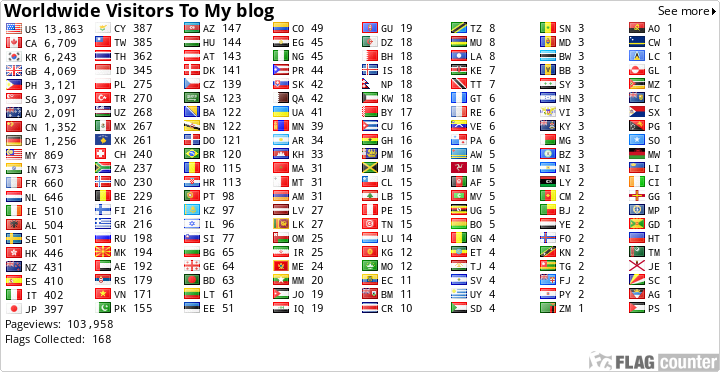 Visit My Page on Facebook :
Departures1 - Global Adventures