Trip Start
Feb 22, 2013
1
55
57
Trip End
Mar 02, 2013
Loading Map
Map your own trip!
Map Options
I finally arrived at Tashkent Airport for my late night flight home and was dreading the insanity of intense Uzbek security at train stations and airports. First you go thru a checkpoint before you can even walk to the terminal building where they checked my passport and ticket.
After that was a security screening to enter the terminal building. They started checking my cameras and made me take them out of their case.
The terminal building was actually quite nice, modern, and seemed well organized. I dont know where we had arrived at on my first night that seemed like a tin shed late at night.
First you had to fill out your Customs Declaration Form. For an International Terminal I checked every counter and they all had Russian forms. There was a english form you could copy your answers onto the Russian one
You have to declare how much money you are taking out and this will be compared to the stamped form when you came in declaring how much you had brought in. In the english example the person had declared they had a video camera valued at $500. Does that mean I have to declare all my cameras?
It also wants you to declare drugs, electronic storage devices, communication devices. Does this mean my cellphone, digital cards, stomach tablets? I was also worried what would happen to my music CDs when the police officers had tried to take them at Samarkand Station.
I went to the check in to perhaps ask the person there as there were no other airport staff to ask about this form. He was a young Russian guy with blond hair. When I said there were no english forms he replied "thiz iz porobleme". I repeated again there were no english forms to which he repeated "yez, thiz iz porobleme".
I guess what he was saying was that they know this is a problem. I asked about my camera and cellphone and he said this was ok as they were my personal items.
My bag had weighed at 8kg as I had taken items out beforehand. Asiana allows 10kg while most airlines only allow 7kg so I didnt want more nonsense if they started enforcing 7kg even though the airline allows 10kg.
Now there was a big line for Customs Control. I was worried about my CDs and was half prepared to hand over all my souvenir items and halwa if they did anything ridiculous saying the CDs werent allowed. So I was going to tell them to keep all their items and I didnt want anything from Uzbekistan if that's how they were going to be about it.
My guide had also suggested I keep everything in my bag and not have anything in my hands. First they scanned the bag while the person went over my customs form. Fortunately there was no incident and he stamped the departure form and I was on my way.
Next was passport control which also took a few minutes where he perused my passport and all the hotel registration slips. After that was the final security check.
This time he flipped thru every page of my guide book which I was holding in my hand. He also checked the entire contents of my wallet which I had to put in the tray. I was hoping he wasnt going to try to ask for some money which he didnt.
Finally I was thru all the insanity with no incident and went to the large modern departures hall. A group of Uzbeks found me curious so one asked if I was a student (yes I still look young!). I said I had been on holiday while he was en route to China.
I now wanted a drink. They had a burger restaurant and were selling beverages. Fortunately they took US Dollars and Euros as well as Uzbek Soms. I got a 500ml Sprite for $1.50. I paid in $2 bills and they did not have the .50 cents change which was fine. I remembered my last experience at Cebu Airport where they wanted $4 just for a 300ml drink can and only took local currency.
The door to the corridor with our gate had been kept locked. When it was time for us to board they unlocked one of the double doors and everyone tried to push thru. Then there was a second door at our gate where they opened a single one again and herded everyone thru.
Finally on board the plane there were off duty Asiana Stewardesses sleeping again with eye patches in the last two rows. I tried to rest for most of the flight home.
On descent we had a morning landing at Incheon. We were able to see the Incheon harbour bridge and coastline as we landed.
I was hoping to meet the two Korean friends I had met in Khiva and Bukhara as they were supposed to be on the same flight. There were only locals on this flight and I didnt see them.
At Incheon it took one hour to clear immigration as they had to process all the Uzbeks. I went thru in barely 2 mins when it was my turn. I saw the two Koreans in the other line who had bought Russian style fur hats as souvenirs so blended in with all the locals.
It was then a four hour bus ride back to Daegu and finally home.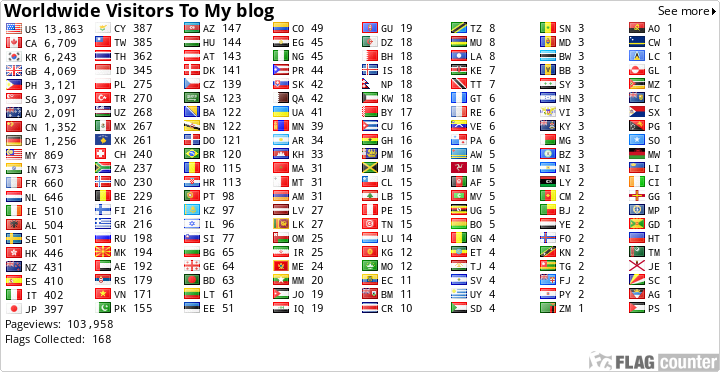 Visit My Page on Facebook :
Departures1 - Global Adventures