Unjusa Temple - Korea's Easter Island
Trip Start
Aug 16, 2013
1
374
418
Trip End
Aug 25, 2013
Loading Map
Map your own trip!
Map Options
Looking for places to explore over the holiday weekend I decided to head over to Gwangju as I've hardly spent any time in Jeolla province on the west side. I discovered a unique temple named Unjusa which isnt too well known but has massive stone pagodas and stone sculptures.
Friday morning I took the bus over to Gwangju from SeoDaegu terminal. SeoDaegu is closer to my home, only 15 mins by bus, but it fills up first at DongDaegu terminal. I had ordered the corner seat online and was hoping someone hadnt taken my seat.
When the bus came two girls were already curled up in the corner seat and the one beside. The one in my corner seat was asleep. I tried to show the girl next to her my ticket with the seat number but she adopted the "I'm going to completely ignore the foreigner" and stare into space face. That meant I'd have to sit in someone else's seat when they knew the tickets number the seats and that they were not in their assigned seats.
Luckily she was also in the wrong seat and another Korean lady had a ticket for that seat. When they both got up to leave I took my corner seat next to the Korean lady who was now beside me.
On arrival at Gwangju after four hours in holiday traffic I was going to use the bathroom but made the mistake of first asking for the bus to Unjusa at the information counter. She immediately walked me over to the front of the terminal where there was a waiting city bus heading for the temple
Either buses 218 or 318 will both take you to Unjusa for 3500w ($3). Because of the holiday weekend the traffic was moving very slow. We passed by another festival which caused a bottleneck for about 20 minutes just to pass thru.
Although this is a city bus it actually continues out into the countryside and drives for about an hour outside of Gwangju. If I wasnt on a public bus with other people I would have panicked having no idea where I was.
I tried looking for signs to the temple and luckily this is where most people were heading so the bus emptied at the temple stop.
They had a festival going on for the holiday weekend and the temple entrance fee of about 3000w ($2.50) was waived today. I looked at the temple map and figured out my route path.
After passing thru the entrance gate you are in a large open area with many tall stone pagodas. These were unusually tall and I havent seen them this tall before in Korea.
In addition to the tall stone pagodas they also had stone carvings of Buddha figures. These were either free standing or leaning against rock walls. The grounds were also decorated with coloured lanterns for Buddha's birthday.
Behind the tall stone pagodas were some other stone structures. One was like a stone box housing a Buddha figure inside. At the back was a second Buddha figure looking out from another doorway.
To the rear was the main temple complex again colourfully decorated for Buddha's birthday. Outside the main shrine was a small gold figured Buddha standing on an elephant. People were taking turns to pour water over the Buddha's head from a small fountain beside.
The main shrine was quite elaborate and to the side was another shrine with hundreds of tiny gold Buddha's.
To the rear the path continued to an elevation with some more stone pagodas and carved figures. There was a path and staircase you could climb to the top of a small mountain. Initially I didnt want to climb but it was worth it in the end.
At the peak was a rock from which you could look down over the valley with all the tall stone pagodads. There was also a royal burial tomb beside.
Coming down from another staircase was another Buddha carved in a rock face but very eroded. There were other circular styled pagodas.
Back thru the temple complex there was another staircase to climb another small mountain. Again, not a fan of hiking anymore I decided as this is where the floor carved figures are.
As you wind up the staircase you pass thru other stone pagodas.
At the top is a small clearing where the two floor carved figures are. More in common with ancient civilization carvings these were two giant figures of two people.
Coming back down another staircase were yet more carved stone Buddha's hiding under a rock. Back in the main park area many families were resting in the shade and having a picnic.
Behind the three large stone pagodas were also three upright standing figures which were a popular photo spot.
Finally in a large clearing was a field with a line of standing stone carvings. Some were damaged and one included a sleeping Buddha on its side.
Back in the entrance area the festival was underway with a performance by Chinese fan dancers.
To get the bus home I wasnt sure where to go. The bus had dropped us at the entrance driveway although it wasnt a bus stop. I tried to look for one and saw it a few hundred metres to the south.
The bus came after about 30 mins for the return ride home costing 3500w again ($3). Once again it was a slow bus ride due to holiday traffic and passing back thru the other festival bottleneck.
This was certainly one of my most favourite temples to have visited due to its unique features. With more in common to Easter Island or other ancient civilizations I'm surprised it isnt more famous and that I'd never heard of it before in the last 2.5 years I've been in Korea.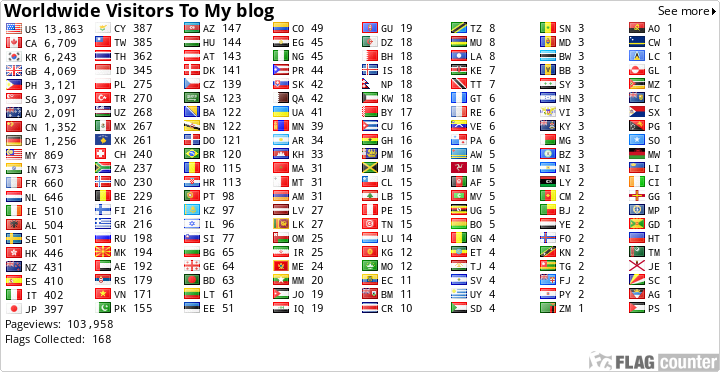 Visit My Page on Facebook :
Departures1 - Global Adventures