Palgong Teacher Training Institute
Trip Start
Aug 16, 2013
1
348
418
Trip End
Aug 25, 2013
Loading Map
Map your own trip!
Map Options
As school is closed from the New Years Holiday to the March 1 holiday we have six weeks of 'deskwarming' which is sitting in an empty school, only broken up by personal vacation days. After doing a three day winter camp at my school I also volunteered to teach at a two day teacher training seminar at Mount Palgong
This was a paid position, however it would involve creating the course materials on your own time. Originally we were told the seminars were to be on helping High School Teachers deliver the national final exams and motivating students.
Then a week before the submission deadline after doing all my prep work, we were told it was in fact conversation and writing classes for the Korean teachers. I had to spend all day Christmas Day on the computer typing up new course material to be handed in for the Friday deadline that week.
There was also confusion as to how to get to the institute in the mountains as it was only accessible by private bus or car. They had arranged a ride for me from one of the attending teachers who lived a block away from me.
The course is actually a three week course that is mandatory for all Korean English Teachers after four years of service. There were 43 participants along with Math Teachers who had to do their own training and certification.
When we arrived I was first taken to my class which was small room with no computer. I was startled to see one of the teachers from my school as an attendee which made me a bit nervous at first. I told them I needed a projector to use my powerpoint and we were able to switch to an available room with the necessary equipment.
Another mixup was half the materials I had given them was not published in their coursebook so they were missing all the writing samples I gave them which needed to be photocopied again.
I had four hours for the seminar which I divided into two double lessons. I would have a group of 11 students the first day then switch with my teaching partner for the second day. The next time I would have a different group of students and repeat the four hour seminar.
Between my partner we had to divide classes between speaking and writing. I chose to do writing since these were adult students and I dont get to do writing with my middle school students.
The first double class was on complaint letters. The first half of the class they would write their complaint letters learning the structure of how to organize their letter after first brainstorming their draft letter.
In the second half I exchanged letters with different students. Now they had a new letter they took on the role of the office employee and had to respond to the persons complaint. This made it a bit real life and real time having to respond right away and I explained this was common back home as I had to respond real time to phone inquiries and complaints.
The second double lesson was a journalism class where I used my writing examples and published articles on the Daegu Blogsite and local expat magazine Daegu Compass. The first class they would write their articles, the second class critique each others articles.
For the most part they were more participatory than my middle school students who are disinterested and need to be forced to do work. Since it was a writing class it was also very quiet with me giving the presentation then them writing their articles and letters quietly.
The first group on tuesday only had one guy, the second on thursday was more balanced with four guys. One person managed their school newspaper, one wrote articles in english and korean when he served in the army, and one was an editor for his university newspaper.
I asked if they thought the class was useful or a waste of time given they already had a writing background. They said it was useful as they were never trained how to write articles but just told to go and write them. Even some native english speakers find these topics difficult.
They said they found it difficult writing real time in a foreign language as they dont normally use English this intensively. I suggested they could use these lessons as exam questions for their students.
It was good experience and a change for me being able to do writing classes and working with adults. I got a work experience letter from the institute and hope to use this in the spring to try to apply for university teaching positions in Korea.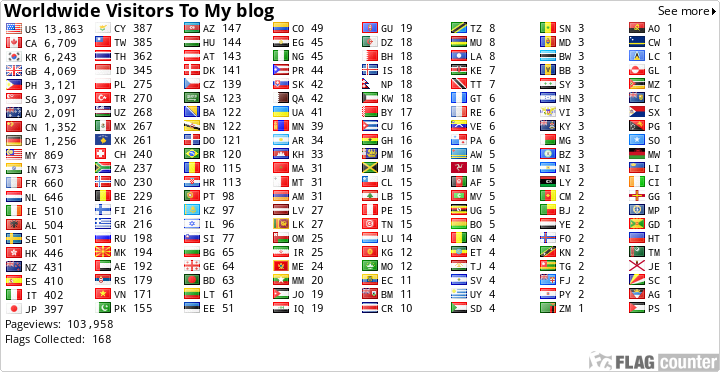 Visit My Page on Facebook :
Departures1 - Global Adventures