Daegu School Board Global Festival
Trip Start
Aug 16, 2013
1
335
418
Trip End
Aug 25, 2013
Loading Map
Map your own trip!
Map Options
The Daegu School Board is comprised of foreign english teachers from 7 English Countries (Can, US, UK, Ire, Aus, NZ, S.Afr), as well as foreign language teachers from China and Japan. This year they decided to hold a global festival to highlight all the countries the foreign teachers come from like a mini Yeosu Expo. The rooms were full of games, activities, and displays and I had volunteered to head up the Canada room. The Global Festival turned out to be a very busy weekend better than anticipated and we were all rushed off our feet for the the entire time.
Planning started a month in advance and our group met to brainstorm different ideas and activities we would have in our room. We then had to compile a shopping list of exact items that were required so that the school board could provide some sort of budget. Initially we thought we could buy supplies and they would reimburse us but they were able to purchase everything themselves.
I'm surprised by how supportive the school board was as I expected lots of ideas to be rejected. They also seemed to have a limitless budget and cost was never an issue for any suggestion or idea and they always said we could have 'whatever we needed'.
We were also able to give lots of image files that would be sent to a professional photographer to be blown up large scale. Unfortunately the supplies and photos didnt turn up till almost two days before the event leaving us very little time to prepare. There was also a threatened nationwide bus strike that would have impacted us on these last two days.
Our team members started coming in from thursday evening after school to prep the room. It was a frantic race as time was running out but we managed to pull off quite an elaborate feat.
The Canada room was to have five stations
- Canada Karaoke and Celebrity Photo Booth
- Hockey Shoot Out
- First Nations and Multiculturalism
- French Canada
- Maple Tree and Flag Making
Each member was assigned a station to prepare and cover during the event. I was in charge of multiculturalism which became very apparent from our first team meeting as we had no "white people" on our team and we were all of asian looking origin which would confuse Koreans not familiar with mass immigration
Another problem we had was staffing. Originally our team had five members which we were able to increase to seven. I thought Canada would be a big group with so many teachers here. USA, UK, and S.Africa were all big groups, so much so that they were given two rooms. We were told we would have a korean teacher and two student volunteers on the day but we only ever had one volunteer and no korean teacher.
Understaffing became a crucial problem on saturday when people wanted to take lunch or washroom breaks. I brought my own lunch and worked right thru but we were stretched very thin all day.
The turnout was much better than expected. When I was telling my students they showed very little interest although five girls from my school did end up showing up. Attendance was mostly by Elementary or younger students, with some middle school students, and a few high school.
Most of the parents would wait outside the room and at first I thought they were told not to come in. It turns out they were shy and we had to keep encouraging them to come in and tell them it was ok.
There was also a media presence as well as City Officials. A KBS News crew spent some time in our room and even clipped a mic on me while I was talking to students (see next entry). There were other media and photographers passing thru.
The celebrity photo backdrops were confusing. They knew Justin Bieber but didnt know Celine Dion so we had to keep telling them she sang the Titanic song. Only westerners were taking photos with her. For karaoke they only knew the Justin Bieber song 'Baby' so we ended up doing childrens nursery rhymes
The most successful station was the maple tree hand printing. We had samples of maple syrup we were serving with waffles and had made a large maple tree on one wall to show where the syrup comes from. Students were making or drawing hand prints to put on the tree as leaves. Over the two days the tree branches grew to take over most of the room.
Originally we were going to have crushed ice to make a maple swirl but this idea had to get shelved. We also wanted to build an igloo entrance with styrofoam but this idea also had to be abandoned.
The dreamcatcher craft station for first nations was also a big draw. Many wanted to spent time weaving their dreamcatcher but this was a very slow process and even had parents joining in to help things along.
Our room had very good attendance and people spent quite some time at all the activities and sometimes came back again into the room.
For the multiculturalism quiz activity we were going to show different images and students would guess whether it was Canada or not, when in fact all pictures were from Canada. I had twenty pictures of things like Chinatown, Koreatown, Caribana Parade, Greektown etc and couldnt figure out how to display them all as the room had so many other exhibits and limited wall space.
I came up with an impromptu idea of building a totem pole from used boxes, that way I have the four sides of each box to use to stick the photos on going upwards. The totem pole became a central focal point of the room drawing lots of attention, although the multiculturalism quiz was too difficult for most elementary age kids to understand.
We were in complete lockdown in our room all day saturday, barely had time to leave, and hadnt even seen the other rooms. We thought the event ended at 4pm while the brochures said it lasted till 5.
After 4 we were so tired from the heavy traffic and being understaffed that we shut our room and started turning people away. This was the first chance I had to walk around and look at the other rooms. Ireland had also shut their door due to the same staffing problems and volumes.
Next to our room was the UK which I was only now seeing for the first time. They had an impressive chalk board showing the London Skyline and fairground type games and activities. I walked thru the other countries but didnt really have time to see properly what their activities were. In addition to countries they also had a post office room, travel agents, writing workshop, while High School catering students were making desserts and chinese meals as rewards for when participants had completed their sticker course.
Sunday we thought things would be calmer with many families going to church but there was no difference in the volume of traffic. Tired from Saturday I decided to try manage the maple tree handpainting station as it was more stationary than the hockey shootout I was covering yesterday.
I dont teach elementary so dont usually do crafts or painting with studetns, but it was a very popular station with people of all ages. This had a high turnover as once they make their handprint they must cut it, give it to me to pin on the tree, and give them a sticker for completing the task. Many young children who couldnt speak much english knew enough to keep holding their book saying "teacher, sticker" while other kids were arriving wanting to make their handprint, making it all very hectic.
We managed to make it thru Sunday which only lasted till 1pm. We also had two volunteers today instead of just the one we had on Saturday, as well as two friends of group members that had joined making staffing the room more manageable.
The event was an overwhelming success for the school board who have already decided it will be held again next year. Over 3000 people attended over the two days. Our members were saying our room received lots of compliments from their friends. Looking at the other rooms it did seem to be more bustling with people, more activities, and crowded with displays than the other rooms seemed to be.
It was quite an exhausting three days starting from the prep work friday nite but quite worthwhile in the end. For those of us that may be here next year we already have plenty of ideas and experience to make the Canada room even more successful next year.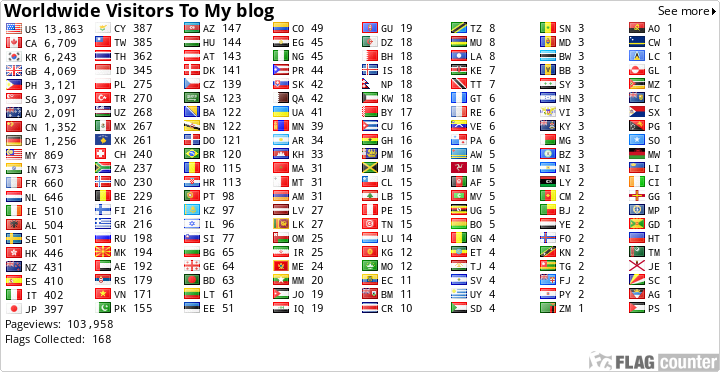 Visit My Page on Facebook :
Departures1