Trip Start
Aug 16, 2013
1
240
418
Trip End
Aug 25, 2013
Loading Map
Map your own trip!
Map Options
As my first time in Jeolla province in the southwest its much more fertile with denser greenery than we have in Gyeongsang province in the southeast.
At Boseong we had to change again to get a local bus to the tea fields. Fortunately they had english signs displaying the bus times and prices since many foreigners visit. The local bus cost 1,100w ($1) and took about 15 mins to reach the fields.
The front of the bus had a green tea sticker across the windscreen which confused you as we kept thinking the tea fields were just ahead. Be sure to look for english road signs when you reach the fields as no announcements are made.
We looked at the map and decided to visit the green tea museum first. The path takes you thru a traditional arch but made from green tea cans. This leads to a bronze statue of a woman making tea, followed by a traditional home set amongst some tea fields.
Museum entrance fee was 1000w ($1). The ground floor exhibit displayed the benefits of green tea, the cultivation process, production around the world, and green tea products. The second floor was a history hall, displayed historical artwork, historical ceramics and bronze urns.
The final floor had a tea experience room for 2000w ($1.75) where you could experience tea drinking. There were more displays of tea ceramics from china, japan, and europe, and traditional drinking rooms from China and England.
Finally you can take the elevator up to the fifth floor for the glass observation deck. There werent really clear views of the tea fields but I could see the ocean. There were however many dense layers of greenery.
After we made our way down to the gift shop full of an assortment of green tea items. I bought green tea candy to give to the teachers in my school for 5000w ($4.50). We also tried the green tea ice cream cones for 2000w ($1.75).
Nearby was a tea making workshop but it was closed so we went back to the other side of the parking lot to enter the tea fields (see next entry).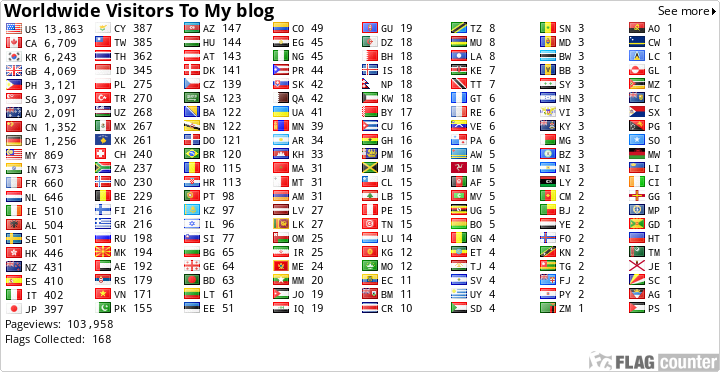 Continuing with our journey to the Boseong Green Tea fields we bought our tickets from Gwangju to Boseong which cost 7,800w each ($6.50). I thought that seemed a bit high and the journey was just over an hour.