Worldwide Korea Bloggers Welcome Ceremony
Trip Start
Aug 16, 2013
1
193
418
Trip End
Aug 25, 2013
Loading Map
Map your own trip!
Map Options
Last year they had given us a guided tour of Chang Wa Dae, the Korean Presidential House after the welcoming ceremonies.
http://blog.travelpod.com/travel-blog-entries/londone7/1/1299853976/tpod.html
This year the invited Bloggers were to have a tour of the National Museum of Korea
There are 50 bloggers split between those living in Korea and overseas. Only a small group were able to attend the ceremonies on Friday. Most were returning bloggers like myself from last year but there were some new faces also.
Last year I was the only person from Daegu and pretty much the only person representing the south of the country. This year there was another Daegu blogger who was unable to attend as well as two bloggers from Busan. Everyone else was from Seoul.
First they started with a welcome slide show recounting some of our activities such as last years welcome ceremony, and our trip to Jeju Island. They also included my picture from the Daegu IAAF Games where I was given a nine day all access pass.
Next the Directors of the Organization made some welcoming remarks. After that I was the only one presented with a welcoming certificate due to time so we posed for the cameras (everyone was given theirs later in their gift bags). Arirang Korean English TV News was also there to record the event.
Then we got to do our personal introductions and answer some questions. I pointed out that they forgot to mention our visit to SBS K-Pop show 'Inkigayo' which was a big hit with my students.
http://blog.travelpod.com/travel-blog-entries/londone7/1/1319540039/tpod.html
Here is the final list of the fifty bloggers, including where they currently reside as half are overseas, and whether they are returning bloggers like myself or new bloggers added this year
http://blog.korea.net/?p=6587
The event was also posted on the Korea.Net website.
http://korea.net/NewsFocus/Culture/view?articleId=99593
However, they took down my picture since I first took this screen print!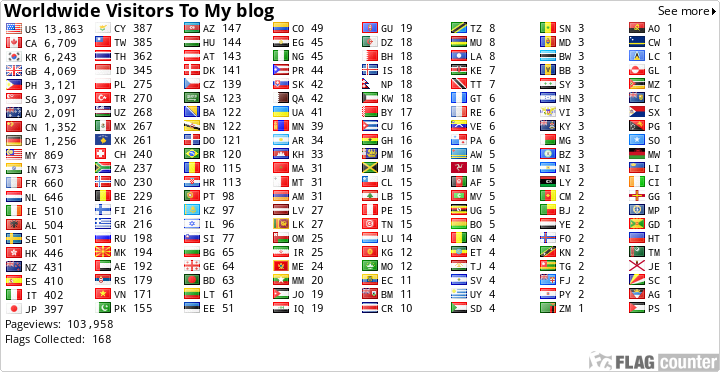 Friday I was invited to Seoul for this years welcome ceremony of the Worldwide Korea Bloggers. We are a group of bloggers submitting our blog articles about Korea to KOCIS (Korean Culture and Information Service) which is run by the Ministry of Culture, Tourism, and Sports.