Harsh drug trafficking penalties
Trip Start
Jan 30, 2007
1
552
632
Trip End
Dec 31, 2011
Loading Map
Map your own trip!
This year it is a little more important for me, as one a trip back from the border with Myanmar - Burma - the police found a woman with more than 1.5kg of heroin in her bag: enough to warrant execution.
There's some pieces about drug day and smuggling:
1. from Shanghai Daily
China executes 8 in anti-drug battle
EIGHT people who had been sentenced to death for drug production and
trafficking were executed yesterday in China amid intensified
crackdowns ahead of the annual international anti-drug day, which falls
today.
Among those executed were five Chinese men and one woman
found guilty in four cases of drug production and sales involving more
than 400 kilograms of narcotics such as heroin and methamphetamine.
They were identified as Wang Xilin, Lu Gang, Zhou Zhenjun, Wang Li, Li
Ersa and Yan Chaomin.
The court did not disclose the locations
of the executions. The death penalty is usually imposed by local courts
and subject to review by the Supreme People's Court.
Also
yesterday, drug trafficker Tian Yulai was executed in Lanzhou, capital
of northwest China's Gansu Province. And in Quanzhou City in southeast
China's Fujian Province, Liu Huiyang was executed. He was convicted of
manufacturing narcotics in 2005.
In addition to those cases,
the Liaoning Higher People's Court in northeast China said yesterday
that two men convicted of heading a gang that smuggled drugs from
Myanmar into China were executed in May.
The Supreme People's
Court said China still faces a grave challenge in its battle against
drugs because of the worsening situation globally.
Chinese
courts handled some 14,200 drug-related cases from January through May,
up 12 percent from the same period last year, the court said.
"We
have seen rising numbers of people in drug trafficking gangs in recent
years. Their activities tend to be more and more professional," said Wu
Yanjun of the Liaoning Higher People's Court.
Courts in the
province handled 1,054 drug cases from June last year to May, involving
1,797 people. The number of cases was 60 percent more than the previous
period, and the number of people involved was up 90 percent, Wu said.
Chinese
Customs also indicated a rise of nearly 16 percent in drug trafficking
this year, with 198 cases, involving 278 suspected traffickers and the
seizure of 430 kilograms of drugs.
The development of China's
transport links to Southeast Asia has brought more products from the
region, but it's also brought illegal drugs. Yunnan borders Southeast
Asia's notorious "Golden Triangle" drug producing region including
Myanmar and Laos. For traffickers, this means more roads and easier
ways to smuggle drugs.
"Since the Kunming-Bangkok Road was
completed last year, we have arrested many suspects trying to smuggle
drugs to China," said Gong Huawu, deputy head of the Yunnan provincial
border defense troops.
"As trade and personnel exchanges
between the two countries increase, we will be facing much heavier
anti-drug pressures," he said.
The "drug road" to China is not
limited to the Kunming-Bangkok Road. Situated at the juncture of China,
Southeast Asia and South Asia, Yunnan has 20 national ports and more
than 90 roads to other countries. Police have increased spot checks and
set up more mobile checkpoints while keeping road traffic flowing.
2. from China Daily
Gangsters muscling their way into drugs
Drug-related crimes are growing at an alarming rate and are
increasingly characterized by gangs and violence, a senior official of
the top court said Thursday.
"A majority of drug crimes are now linked to gangs," Zhang Jun,
vice-president of the Supreme People's Court (SPC), told a press
conference yesterday.
Last year, courts dealt with nearly 44,000 drugs cases, up by a
third year on year. More than 50,000 criminals were sentenced, of whom
a third received sentences ranging from five years in prison to capital
punishment.
During the first five months of this year, courts handled 14,282 cases, up by 12 per cent year on year.
There is also a rising number of cases involving drug production, usually in large quantities, Zhang said.
"There is a growing trend toward making ketamine on the mainland
instead of smuggling it in from abroad; and, also, there are more cases
of smuggling and trading of chemical raw materials for drug
production," he said.
New types of drugs, such as methamphetamine, are replacing the
traditional heroin and opium. Last year and in the first five months
this year, there were 12,243 and 5,251 methamphetamine-related crimes,
up by 61 percent and 48 percent.
The official said criminals are also using new methods for making
and transporting drugs. They rent residential apartments in populous
places for production, deliver drugs in mail and even use human mules.
Pregnant women or nursing mothers are also being used, as they do not normally face the death penalty if convicted.
The highest numbers of such crimes are in Guangdong, Guangxi,
Yunnan, Sichuan and Guizhou, Zhang told China Daily after the press
conference, without giving numbers.
Under the Criminal Law, anyone who smuggles, trades, transports,
manufactures or possesses 1 kg or more of drugs is liable to a minimum
of seven years' imprisonment. The maximum penalty is death.
The SPC has unified the standards for capital punishment and those
liable include drug traffickers using force or participating in
international deals, dealers instigating minors to deliver, trade or
use drugs, and those providing venues for drug addicts or drug
manufacturers.
Experts yesterday called for a severe crackdown on drug-related crimes as well as more prevention efforts.
"Judicial, border and other departments have to be vigilant," said
Ma Yunxing, a prosecutor with Beijing Chaoyang district people's
procuratorate, adding: "We need to put in more comprehensive efforts
and keep a close eye on idle people within communities, especially drug
addicts with a high possibility of committing crimes."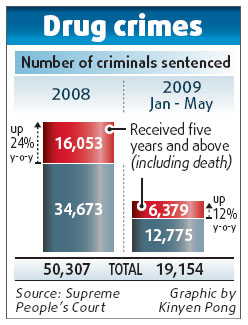 More awareness should be spread of the dangers of new types of drugs
as people are familiar with traditional drugs such as heroin, but have
little knowledge of new ones, which could attract curious youngsters,
Ma said.
Qiu Baochang, dean of Beijing-based Huijia Law Firm, called for more education efforts among the young.
"The growing number of cases
shows increasing market demand. We have to cut the links in the drug
chain, including taking more measures to monitor and supervise
entertainment venues, " Qiu said.
On the eve of the annual International Day Against Drug Abuse and
Illicit Trafficking today, six people, including a woman, were executed
for drug making or trafficking yesterday in Sichuan, Yunnan and
Chongqing after the SPC approved the death sentences.
3.
http://www.chinadaily.com.cn/china/2009-06/25/content_8324253.htm
SavedURI :Hide URLdata:text/html;charset=utf-8,%3C!DOCTYPE%20HTML%20PUBLIC%20%22-%2F%2FW3C%2F%2FDTD%20HTML%204.01%2F%2FEN%22%20%22http%3A%2F%2Fwww.w3.org%2FTR%2Fhtml4%2Fstrict.dtd%22%3E%0A%3Chtml%3E%3Chead%3E%3Ctitle%3ERich%20Text%20Area.%3C%2Ftitle%3E%3Cmeta%20http-equiv%3D%22Content-Type%22%20content%3D%22text%2Fhtml%3B%20charset%3DUTF-8%22%20%2F%3E%3Cbase%20href%3D%22http%3A%2F%2Fwww.travelpod.com%2Fdashboard%2Fentry%2Fshangri-la-la%2F1246017972%2F%22%3E%3Cstyle%3Ehtml%20%7B%20height%3A%2095%25%3B%20%7D%20body%20%7B%20padding%3A%207px%3B%20background-color%3A%20%23fff%3B%20font%3A%2013px%2F1.22%20arial%2Chelvetica%2Cclean%2Csans-serif%3B*font-size%3Asmall%3B*font%3Ax-small%3B%20%7D%20a%2C%20a%3Avisited%2C%20a%3Ahover%20%7B%20color%3A%20blue%20!important%3B%20text-decoration%3A%20underline%20!important%3B%20cursor%3A%20text%20!important%3B%20%7D%20.warning-localfile%20%7B%20border-bottom%3A%201px%20dashed%20red%20!important%3B%20%7D%20.yui-busy%20%7B%20cursor%3A%20wait%20!important%3B%20%7D%20img.selected%20%7B%20border%3A%202px%20dotted%20%23808080%3B%20%7D%20img%20%7B%20cursor%3A%20pointer%20!important%3B%20border%3A%20none%3B%20%7D%20body.ptags.webkit%20div.yui-wk-p%20%7B%20margin%3A%2011px%200%3B%20%7D%20body.ptags.webkit%20div.yui-wk-div%20%7B%20margin%3A%200%3B%20%7D%3C%2Fstyle%3E%3Cstyle%3E.yui-hidden%20font%2C%20.yui-hidden%20strong%2C%20.yui-hidden%20b%2C%20.yui-hidden%20em%2C%20.yui-hidden%20i%2C%20.yui-hidden%20u%2C%20.yui-hidden%20div%2C.yui-hidden%20p%2C.yui-hidden%20span%2C.yui-hidden%20img%2C%20.yui-hidden%20ul%2C%20.yui-hidden%20ol%2C%20.yui-hidden%20li%2C%20.yui-hidden%20table%20%7B%20border%3A%201px%20dotted%20%23ccc%3B%20%7D%20.yui-hidden%20.yui-non%20%7B%20border%3A%20none%3B%20%7D%20.yui-hidden%20img%20%7B%20padding%3A%202px%3B%20%7D%3C%2Fstyle%3E%3Cstyle%3E%2F*%20No%20Extra%20CSS%20*%2F%3C%2Fstyle%3E%3C%2Fhead%3E%3Cbody%20onload%3D%22document.body._rteLoaded%20%3D%20true%3B%22%3E%3Cbr%3E%3C%2Fbody%3E%3C%2Fhtml%3E
Around the time of International Drugs Day, China likes to execute a number of people caught smuggling drugs.