Trip Start
Jan 25, 2013
1
9
12
Trip End
Feb 10, 2013
Loading Map
Map your own trip!
Map Options
French
This first week in Vietnam just went too fast! Tonight we are heading to Nah Trang with the night train... That's going to be fun...
Today we went through Hoi An buying shoes and other tailored clothes. We don't have a penny left! We did some tourism too visiting old houses and temples around the city. I won't post long tonight because we have to go to Da Nang to catch our train. I guess that there is no wifi in the train so I let you here with some photos.
cette première semaine au Vietnam est passée trop vite! Ce soir nous partons à Nah Trang en train de nuit. Ça risque d'être drôle. Aujourd'hui nous avons fait le tour de la ville achetant toujours plus de vêtements et visitant maisons anciennes et temples. Je ne vais pas poster longuement ce soir car nous devons partir à Da Nang pour notre train. Je suppose qu'il n'y a pas de wifi dans le train dc je vous laisse avec des photis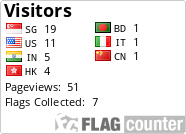 .
English -