The Royal Hawaiian - A Luxury Collection Hotel
Trip Start
Aug 22, 2009
1
Trip End
Aug 25, 2009
Loading Map
Map your own trip!
Map Options
Anyway when you enjoy flying A to B via C, D and E, it all becomes too much like a 'bus-trip'. Then when you start share your stories and tales, the Customs dude realises you're legitimate and you just 'love to travel'. But more importantly, when one has absolutely nothing to hide and there is absoultely nothing to worry about.
So I get pulled up at HNL and here is the conversation after Mr. C&I says
"Come with me!"C&I: How long are you in Hawaii?
Me: Three days.
C&I: Where are you going after this?
Me: Back home, to Sydney
C&I: You came all this way. For what is it? 12 hours, just for three days?
Me: Yep
C&I: (looks at my completed Arrivals Card) So you are staying at The Royal Hawaiian, that is a very expensive hotel!!

And this, is my introduction to The Royal Hawaiian - known to Mr. C&I as that
'very expensive hotel'.
The Royal recently completed it's US$50M renovation program and the 'pink palace' as it is historically and locally known had it's grand opening back in March 2009. The renowned pink colours remains the central piece of this building, with its romantic and serene aura, the grounds of the RH is beautiful. Through the manicured lawns, the Banyan trees and frangipiani flowers, you are only just steps away from the tourist mecca of Waikiki in one direction and the beautiful but often busy Waikiki Beach in the other.
Having earnt some free weekend nights during June-July 2009 Starwood promotions, it was time to spend some nights here at The Royal. Although I had a great stay at the Moana Surfrider on my previous stay in Dec '08 and the reminder of that gorgeous 1 bedroom suite like metres on top of the beach, I had to take a calculated risk and check out the newly transformed 'pink palace'. With best available rates usually hovering around the US$300 plus taxes per night mark, I guess I'd rather stay for free when I can't afford to do so if paying by cash!
Before I even left home to get to SYD airport, I was already pre-upgraded into a Tower Ocean Front Room from the entry level Garden View Room. I knew suites were very limited but when a view of the Ocean is the most important for me, then I'd take any view of the beach!
Arriving at The Royal I was quickly greeted by the porters or known as Ambassadors here and my bags were quickly accepted. I was then escorted to the check-in tables where I was checked-in whilst seated. I was also offered a refreshing pink drink and a Hawaiian beaded necklace placed around my neck.
Another friendly Ambassador then escorted me to the room and gave a concise but historically overview of The Royal. It was a very nice touch to learn about the hotel, the history of the hotel and how that gave me a sense of connection. Some would say a hotel is just a place to sleep, but this hotel, there was an element of closeness to being part of history.
As I had a travelling companion, I had to go for the double-double set up and the room was of above average sizing. Sliding doors lead to the balcony, which was perched below the top-floor, but overlooking the gorgeous Waikiki Beach down below. Welcome snacks of Banana Bread was pre-placed in the room and they were soft and moist - a yummy treat.
Tower Room:-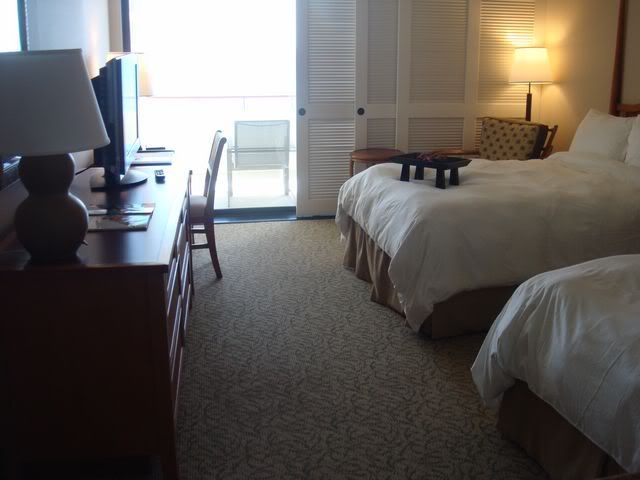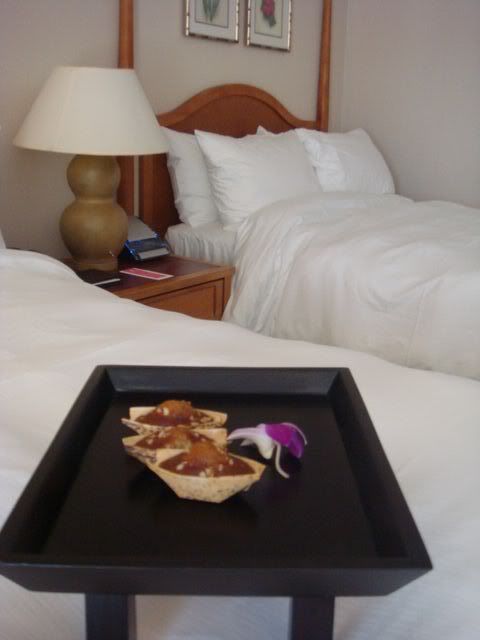 Waikiki Beach below:-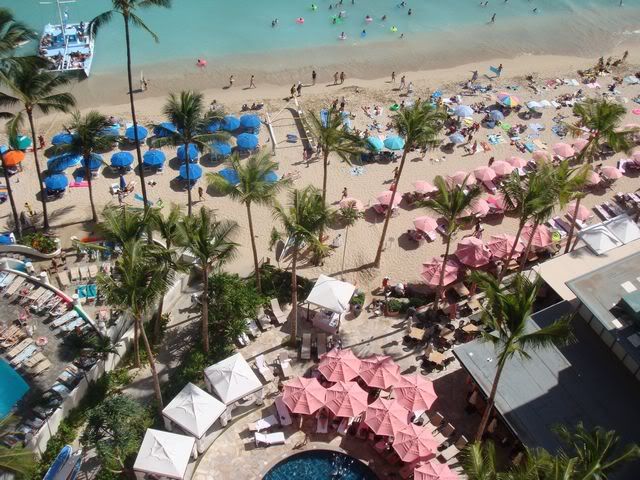 The quality bath products were made by Gilchrist & Soames and were absolutely silky & divine to use.
Tower Guests had exlclusive use to the Level 1 Tower Concierge Lounge which is really a small open air lounge overlooking the pool. It was a nice benefit to enjoy complimentary snacks and coffee/tea but if I missed out on this, I probably wouldn't mind either.
Exclusive Tower Guests Lounge:-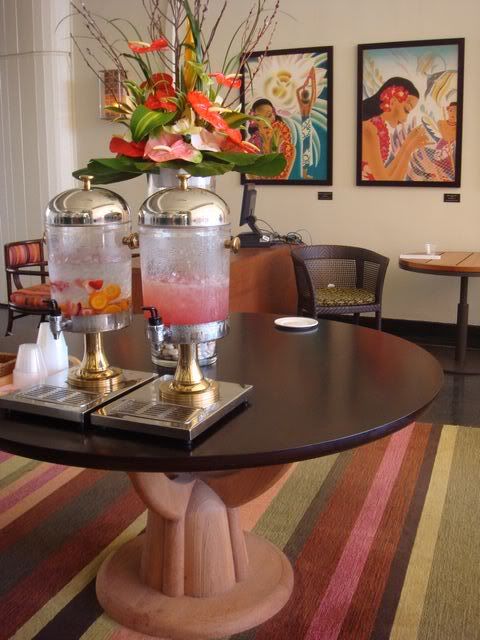 The Royal Hawaiian has prime beach frontage and guests enjoy exclusive use of the complimentary beach chairs and umbrella. It is a 'first come - first serve' but if chairs are left vacant for more than 60 minutes, they may be forfeited and I must say it is actively patrolled by the staff. Furthermore some non-RH guests attempted to use the chairs but were quickly ushered on!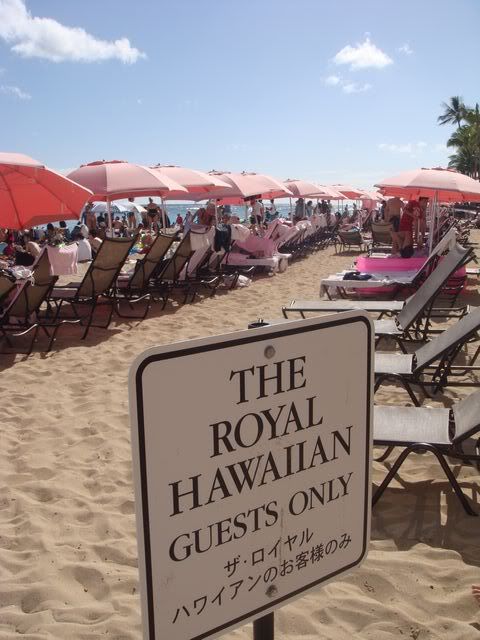 Complimentary refreshment given by one of the RH Ambassadors:-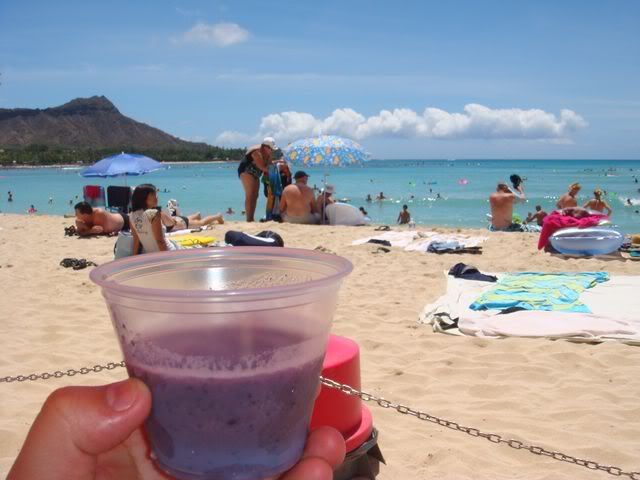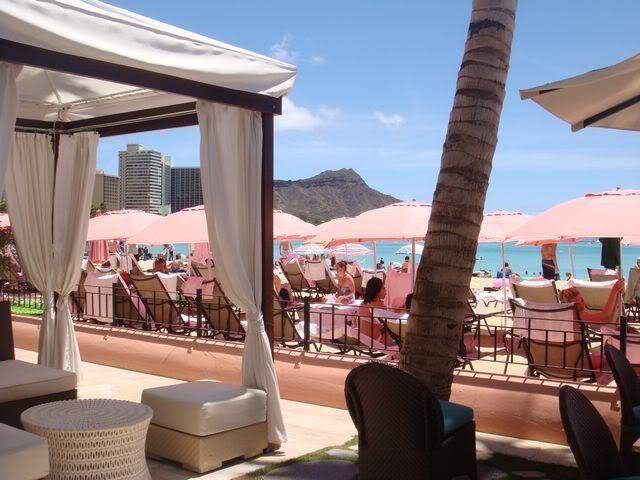 Just pictures of Me:-
The RH grounds:-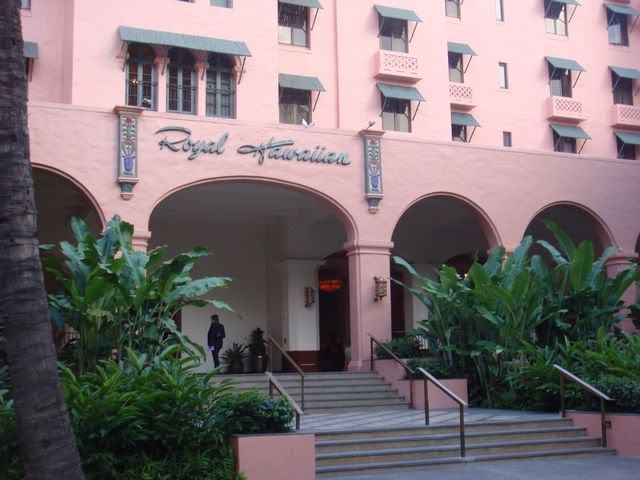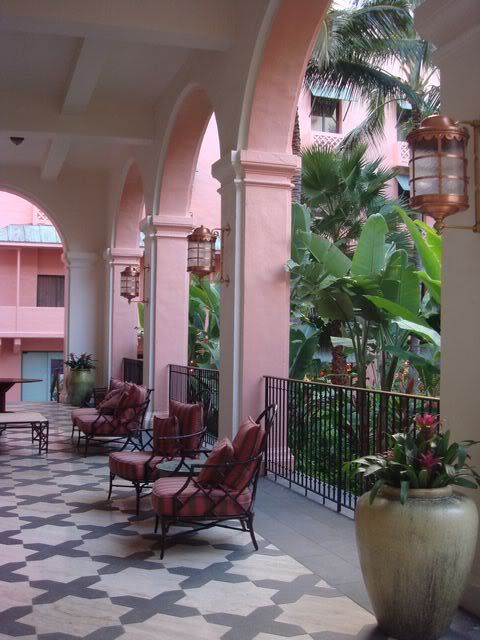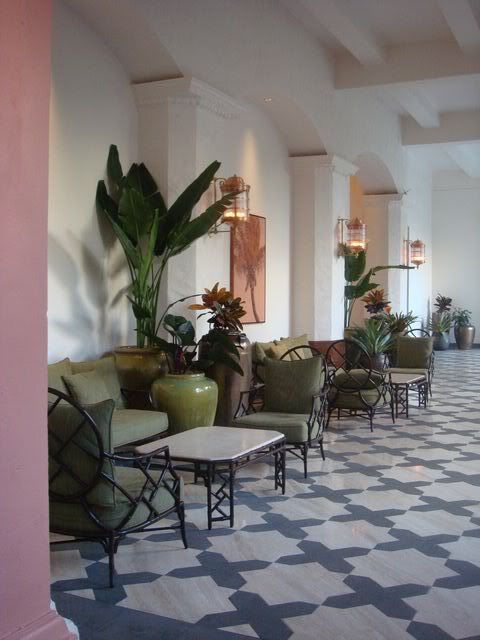 From arrival to departure, this hotel is excellent. The grounds are beautiful, romantic and soothing, plus those cute pink umbrellas will win me over anyday! All Ambassadors were welcoming, fresh and helpful and showed geniune care of the guests. The location is perfect! You cannot get any closer to the beach nor the main strip of Waikiki. Although The Royal is definitely on the price-y side of places to stay in Honolulu, I cannot agree more with the notion that
'you really get what you pay for'.
I would highly recommended this property to anyone and I am looking forward to a future return to the Pink Palace - whenever that may be.
A few weeks ago I managed to sneak back into Honolulu for a quick 72 hour visit despite U.S Customs and Immigration pulling me up due to the widely used - but undeclared - "profiling" technique. Me? The solo & single, young'ish male of asian decent, popping into and out of Hawaii in the space of a few days, travelling only w hand luggage packed with a couple of board shorts, the same amount of t shirt and a pair of Haviana thongs. (however I was really travelling with someone though)! I suggested it was profiling just for discussion sake - and he said "no, it was because less luggage meant it was easier to inspect!" Me thinks; Whatever?!