Sawasdee Langsuan Inn
93/4 Soi Lang Suan 5 , Bangkok, 10330, Thailand | 2 star hotel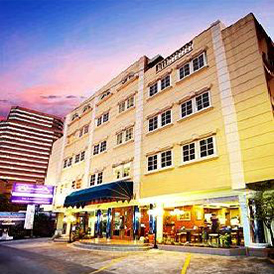 Searching for availability...
*Prices above are provided by partners for one room, double occupancy and do not include all taxes and fees. Please see our partners for full details.
TripAdvisor Reviews Sawasdee Langsuan Inn Bangkok
Travel Blogs from Bangkok
8 photos
... there are salesmen selling food. Thai eat small bites all day long. Weird thing is that you don't see many overweighted Thai. Food and shopping seem the key elements to the Thai economy. Since the generals took over a few weeks ago, Thailand has no government. Lonely soldiers that seem randomly positioned at street corners remember of that. But it's safe. You don't feel uncomfortable. Yesterday I watched youngsters sit and make music next to ...
Other places to stay in Bangkok
ปทุมวัน, Bangkok | 2 star hotel

from $17

พระโขนง, Bangkok | 2 star hotel

from $16

บางกะปิ, Bangkok | 3 star hotel

from $24

Tlalpan Sur/South, Bangkok | 3 star hotel

from $23

ราชเทวี, Bangkok | 3 star hotel

from $35

Tlalpan Sur/South, Bangkok | Hotel

from $49

1, Bangkok | 3 star hotel

from $25

บางกอกใหญ่, Bangkok | Hotel

from $48

1, Bangkok | 3 star hotel

from $34

Tlalpan Sur/South, Bangkok | 3 star hotel

from $41

1, Bangkok | 3 star hotel

from $43

พญาไท, Bangkok | 3 star hotel

from $46

บางกอกใหญ่, Bangkok | Hotel

from $28

พระนคร, Bangkok | 3 star hotel

from $35

112-114 Soi Damnoen Klang Tai, Bangkok | 3 star hotel

from $56