Sawasdee Langsuan Inn
Address: 93/4 Soi Lang Suan 5 , Bangkok, 10330, Thailand | 2 star hotel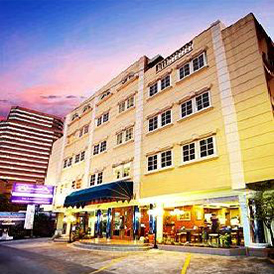 Searching for availability...
*Prices above are provided by partners for one room, double occupancy and do not include all taxes and fees. Please see our partners for full details.
How has this hotel rated in the past?
What's this?
Discover trends in hotel experiences based on real traveler reviews and ratings. Mouse over circles to see what some travelers had to say.
Travelers also recommend:
TripAdvisor Reviews Sawasdee Langsuan Inn Bangkok
Travel Blogs from Bangkok
12 photos
... the Canada and through Europe to get to Bangkok adding a few extra hours to my time in the air, regardless of the good connections.

It's always exciting to plan a journey and anticipate seeing it through. Getting organized and out the door is the hard part. And the getting there - though ear plugs, an eyeshade, a neck pillow and a sleeping pill make it a lot ...