Sawasdee Langsuan Inn
Address: 93/4 Soi Lang Suan 5 , Bangkok, 10330, Thailand | 2 star hotel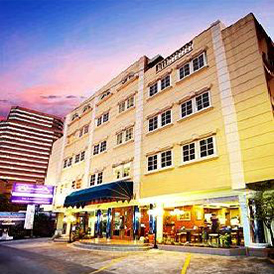 Searching for availability...
*Prices above are provided by partners for one room, double occupancy and do not include all taxes and fees. Please see our partners for full details.
How has this hotel rated in the past?
What's this?
Discover trends in hotel experiences based on real traveler reviews and ratings. Mouse over circles to see what some travelers had to say.
Travelers also recommend:
TripAdvisor Reviews Sawasdee Langsuan Inn Bangkok
Travel Blogs from Bangkok
40 photos
... know how to cook 'em. After scorpion time, Patrick, Katie, and I went to an Irish Pub. We figured hey might as well since they were Irish. It was blast, we had great beer, great company, and made lifelong friends.

The next morning was a slow one for the three of us. Breakfast was just me as I later found out Patrick and Katie were not able to make it down since they were still asleep. I on the other hand still have jet lag and am up at 6 am every day no ...