Sawasdee Langsuan Inn
93/4 Soi Lang Suan 5 , Bangkok, 10330, Thailand | 2 star hotel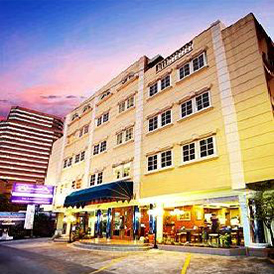 Searching for availability...
*Prices above are provided by partners for one room, double occupancy and do not include all taxes and fees. Please see our partners for full details.
TripAdvisor Reviews Sawasdee Langsuan Inn Bangkok
Travel Blogs from Bangkok
12 photos
... be-friendly tuk-tuk whackos). They love to smile, the food vendors don't push you for anything, the staff in the hotel are great, very courteous and very informative. I especially love the traditional thai greeting... It's a far cry from the old, 'what about ye?' That I'm so used to back home. It is known as 'the wai' - you place your hands together in a prayer position at the chest and bow slightly... If it's a monk or say you met the king, the hands go more to the forehead. I ...
Other places to stay in Bangkok
ปทุมวัน, Bangkok | 2 star hotel

from $17

พระโขนง, Bangkok | 2 star hotel

from $16

บางกะปิ, Bangkok | 3 star hotel

from $24

Tlalpan Sur/South, Bangkok | 3 star hotel

from $23

ราชเทวี, Bangkok | 3 star hotel

from $35

Tlalpan Sur/South, Bangkok | Hotel

from $49

1, Bangkok | 3 star hotel

from $25

บางกอกใหญ่, Bangkok | Hotel

from $48

1, Bangkok | 3 star hotel

from $34

Tlalpan Sur/South, Bangkok | 3 star hotel

from $41

1, Bangkok | 3 star hotel

from $43

พญาไท, Bangkok | 3 star hotel

from $46

บางกอกใหญ่, Bangkok | Hotel

from $28

พระนคร, Bangkok | 3 star hotel

from $35

112-114 Soi Damnoen Klang Tai, Bangkok | 3 star hotel

from $56