Sawasdee Langsuan Inn
93/4 Soi Lang Suan 5 , Bangkok, 10330, Thailand | 2 star hotel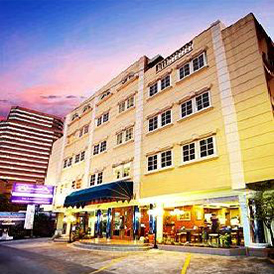 Searching for availability...
*Prices above are provided by partners for one room, double occupancy and do not include all taxes and fees. Please see our partners for full details.
TripAdvisor Reviews Sawasdee Langsuan Inn Bangkok
Travel Blogs from Bangkok
2 comments
If you're a Rush Hour fan, you'll probably know what "Heaven On Earth" is in reference to. Here's a recap of Bangkok day 2: After the crazy night last night at Khao San Road, we slept in today til about 11:00. The initial plan was to hit up Khao Yai National Park, but when we found out it was five hours away, we decided to just scratch that off our list. In terms of touristy things to do, the part of Bangkok that we were in (more ...
Other places to stay in Bangkok
ปทุมวัน, Bangkok | 2 star hotel

from $17

พระโขนง, Bangkok | 2 star hotel

from $16

บางกะปิ, Bangkok | 3 star hotel

from $24

Tlalpan Sur/South, Bangkok | 3 star hotel

from $23

ราชเทวี, Bangkok | 3 star hotel

from $35

Tlalpan Sur/South, Bangkok | Hotel

from $49

1, Bangkok | 3 star hotel

from $25

บางกอกใหญ่, Bangkok | Hotel

from $48

1, Bangkok | 3 star hotel

from $34

Tlalpan Sur/South, Bangkok | 3 star hotel

from $41

1, Bangkok | 3 star hotel

from $43

พญาไท, Bangkok | 3 star hotel

from $46

บางกอกใหญ่, Bangkok | Hotel

from $28

พระนคร, Bangkok | 3 star hotel

from $35

112-114 Soi Damnoen Klang Tai, Bangkok | 3 star hotel

from $56