Sawasdee Langsuan Inn
Address: 93/4 Soi Lang Suan 5 , Bangkok, 10330, Thailand | 2 star hotel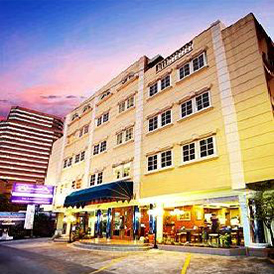 Searching for availability...
*Prices above are provided by partners for one room, double occupancy and do not include all taxes and fees. Please see our partners for full details.
Travelers also recommend:
TripAdvisor Reviews Sawasdee Langsuan Inn Bangkok
Travel Blogs from Bangkok
36 photos
... them in Chiang Mai as well. Once you understand the layout, they are a pretty simple way to organize the city. The Rembrandt Hotel is an upscale, western style hotel. Like many large buildings in this and other large and going Asian cities it is neighbored by other modern hotels, apartment buildings and condominiums as well as by run down buildings that have yet to be replaced. Our room is not ready so we park ourselves next to the pool to plan out the day. ...