Sawasdee Langsuan Inn
Address: 93/4 Soi Lang Suan 5 , Bangkok, 10330, Thailand | 2 star hotel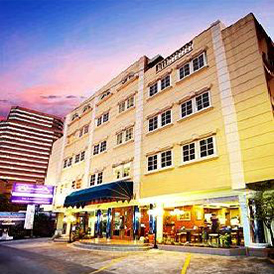 Searching for availability...
*Prices above are provided by partners for one room, double occupancy and do not include all taxes and fees. Please see our partners for full details.
How has this hotel rated in the past?
What's this?
Discover trends in hotel experiences based on real traveler reviews and ratings. Mouse over circles to see what some travelers had to say.
TripAdvisor Reviews Sawasdee Langsuan Inn Bangkok
Travel Blogs from Bangkok
3 comments, 49 photos
... think Central Market). Our food courts don't hold a candle to the options found here and at least half of the stores are focused on sweets all beautifully decorated and displayed (even the donuts at Duncan Donuts). Given we are trying to be good, choosing has been very difficult. We've sampled a variety of the local baked sweets – each wonderful. The most original was probably the Smash Ball. It's a hard cookie covered ...