Sawasdee Langsuan Inn
93/4 Soi Lang Suan 5 , Bangkok, 10330, Thailand | 2 star hotel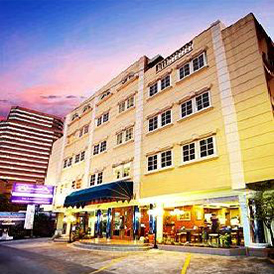 Searching for availability...
*Prices above are provided by partners for one room, double occupancy and do not include all taxes and fees. Please see our partners for full details.
Travel Blogs from Bangkok
... bridge to the Golden Mount we were directed to the side as there was a movie being shot! Then, at the ticket office there were two very friendly and polite school girls who wished us to "have a nice day" which we thought was lovely. On the walk up the mount we first walked past a series of pools and waterfalls which had fog machines billowing a cooling mist over them and the path. Next we copied the locals by ringing all of the bells as it is supposedly a sign of good luck. At ...
TripAdvisor Reviews Sawasdee Langsuan Inn Bangkok
Other places to stay in Bangkok
ปทุมวัน, Bangkok | 2 star hotel

from $18

พระโขนง, Bangkok | 2 star hotel

from $22

บางกะปิ, Bangkok | 3 star hotel

from $24

Tlalpan Sur/South, Bangkok | 3 star hotel

from $24

ราชเทวี, Bangkok | 3 star hotel

from $37

1, Bangkok | 3 star hotel

from $35

บางกอกใหญ่, Bangkok | Hotel

from $49

1, Bangkok | 3 star hotel

from $37

Tlalpan Sur/South, Bangkok | 3 star hotel

from $47

1, Bangkok | 3 star hotel

from $47

พญาไท, Bangkok | 3 star hotel

from $46

พระนคร, Bangkok | 3 star hotel

from $40

บางกอกใหญ่, Bangkok | Hotel

from $36

Tlalpan Sur/South, Bangkok | Hotel

from $43