Theme Park Hotel
531-6, Sang-Dong, Wonmi-Gu, Bucheon, 420-030, Korea Rep. | Hotel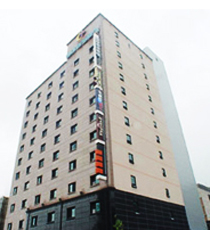 Searching for availability...
*Prices above are provided by partners for one room, double occupancy and do not include all taxes and fees. Please see our partners for full details.
Travel Blogs from Bucheon
Eljött koreai utam utolsó napja... Ezt pedig nem máshol töltöttem, mint a 포도밭그사 ;나이 TV-dráma forgatási helyének otthont adó Yeongdong szüreti fesztiválon! :-) Egyedül indultam, de végül egy nagymamával és egy csapat Suwon-i asszonysággal együtt végigcsináltam szinte a teljes programot:

- szőlőkóstolás és a fesztivál kiállítási területének bejárása
- szőlő horgászat ...
More great choices in Bucheon
Search for more deals in Bucheon
Travelers also recommend: