Sky Hotel Condo
534-8, Deungeok-Ri, Sangbuk-Myeon, Ulsan, 689-824, Korea Rep. | Hotel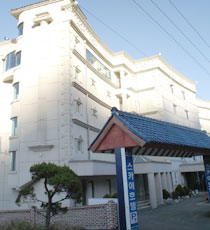 No availability found through our partners. Please contact the business directly or check some of our recommended alternatives.
Hotels available for your dates
1 / 6
« »
*Prices above are provided by partners for one room, double occupancy and do not include all taxes and fees. Please see our partners for full details.
Travel Blogs from Ulsan
Haven't stopped all week but I'm really starting to get used to the time difference. I get up early to phone home then have an hour or so of pottering about before the bus picks me up. Work all day (allegedly) attending various meetings and visiting the ship before the UK wakes up at 3pm Korea time, a few hours of video calls with Aberdeen before heading back to the apartment, gym, dinner, a few more calls with Aberdeen before bed at 10. There's not much time ...
More great choices in Ulsan
Search for more deals in Ulsan
Travelers also recommend: