Busan Royal Hotel
2-72 Gwangbok-Dong 2-ga, Jung-gu, Busan, 600032, Korea Rep. | Hotel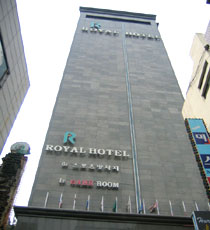 No availability found through our partners. Please contact the business directly or check some of our recommended alternatives.
Hotels available for your dates
1 / 6
« »
*Prices above are provided by partners for one room, double occupancy and do not include all taxes and fees. Please see our partners for full details.
Travel Blogs from Busan
... men grabbed my panniers as I unloaded them from Henri and soon me, Henri, and the bags were installed. However, I had to put Henri in the corridor of the train and adjust him so he wasn't blocking it. The young stewardess came and I asked her if he was OK there and she assured me that if they needed access to the door he was blocking she would come and get me. Since my seat was right inside the carriage door all was fine. The young guys put my ...
TripAdvisor Reviews Busan Royal Hotel
Other places to stay in Busan
1405-16 Joong-dong Haeundae-Gu, Busan | 4 star hotel

from $127

743-80 Youngju-dong Jung-gu, Busan | 4 star hotel

from $115

737 Woo 1-dong Haeundae-gu, Busan | 4 star hotel

from $201

651-2 Woo-Dong Haeundae-ku, Busan | 5 star hotel

from $153

137-7 Oncheon-dong Dongnae-gu, Busan | 4 star hotel

from $100

503-15 Bujeon-Dong, Busanjin-gu, Busan | 4 star hotel

from $219

830-62 Beomil 2-dong Dong-gu, Busan | 3 star hotel

from $67

564-25 Gwaebeop-Dong Sasang-gu, Busan | 3 star hotel

from $113

544-7 Woo-1dong Haeundae-gu, Busan | 3 star hotel

from $60

1380-14 Joong-dong Haeundae-Gu, Busan | 3 star hotel

from $78

30 San Jangieon-dong Kumjeong-ku, Busan | 3 star hotel

from $54

1505 U2-dong Haeundae-gu, Busan | 3 star hotel

from $140

523-44 Nambumin-dong, Seo-gu, Busan | 2 star hotel

from $80

1391-66 Joong-dong Haeundae-gu, Busan | 3 star hotel

from $79

1392-100 Jung-dong Haeundae-Gu, Busan | 4 star hotel

from $84

8-1 Nampo-dong 5-ga, Jung-gu, Busan | 3 star hotel

from $67

193-1 Gwangan 2-Dong, Suyeong-Gu, Busan | 4 star hotel

from $91

1203-15 Choryang-dong, Dong-gu, Busan | Hotel

from $69

22-4, 1-ga, Daechang-dong, Jung-gu, Busan | 3 star hotel

from $55

12 Donggwang-dong 2-ga, Jung-gu, Busan | 3 star hotel

from $88

223-2 Bujeon 2-dong, Busan | Hotel

from $43

23-24 1-ga Jungang-dong Jung-gu, Busan | Hotel

from $43

1204-1 Choryang-dong, Dong-gu, Busan | 1 star hotel

from $47

20 Donggwang-Dong 3-ga, Jung-gu, Busan | Hotel

from $78